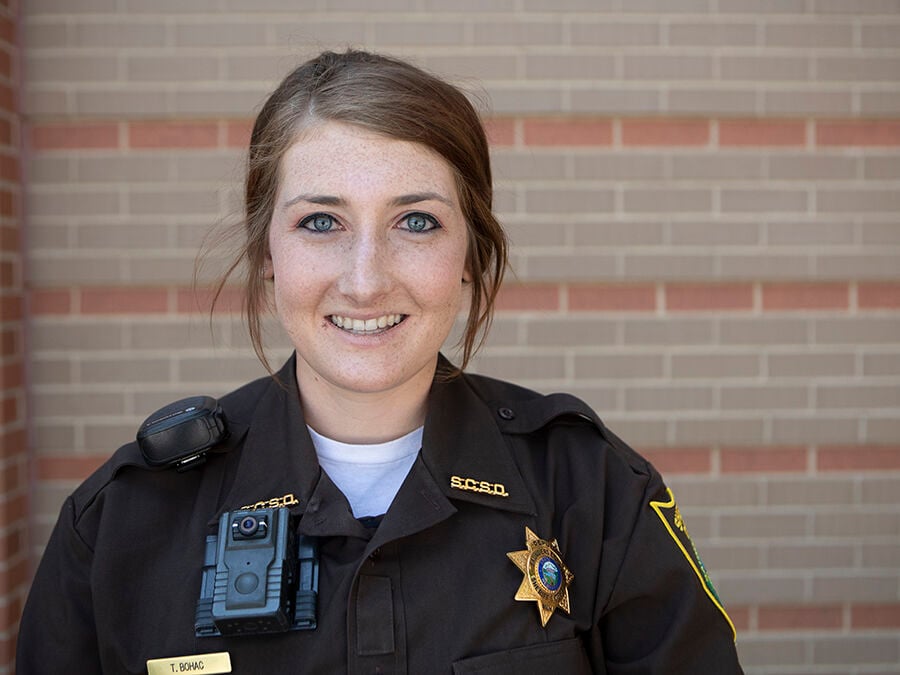 WAHOO – Taylor Bohac never wanted to be a cop. 
She's had every other job you could think of. A lifeguard at the Brainard Swimming Pool, a Krispy Kreme assistant manager in Omaha, a server at Good Friends Cafe in Wahoo, a Saunders County 911 dispatcher and even a commercial salmon fisherman in Alaska. For most of her life she planned on becoming a teacher. 
Even on her first day of her law enforcement-related internship with the Saunders County Sheriff's Department, she told Chief Deputy Kyle Coughlin and Sergeant Joe Smaus, "I don't want to be a cop." 
However, when a full-time sheriff's deputy position opened up in Saunders County, the 25-year-old could not help but be interested in the position. 
Bohac was deputized on July 27 and has been participating in different training and ride-alongs since. On Aug. 31, Bohac leaves for the 15-week, Grand Island-based Basic Academy through the Nebraska Law Enforcement Training Center. The training will include defensive tactics, state statutes, firearm practice as well as physical testing in and out of the classroom. 
After graduating from East Butler High School in 2013, Bohac moved to Omaha to pursue an education in criminal justice with a minor in biology at the University of Nebraska at Omaha. Her plan was to eventually get her masters in forensic science through Nebraska Wesleyan University. But before she graduated from UNO in May of 2017, she discovered that the program had been shut down. She was at a loss. 
So, Bohac decided to move to Soldotna, Alaska where her father Jason Bohac was working as an Alaskan State Patroller. During the three months she was there, she realized she really did not know what she wanted to do with her life, but that it was not commercial fishing. 
She moved back to the area and began working at the Good Friends Cafe, but soon recognized that she was going to need to get another job in order to pay off her student loans. Thus, she applied for and began a 911 dispatcher position in May 2018. 
With her experience as a dispatcher, Bohac feels that she can bring the two departments together to have a more cohesive, unified work environment. Bohac also said she wants to do something similar with the age gap in Saunders County to help strengthen the department›s ability to work with its constituents. 
"I really want to bridge the gap between our older generation officers and then our younger people," Bohac said. "I feel like Wahoo and Saunders County are growing, and we're just looking at a younger and younger population."
Bohac's favorite part of the job is being able to see the relief in people's eyes when she and her coworkers show up and that she learns so much just from watching her coworkers interact with the residents of Saunders County. 
"I think that it takes a very special person to be able to console and empathize and be compassionate towards somebody who just threatened to stab you or throw a chair at you or spit in your face," Bohac said. "And when you finally get them to calm down (my coworkers) are not negative or upset with that person. They know that this person is having a hard day, and they›re still empathetic and compassionate." 
Despite having plenty of law enforcement opportunities in bigger cities as her friends and family pointed out, Bohac said she plans to stay in Saunders County because of its sense of community. She said going somewhere else would almost be overwhelming because not only do you have to trust your coworkers with your life, you also have to understand the community's culture, geography, laws and so much more. In Saunders County, she already has that. 
"The last thing you want to hear is, 'Hi, this is Taylor from Saunders County Sheriff's Office,'" Bohac said. "But at the same time, they don›t see us as monsters, or as the enemy. It's not an 'us versus them' situation. We›re all one big community and they›re here to help us just as much as we want to help them."
Be the first to know
Get local news delivered to your inbox!