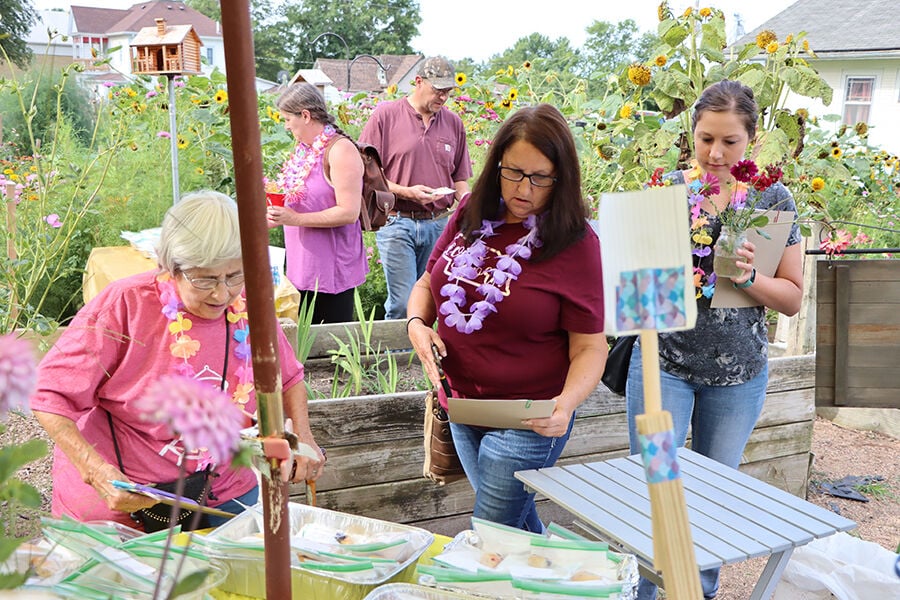 Johnson crowned the winner following month-long contest
PRAGUE – Amidst a sea of blossoms, with polka music playing softly in the background, more than 100 judges made their way through the flower maze to sample delicate pastries made by loving hands from family recipes.
Joann Johnson of Prague emerged from a group of all-star bakers as the winner of the Kolache Tournament at A-Mazing Flowers and Studio in Prague on Sunday during Beer Barrel Days.
The contest began with playoffs held throughout the summer. On the four Saturdays in July, the preliminary rounds were held. Judges narrowed the field down to 10 for the grand finale on Sunday.
Kathy Stuchlik, her daughter Denise Hauschild and her granddaughter Kali Hauschild participated in the judging. As they made their way through the maze and nibbled on the pillowy pastry filled with tasty centers, they were looking for some different flavors to tempt their taste buds.
"I got out of my comfort zone," said Denise Hauschild.
Stuchlik has been baking kolaches for many years as a descendent of Czech families. She started out judging the consistency of the dough, then focused on the flavors.
The flavors ranged from traditional to unique. There were the old favorites – poppy seed, farmers cheese and prune – that have graced the tables of many Czech family celebrations in the area for generations.
A single pastry is called a kolach, while the plural for the sweet yeast dough pastry is kolache, according to a handout provided by contestant Aggie Bouc Gesch of Lincoln. The traditional Czech flavors include poppy seed, ground walnuts or prune butter.
Over the years, flavors of kolaches have been Americanized, Gesch said. The fillings began to resemble American fruit pie filling, she said, like cherry, apple and lemon.
Some of the contestants chose to think outside of the box as they created their kolaches. They developed new flavors, like cookies and cream or pineapple/coconut. One even added cocoa to the pastry dough.
Connie Thulin thought about pushing the envelope with flavors, but after advice from her mother stuck with traditional fillings. Her mother's advice helped her earn second place in the contest.
Thulin learned to make kolaches from her mother, Marcie Stava. But it wasn't her mom who actually gave her the family recipes.
Thulin said her teenage son is a huge fan of kolaches. One day she called her mother to place an order for a batch. Her father answered the phone and suggested Thulin learn to bake the pastries herself. He proceeded to read the family recipe to her over the phone.
Thulin grabbed the first thing she could find, the back of an envelope, and wrote down the ingredients and directions. She still has the envelope, keeping it as a memory of her that day and of her father, who has since passed away.
Even with the recipe in hand, Thulin turned to her mother for more information.
"She's given me so many tips along the way," Thulin said.
After baking just for her family, Thulin started selling her kolaches about four years ago. She doesn't have social media and she doesn't advertise her business, Connie's Czech Baking. Still, she gets plenty of customers through word-of-mouth. Her most frequent orders are for weddings and funerals.
Gesch also bakes large quantities of kolaches in the three ovens she has at her Lincoln home. Her pastries are offered during fish fries at St. John the Apostle Catholic Church in Lincoln and she sells them at farmers markets.
The Bouc family kolache recipe has a secret ingredient or two that Gesch does not share with outsiders. However, she did share a kolache recipe in the handout she provided at her table on Sunday. She also sold wooden kolache presses. She plans to donate the proceeds to Saunders County Catholic Schools, where her niece and nephew are students.
Gesch learned to bake from her mother, Marie Bouc, who learned from her mother. In their honor, Gesch wore an embroidered apron of her grandmother's during the contest.
Just as Gesch learned to bake kolaches from her mother, handing down the family recipe is a tradition in Czech households. Thulin's 16-year-old daughter, Hannah, is now interested in learning the family secrets for baking prize-winning kolaches. And Stuchlik is planning to demonstrate her kolache recipe for her granddaughter Kali Hauschild in the near future.
It seems that kolaches will continue to be a staple in Czech households for generations to come.