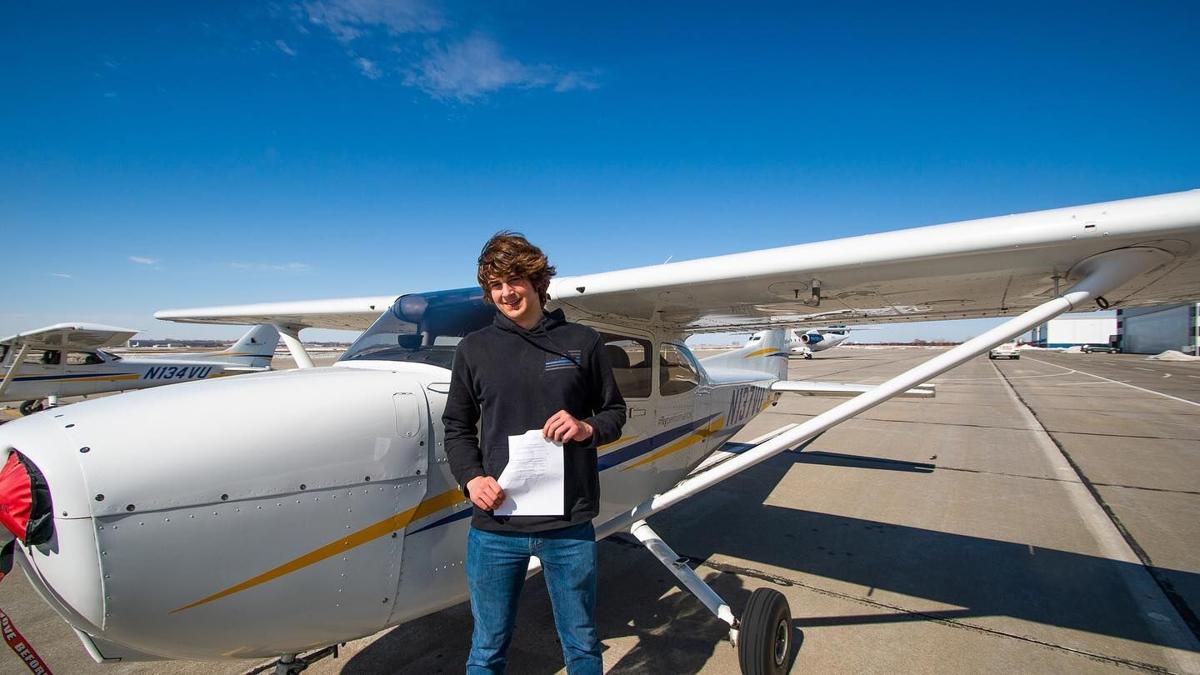 RAYMOND – Emmett Gyhra initially planned on playing ice hockey with his best friend John Karpov. 
But when they realized that flight lessons were right around the same price as ice hockey equipment, the two decided to master air instead of ice.  
Little did Gyhra know, this whim of a decision would set his flight path for the future. Now a senior at Raymond Central High School, Gyhra just completed his instrument rating with Performance Aircraft in Lincoln and estimates he will attain a commercial rating by the end of July.  
"After I started, it just kept progressing," he said. "Flying is pretty awesome."
So awesome that he hopes to use his commercial license to make some money and potentially sign on with an airline. 
Before he can do that, Gyhra said he needs to hit 250 hours minimum in order to obtain the commercial license. Since he has achieved his private pilot's license and instrument rating, he's at 80 hours as of now meaning he is required to fly another 120 hours.  
"After your instrument (rating), there's a big gap," Gyhra said. 
In between, now and when he meets 250 hours of flight time, Gyhra can pursue ratings to fly "cooler airplanes" and other goals, he said. A huge mentor for him has been his most recent flight instructor Sam Condello, who has helped him to achieve his instrument rating and find his path. 
"He's just a great student," Condello said. "He's one of those guys that comes in everyday smiling and prepared for the lesson. That just makes my job easy, almost too easy at times."
The farthest he's flown is Kansas City, Mo. and he expects to fly to either Minneapolis, Minn. or somewhere in Oklahoma. Between school and regular flight lessons, Gyhra said balancing the two has been a learning lesson and that stress management is an important habit. 
"Practicing stress management and dealing with flight school and high school, there's lots of stress involved," Gyhra said. 
This is also something that Condello emphasizes when working with other students. He said he tries to compare it to the stress of driving a car for the first time. After a driver can accomplish the first time driving, everything is pretty much second nature. 
"'You can just get on the road and drive," Condello said. "I like to compare flying to that where if you just stay with it, you persevere through any adversity that comes up. It'll just become second nature and something you can do and really have fun with."
For Gyhra, it has become second nature. 
"He's just so relaxed so I know he would do a great job picking up passengers taking up his friends, his parents, whoever wants to go up," Condello said. 
Gyhra said he didn't always want to fly planes for a living. In fact, he planned to work for his family's company, Falcon Heating and Air Conditioning in Lincoln, after graduation this May. However, the views he could see and uniqueness of flying planes caught him. 
"You can do some fun things in an airplane," Gyhra said. "Like zero gravity and all sorts of cool stuff like that. I don't know, it seems like something not a lot of people get to do – control an airplane. It's just fun."
As Gyhra works toward his commercial license, Condello looks forward to continuing his work with Gyhra and sees a clear path for his future in aviation. 
"I think he'll have great success at the commercial level and he'll be able to fly for the airlines for sure," Condello said.