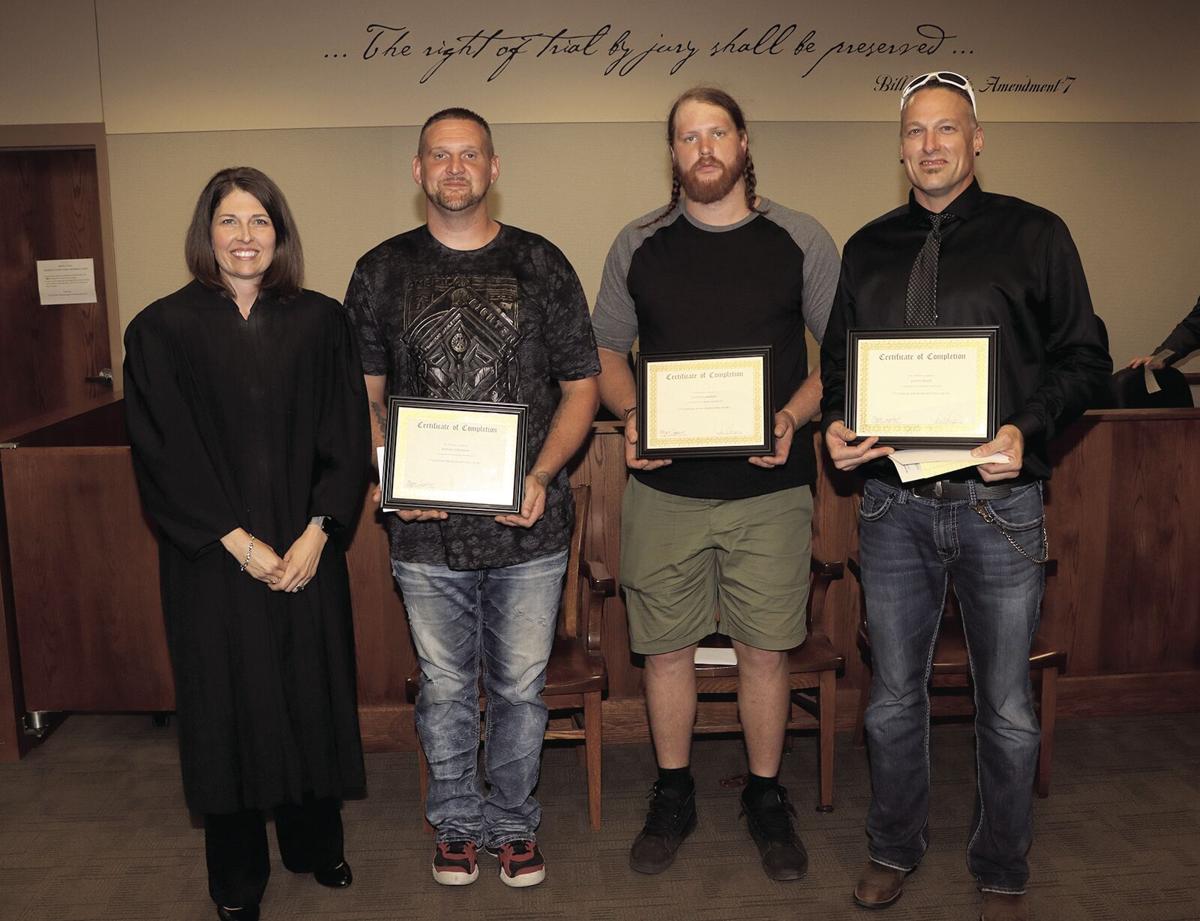 WAHOO – Justin Johnson, Jason Dean and Daniel Johnson sat quietly near the judge's bench. Although nervous, they were also smiling. Because this time, being in court meant something positive.
All three men were the first group to graduate from Problem Solving Court. The Aug. 31 ceremony was presided over by Judge Christina Marroquin, along with other officials who oversee the program, plus many family members and friends of the three men.
Also known as Drug Court, the program creates a team consisting of professionals representing the courts, probation, law enforcement, prosecutors, defense attorneys and treatment providers.
The team designs an individualized plan for the participants that involves treatment for drug or alcohol addiction, one of the leading causes of crime across the country.
Problem Solving Court was introduced in Saunders County just over a year ago by Marroquin. Saunders County is part of the Fifth Judicial District Problem Solving Courts. Marroquin oversees the program in Butler and Colfax counties as well.
The goal of Problem Solving Court is to keep the participants from going in and out of jail. Statistics show one in two individuals with alcohol or drug issues is rearrested within one year of being incarcerated, while two/thirds are arrested again within three years of release.
Justin Johnson, Dean and Daniel Johnson were examples of this. They had lengthy records, some longer than others, with many charges drug-related. They had alcohol and substance abuse issues and had failed treatment in the past.
But they worked through the program's phases successfully.
"We are so proud of all three of you," Marroquin said during the ceremony.
As she talked about each one of the men, she noted what they were like when they began the program. There were times, especially in the beginning, when they didn't think the men would make it through. But they were proven wrong. And the result was not only graduating from Problem Solving Court, but having their charges officially dismissed by the judge after successfully completing the program.
Justin Johnson, who was willing to speak publicly about his situation earlier this year by participating in an interview with the Wahoo Newspaper, has been sober for one year and nine months. He has been asked to run a sober living house.
Dean is the co-chair of the Oxford House, a sober living facility also in Omaha. He helped set up a detox bar in Omaha and has reestablished a relationship with his daughter. He, too, was a part of the Wahoo Newspaper interview earlier this year.
Justin Johnson and Dean were arrested in Saunders County, while Daniel Johnson's case was in Colfax County. Daniel Johnson plans to become a mentor to help others going through the same issues.
State Sen. Bruce Bostelman participated in the graduation ceremony. He told the men he was proud of their accomplishments and that it is a goal of the Legislature to facilitate these types of programs in the state.
"This is what we want to see," he said. "This is what we work for."
Morgan Campbell, coordinator of the problem solving court, said the program is a blessing for the participants.
"The more you put into this program, the more you get out of it," she added.