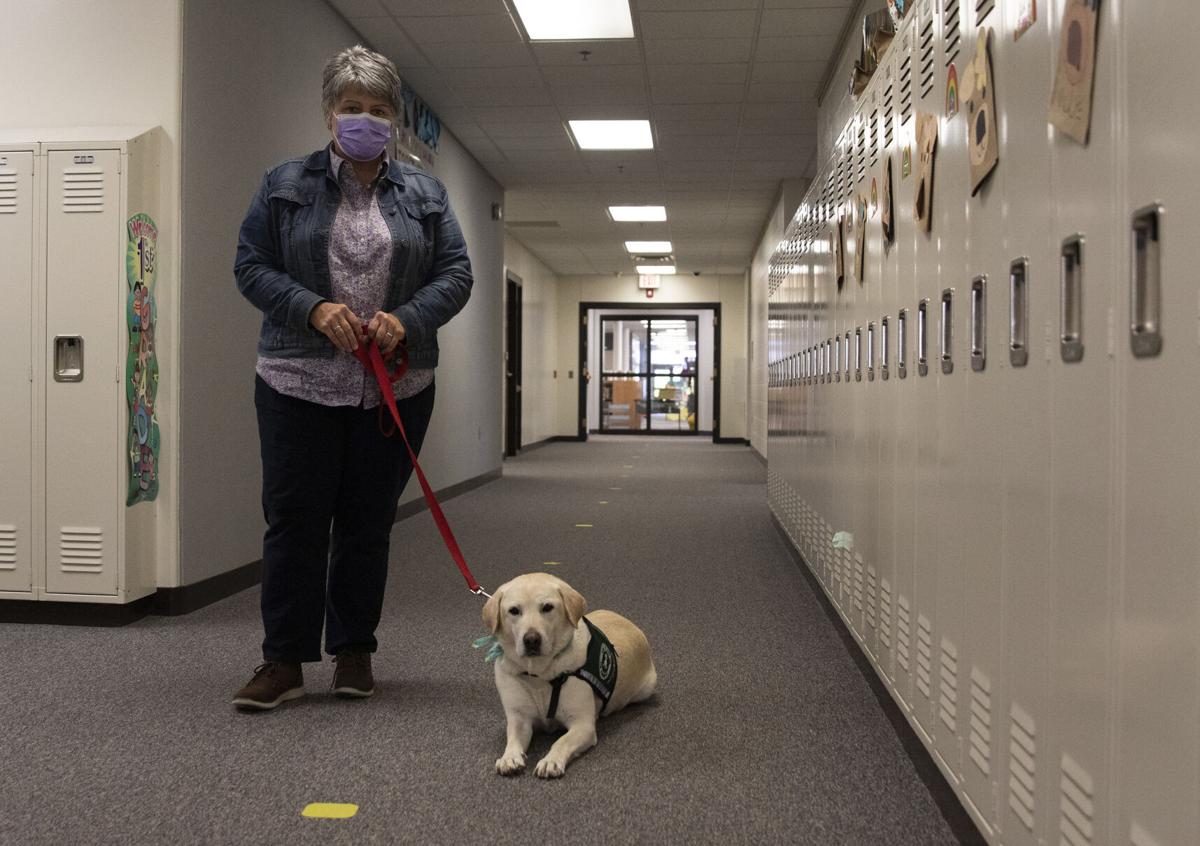 EAGLE – For the past few Wednesdays at Eagle Elementary School, counselor Laura Allen has been greeted with more waves and hellos than normal as she strolls through the hallways. 
It's not because she did something different with her hair, however. It's because Allen has her dog Mazy by her side. 
Mazy is a certified therapy dog that tags along with Allen, who has worked at Eagle for 13 years, each Wednesday to work with the students at the elementary school. The six-and-a-half-year-old yellow lab is the first therapy dog to walk the halls in any school within District 145.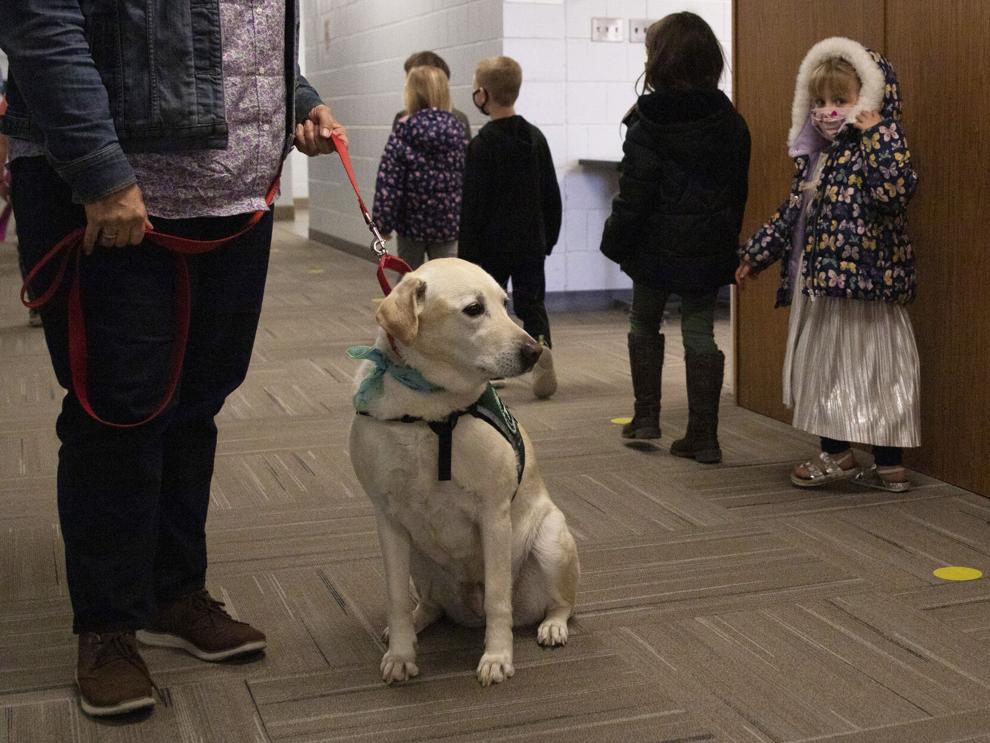 Since Mazy's first day at Eagle on March 31, she has been a ray of sunshine for the students and staff members, Principal Megan Flohr said. Between her sweet demeanor and kind eyes, Flohr said it's hard not to pet her. 
"You can't help but just want to love on her," Flohr said.
However, during some parts of the day, Mazy is on break which means no petting allowed. One thing Allen has been enforcing is having students and staff members ask to pet Mazy so that she can have breaks amidst her busy Wednesday schedule. 
"Just really realizing what we can expect of her and being realistic about it," Allen said. 
A normal schedule for Mazy and Allen includes meandering through the halls, meeting with classes, being read to by students and spending time with children who have met certain goals as a reward. 
Sounds like a pretty good day, right? That was until they realized how exhausted all of this work could make Mazy.
"Even the first day we realized how tired she would get with all these new smells and all the new kids," Flohr said. "I mean there's just a lot of stimulation." 
Allen adopted Mazy about five years ago. After about six months, Allen said she thought Mazy would have a perfect personality for a therapy dog. Allen and Mazy started the certification process in February 2019.  
In order to have Mazy come to the school, Allen began conversations with Flohr and others at the school to determine what she will need to do to establish Mazy as a therapy dog at the school along with training. 
After Mazy was granted canine good citizenship with a series of tests, the pair needed to go through an organization to become a certified dog therapy team. Allen said they selected Healing Hearts Therapy Dogs in Crete. Mazy and Allen completed training in July 2019. 
One objective they had to meet was to update the district policy on animals at school, which the District 145 Schools Board of Education approved at the Jan. 4 meeting. 
The school also needed to send out a letter to inform parents to determine if there are any allergies or concerns with having Mazy at the school. 
Mazy can only attend school if Allen is present. 
"I can't just leave her with someone randomly," Allen said. "If someone else wants to train themselves then that's just the point of being part of being a certified pet therapy team."
Mazy's timing is perfect, too. Because of all the challenges with the COVID-19 pandemic and summer vacation being so close, the year is starting to take a toll on both students and staff. 
"The year's become long," Allen said. "Just having her here as an emotional outlet or support for breaks, which she would be doing all the time. I think the timing of it has been kind of nice, as we end this pretty challenging year."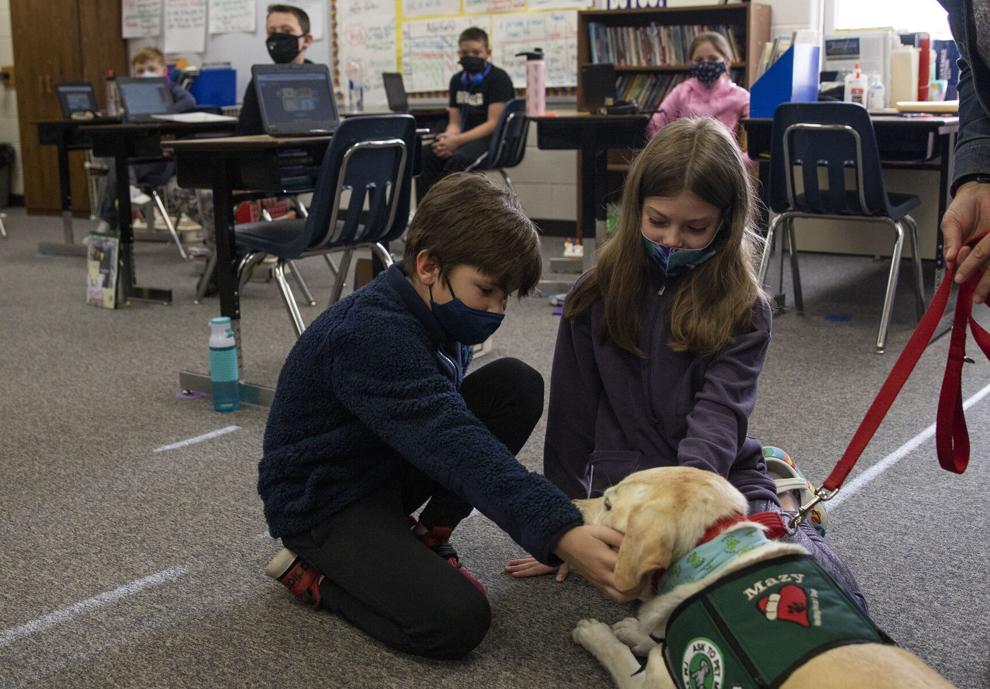 For now, Mazy will only be attending Eagle once a week and will be the only therapy dog for the district. She will also only be at Eagle and not at other schools in the district. 
Despite the process taking two years, Mazy has been worth the wait. 
"It really is a trial run at this point to see," Flohr said. "I think it's gone incredibly well, really better than I even imagined."