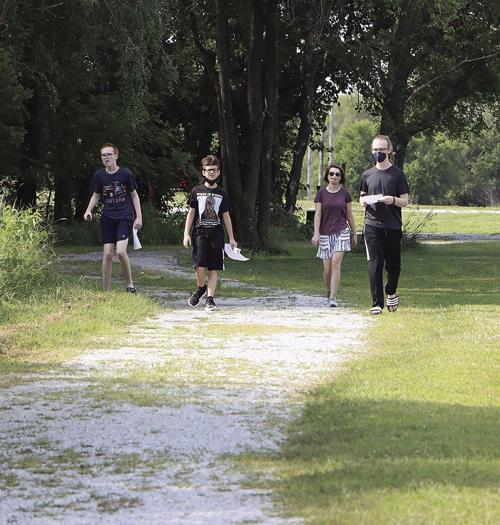 ASHLAND – Things kick into high gear at Ashland Public Library when school is out. The Summer Reading Program gets underway and many activities are scheduled for school-age children to continue to be actively learning until school begins again in the fall.
But when classes start up again at Ashland-Greenwood Public Schools, the library staff continues to work hard to provide programming for youngsters who spend time at the library when they're not in school.
Since June, Caitlin Henry has been in charge of youth programming as the youth services library assistant. Henry sat down last week to tell The Ashland Gazette readers what the library has lined up for kids as school starts this week.
"We're pretty excited about all of our fall programming," said Henry.
Programming is offered for children from toddlers to young adults. For many years, the most popular programs have involved the younger children. Even before the library moved from the 1912 Carnegie building to the current facility in 2015, little ones gathered to hear stories read out loud to them.
Story time will continue, but there's a new twist this year. Instead of sitting still as they listen to a story, the kids will be invited to get up and move.
Movement Story Time, every Wednesday at 10 a.m., is a way to reach parents of kids who can't sit still by tying actions, songs, dance and other activities in with the story.
"It's a good time for young toddlers to be able to move and express themselves," Henry said.
Children under 6 years old are invited to the library every Monday at 10 a.m. for Tot to Play, where they play together as their parents or guardians also socialize.
After school clubs have been another popular aspect of programming at the library since the new facility opened and more space was available. These clubs will continue, with the kids in kindergarten to second grade meeting on Mondays for an hour starting at 3:30 and third to fifth graders on Tuesdays at the same time.
The age group that Henry and the library staff is targeting this fall is middle school.
"We starting targeting events towards them this summer," said Henry. "We were hoping some of the kids we've seen bring some more kids with them."
One way to attract middle schoolers to the library is flexibility with their type of programming. Henry said they want this age group to tell the library staff what they'd like to do and see at the library.
"We want them to tell us what they're interested in and the areas they wish to explore more," she said.
That could include some last minute changes to programming for the middle schoolers, but that's something Henry and the staff have been preparing for.
"Even this summer we were not afraid to switch things up," she said.
The middle school after school club lasts for 90 minutes every Wednesday, starting at 4 p.m. They are also planning bigger events like Nerf gun wars and more scavenger hunts like the one they held last Friday morning. During the hunt, two teams scoured the library, downtown Ashland and other areas near the library to find clues.
Subjects like art and science are other areas Henry plans to explore with the middle school students. Over the summer, they had an "alien dissection" event where the kids got to cut up an alien made of Jell-O and hypothesize what they were seeing.
During another activity, the kids dissect real owl pellets (droppings) to determine what the birds had eaten. They compared the bones they found to charts to discover which small animals had been the owl's prey.
Henry also hopes to add art projects to the schedule this fall for the middle school crowd, if the interest is there.
"Anything they want to spend time doing," she added.
There is a wide variety of programming for middle schoolers because they are trying to offer many opportunities for them to learn. Each week, the kids will have activities to choose from, Henry said.
"We're making sure we're reaching different interest groups," she said.
Henry also wants to reach the high school students as well. They are working on a book club for this age group. One of the new employees at the library is a high school student, and they have expressed an interest in forming the club, Henry added. Plans are still in the works.
All ages are invited to the library on the days that school gets out early to watch a movie. They will start at 1:30 p.m.
"We like to provide a space for kids to be comfortable coming after school," said Henry.
No matter the age level, the aim is to bring more kids to the library.
"We like people at the library," Henry said.