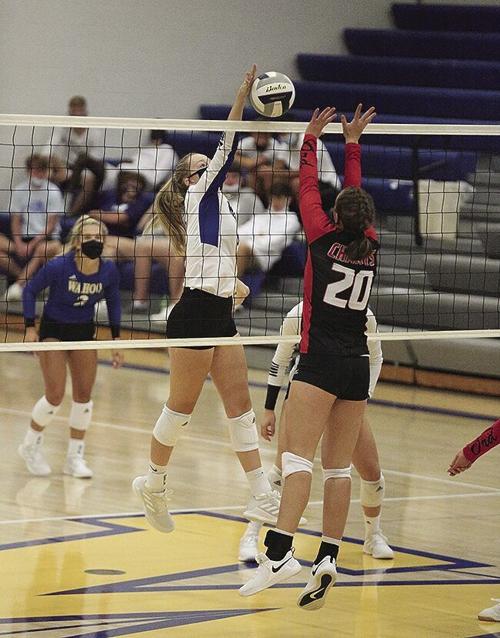 WAHOO – The top-ranked Wahoo Warrior volleyball team capped the week with three home tournament wins on Saturday at Wahoo High School.
Prior to competing in the home tournament the Warriors defeated Ralston in a Trailblazer Conference battle in Ralston on Sept. 1.
The Warriors won in straight sets by scores of 25-13, 25-9 and 25-11.
Wahoo piled up 41 kills against the Rams and two players finished in double-figures. Junior Mya Larson led the way with 16 while hitting an eye-popping .556. Senior Kelsie Sears added 12 kills on 27 swings.
Wahoo served at 93.2 percent on their 73 attempts and were led from behind the service line by Larson who scored 10 points and finished with three aces.
Larson and junior Taylor Luben combined to scoop up 33 digs along the back row.
Senior setter Elle Glock handed out 32 set assists.
On Saturday, the Warriors opened tournament play with a 25-13, 25-18 sweep over Omaha Roncalli.
Wahoo hit .258 against the Pride and was paced by Larson who came through with 13 kills. Senior Lauren Kavan and Sears added four apiece.
Kavan and Glock each finished with two ace serves.
Larson, Sears and Luben combined for 26 of the team's 40 digs.
Glock handed out 22 set assists.
The Warriors made it two wins in pool play when they were able to get past Ord in two sets 25-21 and 25-12.
Larson added 13 more kills and Sears chipped in with six more.
Kavan finished with three of the team's seven ace serves.
Glock dished out 19 assists.
Larson played well defensively, while leading the team with 12 digs.
Sears was the team's top performer in serve receive.
The Warriors captured the championship with a 25-19, 26-16 straight set win over the Crusaders of Lincoln Christian.
Sears led the team with 10 kills. Larson added nine more and junior Josie Sutton had her best game of the season while hitting .636 and adding eight kills. Larson leads the Warriors with 90 kills in five matches.
Larson and Kavan combined for 19 digs to lead the way defensively. Larson leads the team with 91 digs.
Glock handed out 23 set assists. She has handed out 150 assists through five match ups.
The 6-0 Warriors played Platteview on Tuesday night. Results will appear in next week's newspaper.