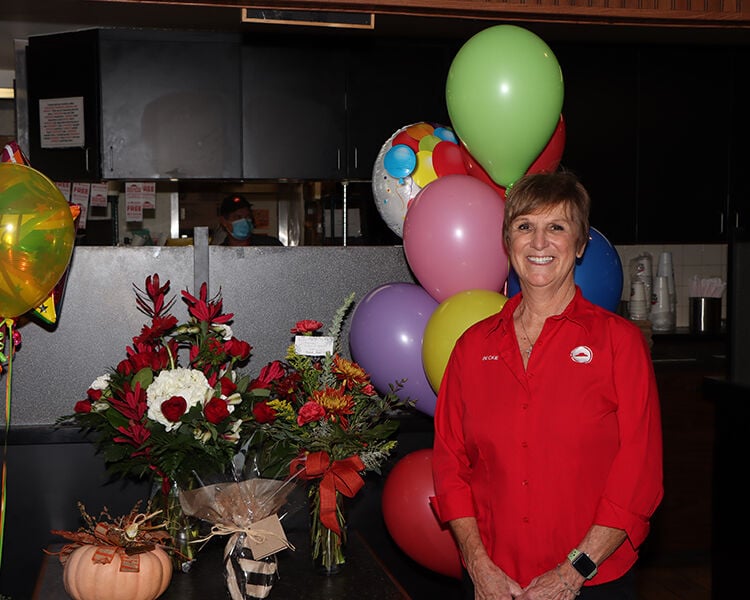 WAHOO – Christmas came a few months early for Becky Lacey this year.
The Wahoo woman received a prestigious national honor for her work as the restaurant general manager at Pizza Hut in Wahoo for over 40 years.
On Sept. 21, Lacey was awarded the Folino Life Unboxed Award from Pizza Hut, which is given to one restaurant general manager per year by the company.
The award is granted to someone who is a true leader in their community and their restaurant and is making an impact on their customers and employees as well as the community where the restaurant is located.
With over 6,000 Pizza Hut restaurants in the United States, it is a major achievement to receive this award, according to Dave Staub, who owns 68 restaurants in five states including the Wahoo store.
"This is about culture and their involvement in the community and what they've done in the community," he said during the presentation ceremony.
Staub applauded Lacey's involvement with diners and staff as well as the time she has spent working at community events.
"She's just so connected with her team and just all around a great individual," he said.
Because of the COVID-19 pandemic, the award ceremony was low key. But a few individuals were there to cheer Lacey on, including her daughter, Jay Woita, and son, Kreig Lacey. Both worked for their mother as they were growing up.
"I was fired six times," Kreig Lacey said with a laugh.
Working for her mother was always fun, but there was also a serious side when it came to taking care of customers, Woita said.
"She's a great example of what a boss should be," she added.
Woita now uses what she learned from her mother in her own business, DJ's Hair Design in Wahoo.
"As the owner of a salon, everything that I learned, I learned from her," she said.
Mary Taylor was also on hand to witness Lacey's achievement. Taylor had been on the first crew Lacey oversaw as manager.
"She never asked us to do anything she wouldn't do herself," Taylor said. "To me, that says a lot about being a boss."
Taylor also used her experience working with Lacey later in her career.
"Whenever I worked in a managerial position I would draw upon what I learned from her and what it was like to work for her as a manager," she said.
Taylor moved back to Wahoo about five years ago and started looking for a job right away. When she was not successful, she turned to her old friend and boss, who hired her back as a cook. She has since moved on to another job, but she continues to work at the Wahoo store on a part-time basis.
Taylor said Lacey's involvement in the community really stands out from her time as a Pizza Hut employee.
"What she does for the community is just amazing," she said.
Theresa Klein, executive director for the Wahoo Chamber of Commerce and the Greater Wahoo Development Foundation, said every community should have someone like Lacey, who takes care of their customers and serves the community at the same time.
"Becky is that rock that every community needs," she said.
Lacey's impact is felt in small, but important ways, Klein added. Like when she hands out coupons to local kids for helping others.
"It's just those little things that have big ripples in our community," she said.
Helping others comes naturally to Lacey.
"I just love to help people," she said.
She came to Wahoo in the early 1970s to attend John F. Kennedy College on a track scholarship. She is on the record books there as a member of the fastest 4x100 relay team in school history.
Lacey started working at Pizza Hut in 1973 as a part-time job to help pay for college.
"I came from a big family so I had to work," she said.
When the college closed in 1975, Lacey stayed in Wahoo and continued to work at Pizza Hut. She was offered a position as assistant manager and she took it, making a decision that would impact the rest of her life.
"I'm so happy I did it," she said. "It's just been a rewarding job for me."
Lacey had been studying physical education and psychology in college. She never dreamed of a career in business. But fate had intervened and in 1979, she was promoted to restaurant general manager and has carried that title ever since.
"That's how I ended up carrying on the Pizza Hut tradition," she said.
Lacey forged her own path when it came to how she ran the restaurant. She was the first in Wahoo to hire intellectually challenged people from Region V in Wahoo, starting the program in the 1980s. Since then, several other area businesses have followed suit.
"Back then, that was a big thing," she said.
Lacey sees the program as a learning opportunity for both the Region V clients and the rest of her staff.
"It's good for them to experience working side by side," she said.
Klein said early on Lacey recognized the benefits of having people of all abilities working together.
"She's teaching the kids in the community how to work," Klein added.
Lacey is also teaching that doing good things for others does not always require recognition. There are days when Lacey will pay for a family's meal for no reason other than she wants to. Their protests always fall on deaf ears.
"I tell them, 'You can't argue with me, I'm the boss,'" she said with a laugh.
Lacey would rather do good deeds like this without people knowing. She just likes to make people feel good.
"If I can have a reason to surprise somebody to make their day a little better, I'll do it," she said.
As a Pizza Hut restaurant general manager, Lacey has never turned down a request to donate to the community.
"People in Wahoo are just the greatest people," she said.
After nearly five decades working at Pizza Hut, Lacey doesn't plan to retire soon. She said she envisions herself rolling through the store on a motorized scooter, much like Mrs. B did at Nebraska Furniture Mart.
"When I don't love my job, I'll retire," she added.
That probably won't be any time soon.