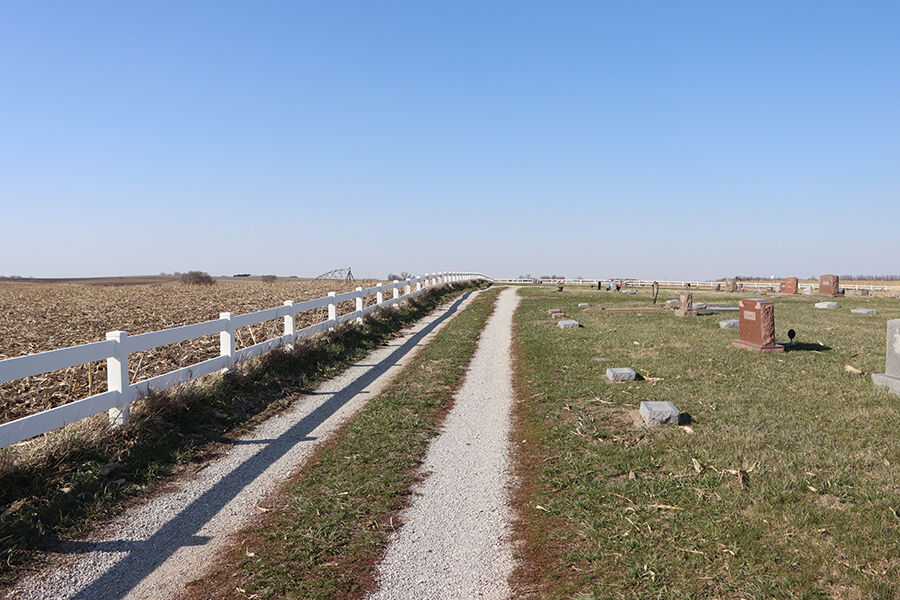 YUTAN – The vocal majority attending a town hall meeting last week about a proposed solar farm were not in favor of the privately-owned venture.
About 60 people signed in during the March 31 meeting at the Yutan Veterans Country Club to hear a presentation from Community Energy, a private renewable energy developer based in Pennsylvania.
Noah Eckert, a vice president with Community Energy, and Page Bolin, senior project developer, spoke and answered questions for about two hours. Eckert said the proposed solar farm would be located on about 500 acres in eastern Saunders County south of Yutan and would generate a maximum of 81 megawatts of power, which would be fed back into the OPPD substation and sold to the utility.
The project is still in the planning stages, and has not secured any approval from the Saunders County Board of Supervisors.
Eckert explained that Community Energy is the development company and initial owner/operator for the project. Platteview Solar is the project company name, and it is a wholly owned subsidiary of Community Energy, Eckert said.
If the project is approved by the county, Community Energy will bring in a partner to finance the project. They will hire an engineering, procurement and construction (EPC) contractor to build the solar farm. Once the construction is complete, the financing partner becomes the long term owner/operator.
The preliminary plan includes three "pods" of solar panels between county roads L and J and county roads 5 and 7 that would be connected by underground wire to a substation located adjacent to the OPPD substation on County Road J, according to Bolin. Later in the meeting, Eckert told the audience that the company typically also has some additional properties in case locations need to change.
"We've built a cushion into what we do so we have some flexibility to move it around and try to address some concerns," he said.
Many in the audience asked why the company chose these locations, including one pod that wraps around Hollst Lawn Cemetery, the only cemetery in the Yutan area.
Teresa Akeson, a native of Yutan and a descendent of the family that started Hollst Lawn Cemetery, said she is totally against the solar field being located there.
"Who's going to want to bury their loved ones next to a solar field? Who would even thought of putting one by the cemetery would be a good idea?" she said.
Bolin said they would take Akeson's feelings into consideration and wanted to discuss the issue further with her.
Other locations mentioned included the former Nebraska Ordnance Plant property now owned by the University of Nebraska-Lincoln between Mead and Yutan and the MUD wellfield in Saunders County. Eckert said the UNL ground was too far from the substation to be economically feasible and the wellfield was in a floodplain that was too low, which would also add to the cost.
"We actually did look deeply at the MUD ground," said Eckert. "We actually initiated a floodplain study because that was the ideal area closer to the river."
Eckert said Saunders County was chosen for several reasons. The area is located close to large electricity users like the Omaha metropolitan area. The location of the OPPD substation south of Yutan was also one of the reasons this area was chosen.
"So in this case, we look at the market, we study the market to try to find out where we can connect a new solar plant into the grid where we don't have to build a whole bunch of new facilities or add upgrades to the system," he added.
Community Energy began reaching out to area landowners in 2019 to discuss the project.
"We had conversations with a variety of folks and started discussing the concept and what it may look like and how we could potentially bring a project like this to reality," Eckert said.
OPPD solicited Community Energy to purchase the energy. Michaela Valentin, government and community relations manager with OPPD, said the utility has a strategic initiative called Power with Purpose that is incorporating renewable energy, including solar power.
"We have a mission to provide affordable, reliable and environmentally sensitive energy services to our customer owners, and as part of providing that mission part of environmentally sensitive, we're constantly evaluating what our energy mix looks like," she said.
Bolin said the key design components include setbacks that exceed the county's requirements.
"The county ordinance currently requires a minimum setback of 300 feet, we're showing a minimum setback of 500 feet," she said.
The proposed solar fields will contain approximately 183,000 solar panels each about the size of a door, Bolin said. They are made of glass, aluminum and silicon wiring and absorb sunlight rather than emit glare.
Audience member Ron Morrissey of Yutan asked about the chemical components like cadmium or arsenic in the solar panels, noting concerns about contamination of the soil. Bolin said there are no chemicals in the panels.
"So there would be no concern about leaching of any contaminants into the soil," she added.
Bolin said the panels would be anchored into the ground with H-beams that are piled driven, which causes minimal disturbance to the land.
"We are not going to be coming in here with earth scrapers or any of that," she added.
The panels will be placed on a single axis tracker system and will follow the sun throughout the daylight hours. The movement is so slow that there is no noise.
"We like to think of it as a silent neighbor," Eckert added.
Inverters will be placed on concrete slabs in the middle of the panel layout. The area will be surrounded by chain link fence that will be six or eight feet tall.
The plan includes planting what Bolin called "restorative vegetation" underneath the panels. These plants will include native grasses that will put nitrogen and CO2 back into the soil and will crowd out weeds.
"We're going to do dense native vegetation under there," she said.
Construction is proposed to begin in spring 2022 and will last nine to 12 months, Bolin said. About 150 construction jobs will be created that could tap local labor pools using job fairs, Eckert said.
"We're not going to sugar coat it, construction is going to be busy around town," Bolin said. "Busier than you're used to."
Once the construction phase is finished, the solar farm would be maintained by a crew of two or three full-time employees who would mainly work remotely, Bolin said.
Bolin said the solar farm will generally last for about 25 years. Once it is no longer in use, the company will decommission the materials. Eckert said as part of the conditional use permit, they will include an estimate of the cost of decommissioning. The company will also have a surety bond in place, he said. Surety bonds require the company to be financially liable.
Many in the audience had concerns about severe weather damage. Eckert said engineering standards will consider wind loads and the project will be obligated to cover any damage caused by their equipment being strewn about by a weather event.
"As part of a project this scale, we have to buy insurance for those kinds of catastrophic events," Eckert said.
There were also concerns about zoning. Bolin said the solar farm would be a permitted use under the county's new solar energy zoning regulations passed in February.
Rezoning is not required for solar farms in the county. The land remains taxed as agricultural land, Bolin said, and the owners continue to pay taxes as such.
The solar farm owner will pay an excise tax to the county that would reap about $385,000 a year for the county.
Community Energy will have to go through a process to receive approval for a conditional use permit, including public hearings with the Saunders County Planning Commission and the supervisors. No dates for these public hearings have been set.
While there were many answers to the questions posed, several queries went unanswered. Bolin and Eckert said on more than one occasion they would "look into that" or "get back to you" when these questions came up. They agreed to another town hall meeting to bring more information to the public.
"What I'm hearing from your concerns and the questions that we've got today is that it's important for this community, for this group, for us to come back and have another meeting where we can try to answer some of the questions that you have raised here," said Eckert. "And so I think we will commit to doing that and do our best to answer the questions."
During the county board meeting on Tuesday, Akeson told the supervisors a tentative date of April 22 has been set for the next town hall meeting.