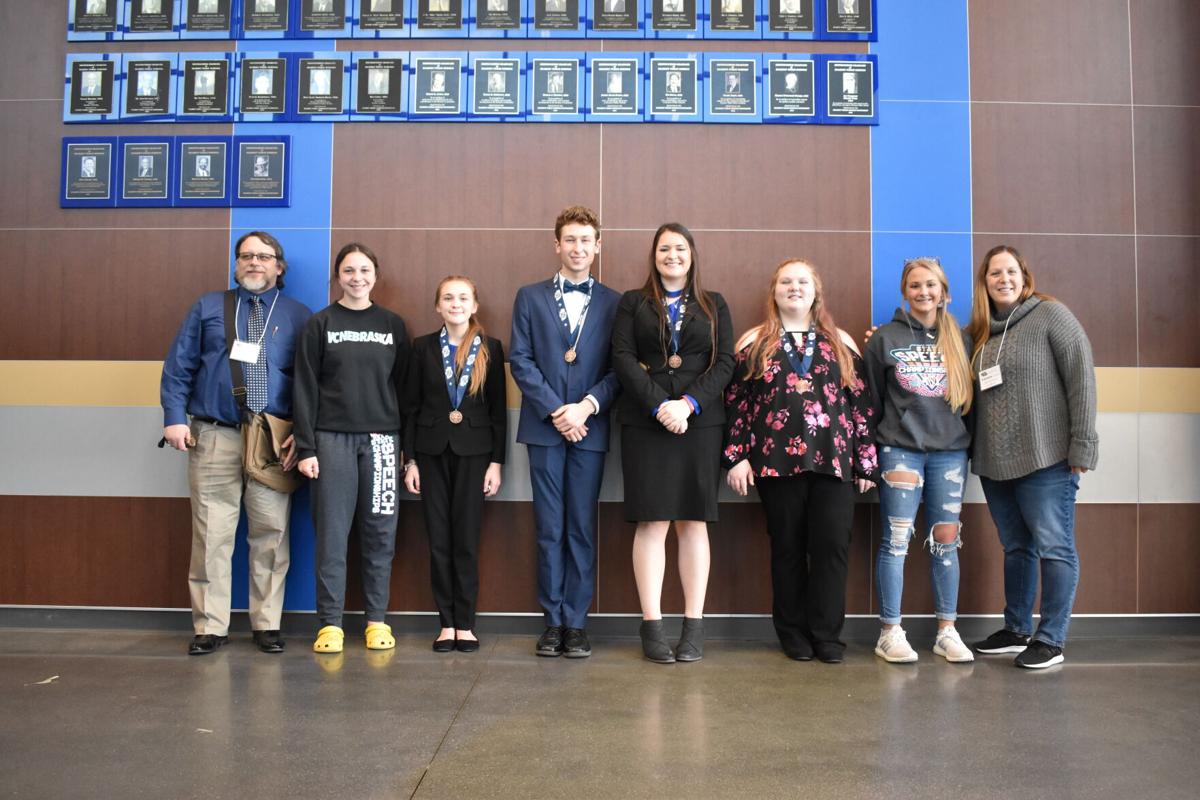 RAYMOND – Raymond Central High School Speech Coach Carolyn Enevoldsen said the speech team had a goal of finishing within the top five of the 2021 Class B Nebraska State Speech Tournament. 
Entering state, Raymond Central had six qualifiers. In the end, senior Hunter Kohl, freshman Olivia Nelson, junior Eleanah Enevoldsen and senior Grace Cadotte all broke finals and went home with medals. Calleigh Osmera and Rosalie Tvrdy both qualified and competed, but did not break finals. 
In the team sweepstakes, Raymond Central placed fifth, meeting the team's original goal. While the team hoped for a higher place, Enevoldsen said numbers are a huge challenge, especially when competing with larger schools with more qualifiers. 
"There's always some heartbreak in state and it sucks but overall it's a fun tournament," she said. 
Kohl placed fifth in dramatic interpretation, Nelson placed third in informative, Eleanah Enevoldsen placed fifth in persuasive and Cadotte placed sixth in poetry. The Waverly News spoke with seniors Kohl, Osmera and Cadotte about their experience in the state tournament as well as a season during a pandemic. 
The seniors felt the team's success was rewarding especially because they were competing against many larger schools. 
"I think it went really well," Kohl said. "I think we had a lot of people break in the finals and then we also did pretty well as a team in the overall ranking"
Despite certain COVID-related obstacles, the season went well.
"I feel like the whole season went really well," Osmera said. "It was kind of off to a weird start with the whole virtual thing and not being able to compete in person. I feel like for the challenges that we've faced with it being online we did super well and we found very good success."
The team, as well as other teams throughout Nebraska, faced a few challenges throughout the season including performing virtually. The three seniors said that lacking their normal visual aids, having limited space for movement and not being able to connect with audiences all contributed to the difficulties that came with virtual performances. 
"A lot of our stuff relies on audience reactions like laughing or like dramatic," Cadotte said. "It was really weird because everyone would always either have their camera off or would mute themselves. So you got no reaction. It was just silence."
Enevoldsen was grateful that her team was still able to have a season even though it was online for the most part after having districts and state canceled last year because of the pandemic. 
"It was such a heartbreak having districts and state canceled last year and not having them able to compete," she said. "It really was a heartbreak and was devastating. Being able to adjust and doing online, it was super awesome."
The seniors said their time on the speech team has benefited them in many ways including public speaking and wearing professional attire. Kohl will be studying architecture at the University of Nebraska-Lincoln, Osmera will be attending Concordia University to study education and Cadotte will be traveling to Maine for an apprenticeship with Wolfe's Neck Farms working on their organic dairy research and farm training programs. When she graduates from the internship, she will gain the title of master grazer so she can teach others about how to run a dairy farm.
Next season, Enevoldsen most looks forward to being around others and the collaborations and friendships that come with it. 
"The biggest thing I miss is the face to face interaction with other students, coaches, etc," she said. "That collaboration piece is huge in this event and it has been sorely missed this year."