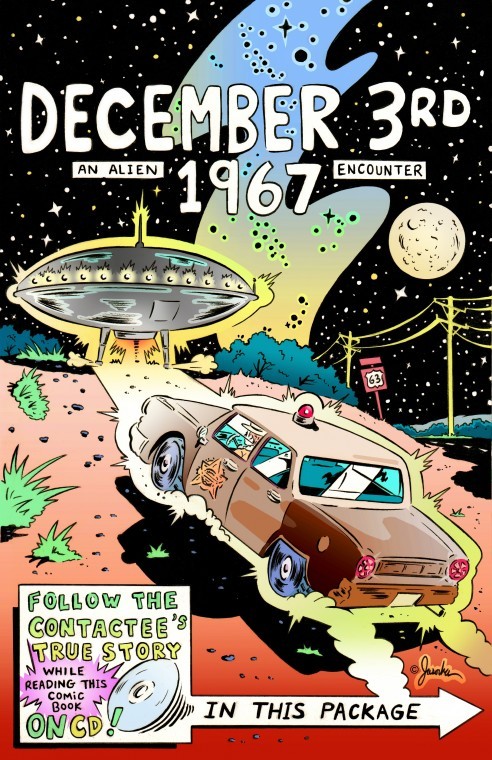 ASHLAND – Forty-five years later, the story of the abduction of an Ashland police officer by beings in an unidentified flying object is being told in a graphic novel.
Cartoonist Michael Jasorka released "December 3, 1967: An Alien Encounter" at a launch party on Dec. 3, 2011 in Los Angeles. His black and white illustrations, punctuated with occasional color, recount the story of Herbert Schirmer's abduction in his own words.
Schirmer was an Ashland police officer on patrol that fateful night when he encountered what he said was an alien ship near the junction of Highways 6 and 63. Jasorka based his graphic novel on an audio recording of Schirmer describing the event to an audience in Florida in the 1970s.
Jasorka has been creating independent comics for six years. The 27-year-old artist moved to California from his native New Jersey three years ago and has also been working on storyboards for the entertainment industry and illustrating a roller skating industry magazine.
He was searching the Internet for ideas when he came upon Schirmer's story.
"I've always been intrigued by UFOs," he said.
Jasorka had listened to several audio files about alien abductees before hearing Schirmer's.
"Herbert's just spoke to me," he said. "It was so vivid. I listened to it numerous times."
And every time he heard Schirmer's words, Jasorka was more certain they were true.
"You could tell from his storytelling manner and his voice that he couldn't have conjured this up," he said.
The cartoonist continued to research Schirmer's background and discovered drawings that Schirmer had done of the "humanoid" aliens he met and the ship they blew to Ashland, along with other notes he had scribbled of the encounter.
With the audio file, Schirmer's drawings and notes and old newspaper articles in hand, Jasorka set out to tell Schirmer's story to a new audience.
"It is dedicated to Herb and his story," said Jasorka.
While Jasorka did extensive research, he did not physically visit Ashland. Instead, he used Google Maps to get a feel for the town.
"You can literally travel the streets of Ashland," he said.
The cartoonist hopes to actually travel to Ashland this summer to hold a book signing and roll out a new video presentation.
"I'm so excited about all of this," he said.
It took six months for Jasorka to complete the graphic novel last year. He funded it through Kickstarter, a website where artists campaign to raise money for their projects. Donors receive rewards in exchange for their donations.
"What I'd offered was a comic book and original artwork," Jasorka said.
Another unique aspect of Jasorka's work is that he includes a CD of the original audio recording so the reader can simultaneously hear Schirmer's voice as they follow the story. A website also links readers to the audio file.
Jarsorka said he felt this was the best way to make Schirmer's story accessible to the public.
"I don't want this to be closed off to anyone," he said.
In just a few months, Jasorka said reaction has been good from those who have read the graphic novel.
"This is the first time I could really say I've gotten such positive feedback from everyone," he said.
Jasorka's graphic novel retells a story that Ashlanders heard first-hand nearly five decades ago.
Schirmer had been an officer with the Ashland Police Department for about seven months. A Navy veteran, he went into law enforcement after serving in Vietnam. He originally planned to join the Nebraska State Patrol, but when he came to Ashland for a police check, he left with a job offer.
"I enjoyed working with the public and serving the community and serving the laws of the state," Schirmer can be heard saying on the audio recording.
It was 2:30 a.m. on Dec. 3, 1967 when Schirmer pulled off of Highway 63 after checking on the town's two gas stations. He said he saw flashing lights and thought a truck was stranded. But as he got closer, he found it was something else.
"I knew it was no truck, and it scared me," he was quoted as saying in the Dec. 7, 1967 issue of The Ashland Gazette.
As he got closer, however, he saw a football-shaped, shiny metal ship rise off the ground about 40 feet.
The ship pulled the patrol car with Schirmer inside into a field.
The object landed and a humanoid being emerged. The alien walked toward the cruiser. All the while, Schirmer said he felt like he couldn't move. Another alien emerged and beckoned Schirmer to come with him.
"Are you the watchman of this town?" Schirmer said the alien asked. He replied affirmatively.
The alien said, "Come with me, watchman."
Schirmer said he entered the ship and recalled three levels, which he described in great detail. The alien told him he was from another galaxy and that his people were on Earth to gather electricity.
The police officer described seeing the alien extend an antenna toward a nearby electric pole and then watched a brilliantly colored spectacle as the energy was extracted.
Before depositing Schirmer back on the ground, the alien communicated to the policeman through a means other than words telling him that he would one day see the alien's world.
Schirmer, returned to the police station after the encounter. He wrote in his logbook: "Saw a UFO at Junction 6 and 63. Believe it or not!"
At first Schirmer could only remember the initial sighting of the alien ship. It was under hypnosis administered by the Unidentified Flying Object study team in Boulder, Colo. with Ashland Police Chief William Wlaschin as a witness that he remembered the alien beings taking him into the spaceship.
Wlaschin appeared to stand by his officer's account of the incident.
"Schirmer is a fine officer and he is a teetotaler and he is perfectly willing to take a polygraph test," he told the Gazette in 1967.
Schirmer took a polygraph test that Wlaschin said indicated he was telling the truth. But these tests didn't seem to help convince the general public that Schirmer was not out of his mind.
He was inundated by reporters from the state's daily newspapers and television stations after the story broke. They continued to pursue the story after he underwent hypnosis.
Schirmer told the conference that he suffered taunting and ridicule allegedly from Ashland residents that reached frightening proportions.
Two months after he reported seeing the UFO, Schirmer's image was hung in effigy at Ashland Cemetery. The bullet-ridden mannequin with his name emblazoned over a star and topped with a cowboy hat was allegedly taken away by the local ambulance crew and brought to the morgue to further the joke. Schirmer said he wasn't scared by the incident, and later when his car was allegedly blown up he was more mad than frightened. But other reports indicate his wife may have left him because of the incident and its aftermath.
What's more, it may have led to Schirmer's termination as a police officer. According to a Gazette article, Schirmer was appointed police chief in early April after Wlaschin resigned. But less than a month later, the Gazette reported that the mayor had appointed Paul Dupree as police chief. No mention was made of Schirmer's departure from the police force, but he was not listed as an officer in the department.
Schirmer eventually left Ashland and reportedly moved to Omaha. He made several public appearances where he spoke of the alien encounter, including one at a Fremont library in the mid-1970s.
Eventually, Schirmer faded from the public eye. A Google search of his name turns up only references to the encounter, no recent addresses. He's kept out of the public eye for decades and probably prefers it that way. Jasorka said he did not try to contact Schirmer, instead using the audio file and the other documents that have survived since the late 1960s to tell the story to a whole new generation.
"I think popular cultural media is looking for these kinds of things because not everybody knows about them," he said.