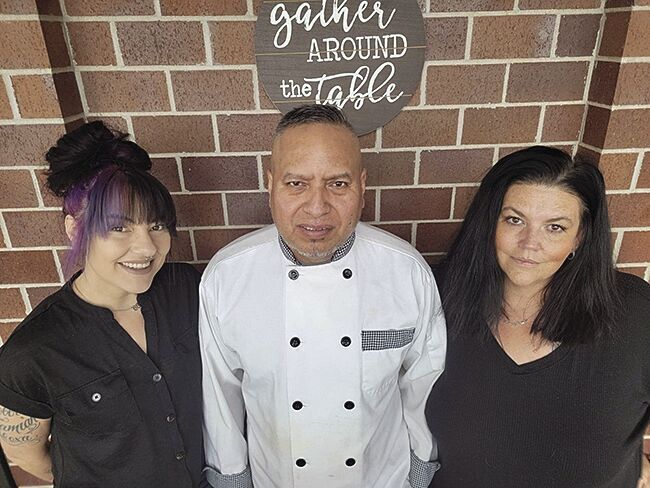 ASHLAND – Two local women have taken over operation of the restaurant located at Mahoney State Park.
Amberly Rist and Jeannette Anndannandus of Ashland are opening The View at Mahoney on Thursday.
Rist had been working as general manager for the previous vendor, Caddy's Parkside Grill, for three years. When the owner made the decisions to close last November, Rist decided she wanted to take over the operation. She called on Anndannandus, whom she has known for 15 years, and they put together a plan.
"We're extremely stoked," she said.
Officials at Mahoney State Park are also excited about the new vendor.
"We're excited to open The View, welcoming guests back with a great dining experience at Mahoney State Park," said Jake Rodiek, superintendent of the park. "The restaurant offers a stellar view of the Platte River and will be a great place for a night out, family get-togethers and overnight park guests alike."
The Nebraska Game and Parks Commission opened the restaurant in Mahoney State Park's Peter Kiewit Lodge in 1991 and operated it until 2010, when privatization was chosen to save the state agency money. Treat America was the first vendor awarded a contract. They opened The Lodge Steakhouse, a fine dining restaurant, in December 2010. After less than a year, the company asked to be let out of their contract. Jeff and Emily Parker, owners of Parker's Smokehouse, were awarded the bid to operate the restaurant in 2012, renaming the establishment Mahoney Grille. The Parkers opted not to renew their contract at the end of 2014. After the Parkers bowed out, Game and Parks signed another contract with Company Kitchen, formerly known as Treat America. Company Kitchen ended operations at the restaurant in 2018. Scratch Hospitality Management Inc. opened Caddy's Parkside Grill in 2018.
Rist has worked in the restaurant industry for 15 years, so she's primed for the opportunity to run her own restaurant.
"I've worked my whole life for this," she said.
Rist runs the food part of the restaurant, while Anndannandus is the financial controller.
"She maintains everything in the office," Rist added.
The pair kept the staff that had been working at the previous restaurant.
"I got very lucky," Rist said. "We have a very loyal staff. We're family."
The staff includes talented head chef Angel Lira, whom Rist calls "innovative."
"He is always coming up with new stuff," she said.
The menu is made up of home style fare like chicken fried steak and meatloaf.
"We want to go back to the lodge feel," Rist said.
Other choices include American mainstays like with burgers, wings, pizza and salad. Daily specials will include choices like salmon or seafood pasta.
Rist said they will have a Sunday brunch buffet and when it gets closer to summer, they will offer daily breakfast.
On Easter Sunday, there will be a special Easter buffet, and through the month of April. Guests who are coming to the park specifically to eat will not be required to purchase a park entry permit.
On weekends, they will offer a fine dining experience for date night and other distinctive occasions with a special menu, soft music, quiet atmosphere and a beautiful view.
"We really want to bring that back to the people that are local," Rist said.
The view overlooking the Platte River adds to the dining experience, and lead to the choice for the restaurant's name.
"It's what everybody comes here for," Rist said.
Rist said she did not set out to work in the restaurant industry. She studied business marketing in college but from the first restaurant job she took, she realized it was her calling.
"It's what I'm made for," she said.
Rist grew up in Arizona but moved to Ashland 15 years ago to be closer to her parents, Bob and Ginger Rist, who are originally from Ashland.
She loves working in a restaurant at Mahoney, one of the most popular state parks in Nebraska, because she gets to meet people from all over the world.
"You get to hear their stories, build a rapport," she said.