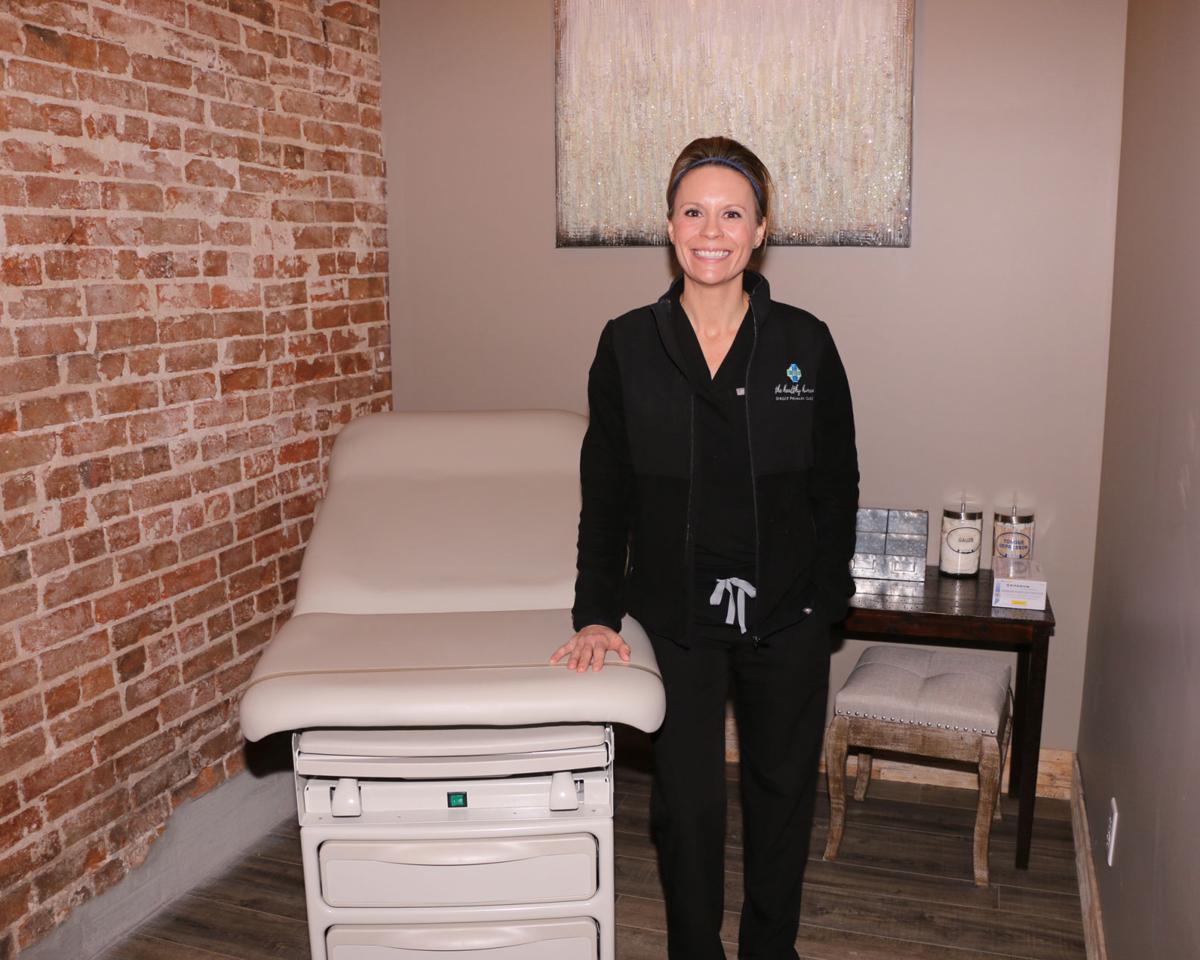 ASHLAND – There's a new medical clinic in town. The furnishings, equipment and decorations are new, as well as the method of health care.
Dr. Amber Beckenhauer opened The Healthy Human at 1518 Silver Street in downtown Ashland on Feb. 12. It is a Direct Primary Care (DPC) clinic, a health care model that many may not be familiar with.
Beckenhauer, a native of Ashland, also has a clinic of the same name in Blair. Aside from her two clinics, there are only two other private DPC clinics in the state. They are operated by doctors in Lincoln and Kearney who worked with during her residency.
Beckenhauer's Blair clinic is the first DPC facility in Washington County and the new Ashland office is the only one so far in Saunders County.
The DPC concept started about 15 years ago and was originally called "concierge medicine" because fees were very high, putting it out of reach for most people, Beckenhauer said.
Health professionals like Beckenhauer felt the new concept should benefit everyone, not just the rich. As a result, a model was created with affordable rates that work for patients who do not have insurance or those who have insurance with a high deductible.
In the DPC model, a patient will see their primary physician for almost all of their health care needs. That eliminates going to multiple health care facilities for procedures or treatments where "no one knows you," Beckenhauer said.
Beckenhauer said studies show that the one-on-one aspect of DPC can mean fewer hospital and emergency room visits.
"The quality of care is better because you could simply reach your physician," she said.
Although patients at The Healthy Human are only seen by appointment, Beckenhauer said they can reach her or her staff by phone or email anytime.
"That's the thing about direct primary care," she said. "I don't have to be in the office to take care of my patients."
Patients enroll and pay monthly fees that are available to view on the clinic's website, healthyhumandpc.com.
The fees are based on rates Beckenhauer negotiated with specialists, surgery centers and similar facilities.
"So I can try and get our patients the lowest rate possible if they were to do the cash-pay environment," she said.
Patients with insurance can also enroll at The Healthy Human, but Beckenhauer said they will not bill the insurance company for any of the visits or procedures.
The staff at Beckenhauer's Blair office will be working in Ashland as well.
Assisting with reception and nursing duties is Emily Beckman, a licensed practical nurse.
Nurse practitioner Melanie Dresden will also see patients in both locations. A nurse practitioner can examine patients, prescribe medication, diagnose illness and provide treatment similar to physicians, according to the website nurses.org.
Even though Dresden can treat patients independently, Beckenhauer takes the time to look at every chart.
"It helps me catch things," she said.
The Ashland office will initially be open two days a week, but Beckenhauer may expand hours in the future.
"That would be up to Ashland and their needs," she said.
Because of the small staff, patients must have an appointment set up before they come to the clinic, rather than be seen on a walk-in basis.
"We don't staff for that," said Beckenhauer. "That's how we keep it more one-on-one and more personal."
Because of the nature of the DPC model, those who make appointments will be seen quickly.
"Our goal is to always have you be seen 15 minutes within coming here," she said.
The staff will also include Beckenhauer's sister, Amy Douglas, who provides mental health counseling at both clinics.
Beckenhauer, the daughter of Dale and Debbie Sturzenegger, grew up in Ashland and graduated from Ashland-Greenwood High School in 1999. She attended Northwest Missouri State University in Maryville, Mo. for her undergraduate studies.
After taking a year off following graduation from Northwest Missouri State, she went to medical school at the Kansas City University of Medicine and Biosciences from 2004 to 2008. She did rotations at medical facilities in Florida and Chicago during medical school.
She completed her family practice residency in Lincoln in 2011 and moved to Blair that year to work at Memorial Community Hospital and Health System. She and husband Jeremy picked Blair because it was a mid-way point between their two hometowns of Ashland and Wayne. The couple has three sons – Jackson, Tucker and Hank.
After working in Blair for just over five years, Beckenhauer decided to open her own clinic in order to follow her passion to treat the whole person and to keep patients first. She continues to work at the hospital in Blair as well.
Although she moved away years ago, Beckenhauer has continued to maintain strong ties to Ashland, especially with her parents still living in the community.
"It gives me a good reason to absolutely be back," she said.
Beckenhauer decided to open a DPC clinic in her hometown after receiving several inquiries.
"I come home and people ask me, 'Why isn't this available in Ashland?'" she said.
The doctor is excited to bring DPC to Ashland so residents won't have to drive to another community to get care.
"I hope it gives them access to medical care and they don't have to leave town," she said.
Beckenhauer opened The Healthy Human in Ashland on the one-year anniversary of the opening of her clinic in Blair. Running the Blair clinic for a year helped her better prepare to open the second clinic, she said. She knew how she wanted it to look and flow for her patients.
The Ashland clinic includes two exam rooms, a procedure room, a waiting room and a reception area. Another room is being used by Douglas for counseling, but can be converted to an exam use in the future, Beckenhauer said.
Beckenhauer's husband has been doing most of the remodeling on the building, which was formerly a recording studio. Before that, it was the home of The Ashland Gazette for several decades.
Walls came down and new ones were put up during the project. Jeremy Beckenhauer used wood lathe from a wall that was torn down in the back of the building to trim the door ways and cover a sliding door.
The project also uncovered brick walls hidden under layers of drywall.
Beckenhauer is decorating the clinic with antique medical items. Specifically, she is using vintage pieces that have ties to Ashland's medical community to tie her clinic to the medical professionals who have taken care of Ashland's residents since the community was born.
"I'll do whatever I can to incorporate vintage medical care items to continue the tradition," she said.
As the clinic's owner, Beckenhauer has learned to take on many roles beyond doctor.
"I'm the pharmacist, phlebotomist, janitor, business owner and doctor," she said.
Another role Beckenhauer is eagerly fulfilling is educator. She teaches at UNMC/Clarkson Family Medicine Residency in Omaha.
"I've always wanted to be a teacher and now I have the opportunity to do that," she said.
Beckenhauer has also always wanted to bring affordable, whole person health care to patients in her hometown of Ashland and in Blair where she is raising her family.
"It's not about us as individuals," she said. "It's about taking care of the community."
Be the first to know
Get local news delivered to your inbox!