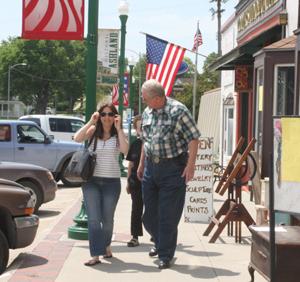 ASHLAND – Travel writer Malerie Yolen-Cohen is looking for hidden gems on her trek across the United States on Route 6.
    She found several in Ashland last weekend.
    Yolen-Cohen spent Saturday afternoon in the company of three members of the Ashland Historical Society. Roger Bratt, Peg Lutton and Marti Fritzen treated the Connecticut woman to lunch at Cheri O's and began to tell her about the history of Ashland and the many sights to see in our small community. In turn, Yolen-Cohen told the group the story of her journey across America.
    "I'm faithfully following Route 6 and blogging every day with the intention of compiling a guide book," she said.
    Yolen-Cohen started out in Provincetown, Mass. at the easternmost end of Route 6, the longest contiguous transcontinental highway in the U.S. It took her six months to plan the six-week odyssey. She contacted every community in the 14 states intersected by the roadway. For each state, she compiled a detailed list of information, each contained in its own folder.
    She travels about 100 miles a day, taking notes, snapping photos and recording unusual items or events on her Flip video camera. About three days after she visits an area, she publishes her thoughts, photos and videos on her website, stayonroute6.blogspot.com. The three-day comfort zone gives her time to reflect and also put some distance between herself and the area she has just visited.
    While she has many planned stops, she also finds hidden treasures on her journey. She calls it "serendipity" when she finds something along the way that was not on the radar. Like the senior couple in Connecticut who live in a house that was once a Revolutionary War tavern.
    As she researched Nebraska, Yolen-Cohen knew there were attractions in Ashland she wanted to see. But she was intrigued even more in our cozy community by Bratt, who she said was "relentless" in his zeal to get the writer to stop here.
    "He built the place up so much I was expecting a brass band to meet me," Yolen-Cohen said of Bratt in her blog.
    No brass band, just the motley crew of Ashland history enthusiasts and this reporter. We spoke proudly of our community, filling Yolen-Cohen's head with a plethora of facts about Ashland, including that we have six buildings on the National Historic Register, the Oxbow Trail used the Saline Ford on Salt Creek as a crossing point and we claim Nebraska's only astronaut, Clayton Anderson, as our own. It was enough to impress Yolen-Cohen, who as a freelance writer has been published in many national and regional magazines.
    "Ashland has a worldly crossroads character, in spite of its small size," Yolen-Cohen wrote in her blog.
    After lunch, Bratt took us on a whirlwind tour of the town, pointing out that Route 6, which has gone by many other names in its lifetime, ran right through downtown Ashland. The bricks that still cover Silver Street are those from that famed highway, it was noted.
    Yolen-Cohen noted in her blog that Route 6 used to go right through storefront mainstreets, like Ashland.
    "Now, Route 6 bypasses downtown Ashland, but the route used to take drivers directly to where I was ogling the galleries and eateries," she said.
    Before the tour, Yolen-Cohen got the chance to visit downtown Ashland's shops and galleries. In her blog, she loved the soothing music and gentle running water of the Archie Hightshoe Wildlife Display, which gives the gallery a "spa-ish feel," she wrote.
    Just down the block Yolen-Cohen visited the Cooper Art Studio and Gallery, where artist Kim Cooper personally showed her his works and gave a tour of the renovated apartment upstairs filled with antiques where he and wife Lynn live. Yolen-Cohen was so intrigued by Cooper's work that she bought a painting, her first souvenir since starting the trip.
    "It's the first time I've been inspired to buy anything," she said.
    The group then walked to Glacial Till Tasting Room and Art Gallery, where Yolen-Cohen viewed even more art and gathered information on the wine made by Mike Murman and his family.
    "I was even more impressed when I walked into a swanky, streamlined bistro…with another art gallery upstairs; seemingly out-of-place, again, in small-town Nebraska," she wrote.
    Yolen-Cohen was impressed with the art community in Ashland, noting that many small communities lack the kind of culture and sophistication that caught her by surprise here.
    "If you have a town that attracts artists, you have a much higher level of ambiance," she said.
    Another phenomenon Yolen-Cohen has found in the Midwest in particular is a central theme of friendliness, and Ashland was no exception.
    "These are really truly friendly people," she said, adding with a laugh, "I'm not so used to it."
    After the tour, Yolen-Cohen took photos of her tour guides and then said goodbye with hugs, perhaps as a tribute to our Midwestern friendliness. Then it was off to Lincoln, with a stop in Greenwood for the irresistible chocolates at Baker's Candy Factory Outlet.
    Once her 3,200-mile trip is finished in Long Beach, Calif., Yolen-Cohen will compile her blogs, photos and information and write a self-published book entitled, "Stay on Route 6." It will take about three to six months to complete, she said. The book will have a strong service component, she said, with information on the places she visited such as hours of operation, range of prices for meals and lodging, etc.
    There will also be the "highlights and surprises and hidden gems," she said.
    Her goal is to urge travelers to use Route 6, which used to be the main thoroughfare across the nation. After the Interstate system was built, small communities like Ashland were no longer visible to travelers.
    "I'm trying to bring attention to the small communities that have been cut off from the world," said Yolen-Cohen.