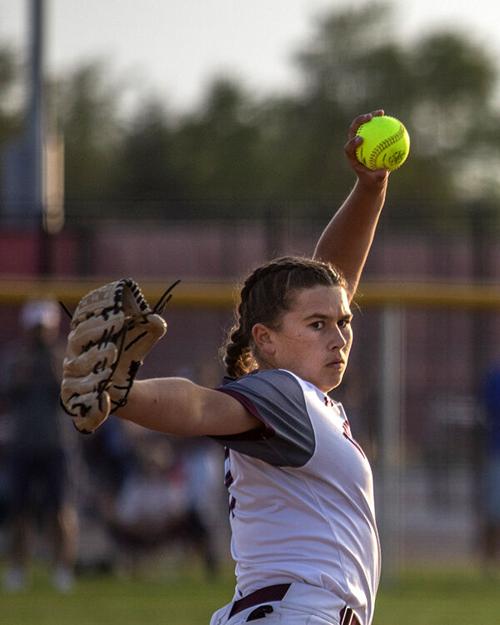 PAPILLION – The Waverly Viking softball team capped a busy week by competing against some of the best teams in the state at the annual Monarch Invitational in Papillion on Friday and Saturday.
Prior to competing in the tournament, the Vikings played Bennington on Sept. 15 and Blair on Sept. 17.
The Vikings were defeated at home 8-2 by the Badgers on Tuesday after allowing three runs in the sixth and three more in the seven inning.
The game was tied at two after five innings.
The Vikings finished with just five hits. Two of them were home runs by Camryn Craddock and Morgan Schuelke.
Pitcher Megan Brinkman pitched a solid game before tiring late. She allowed eight hits and eight runs in seven innings while taking the loss.
The Vikings returned to action on Thursday night when they traveled to Blair for a conference matchup against the Bears.
Waverly led the entire game before getting their hearts ripped out in the bottom of the seventh inning.
The Vikings led 4-2 before the Bears pushed across three runs in the final half inning to pull out the victory.
Tenley Kozal finished with three of the six Viking base hits.
Schuelke and Malia Thoms each slammed home runs against the Bears.
Brinkman started and was tagged with the loss before getting relief from Kaylei Denison.
The Vikings began tournament play on Friday afternoon against Class A's Millard West and Bellevue East.
The Vikings led 2-1, but the Millard West Wildcats were able to score four runs in the third and added six more in the fourth on their way to notching the 14-5 five inning win.
Cordes went 1-for-3 with a home run and a team-best two RBI.
Craddock also added another home run for the Vikings.
Denison started and was tagged with the loss after giving up nine runs and 10 hits in just over four innings.
The Vikings got off to a horrible start against Bellevue East and were defeated 14-0.
BE scored 11 runs in the first inning and needed just three innings to get past Waverly.
Kozal finished with the lone hit for Waverly.
Brinkman was tagged with the loss.
The Vikings returned to the diamond on Saturday for a contest with the Kearney Bearcats.
Waverly scored seven runs in the first inning and then hung on to win 8-7, bringing an end to a four game losing streak.
Tara Tenopir ripped a three-run home run in the first inning, her second one of the season.
Griffin finished 2-for-4 and drove in two runs from her leadoff spot. She raised her average to .413 on the season.
Thoms and Kozal each added two hits against the Bearcats. Kozal is hitting .472 this year.
The 1-2 tourney finish dropped the Viking record to 10-11 on the season.
Be the first to know
Get local news delivered to your inbox!