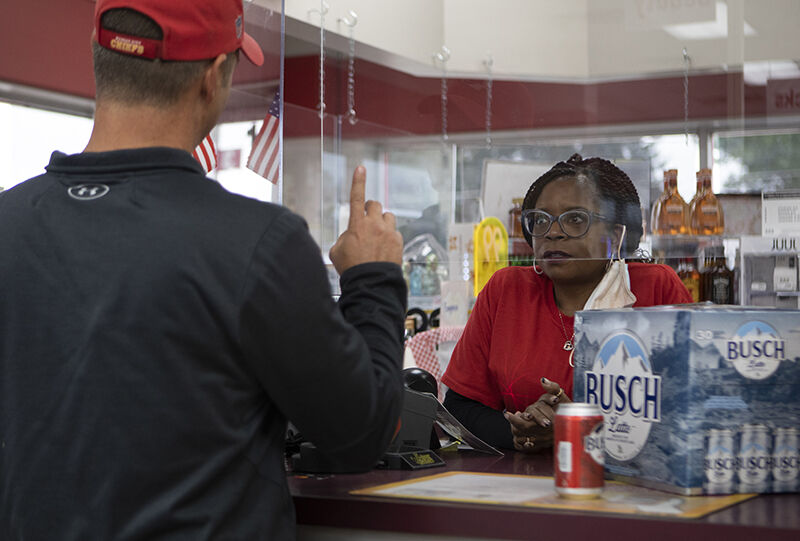 WAVERLY – When a customer hears, "Welcome to Mammoth Station," John Hestermann hopes it makes their day. 
In fact, with some regulars, Mammoth Station employees jokingly compete with them to say the warm greeting first. 
In May 2019, Hestermann purchased what was formerly known as Fossil Fuels and turned it into Mammoth Station, a gas station and convenience store and the new headquarters for three of Hestermann's other businesses. 
Hestermann's fondness for hippos helped him to name three out of the four of these companies. 
Hippo Equipment, an equipment rental company, is self-explanatory. River horse is a common nickname for hippos, which is why Hestermann named his a construction oversight company River Horse Services. And finally, Mammoth Station relates to hippos because mammoths and hippos are both pachyderms, which are generally larger animals with thick skin. 
"They have no natural enemies," Hestermann said. "They are just big."
And that is just how Hestermann wants Mammoth Station to be, something that is not intimidating or competitive but the opposite – friendly. 
A huge part of the station's friendliness comes from Karan Ranson, general manager and marketing director. Ranson began working at Mammoth Station in October 2019 and labors to provide an enjoyable and non-judgmental experience within the convenience store. 
"I want people to feel comfortable," Ranson said. 
Between the locally made face masks, a wide variety of beverages and snacks and a diverse food menu, the store has just about everything one could think of and that is because Ranson brings in products based on what her customers want. Their food menu includes pizza, wings and sandwiches as well as their broasted chicken, which is widely advertised on their Facebook and Instagram pages. The chicken comes with Ranson's very own invention called "Mammoth Sauce." 
While Mammoth Sauce is a secret recipe, what's not so secret is the sense of family you get from the station. Not only are the customers treated like family, so are the employees. And for some, they are quite literally family. 
Hestermann and Ranson are engaged and both have children who work at the station. Hestermann's son Logan Hestermann works mostly for Hippo Equipment but does work for all four of his father's companies. When COVID-19 caused schools to shut down, Ranson brought in her daughter Kirsten Ranson-Pettway to help run the convenience store. 
While customer service and a welcoming environment are incredibly important to both Hestermann and Ranson, they want the store to become something every Waverly citizen can use. Hestermann said he wants the future of the station to be a landmark for directions in Waverly. 
"I want it to be 'Where is it from Mammoth?'" he said.
Be the first to know
Get local news delivered to your inbox!