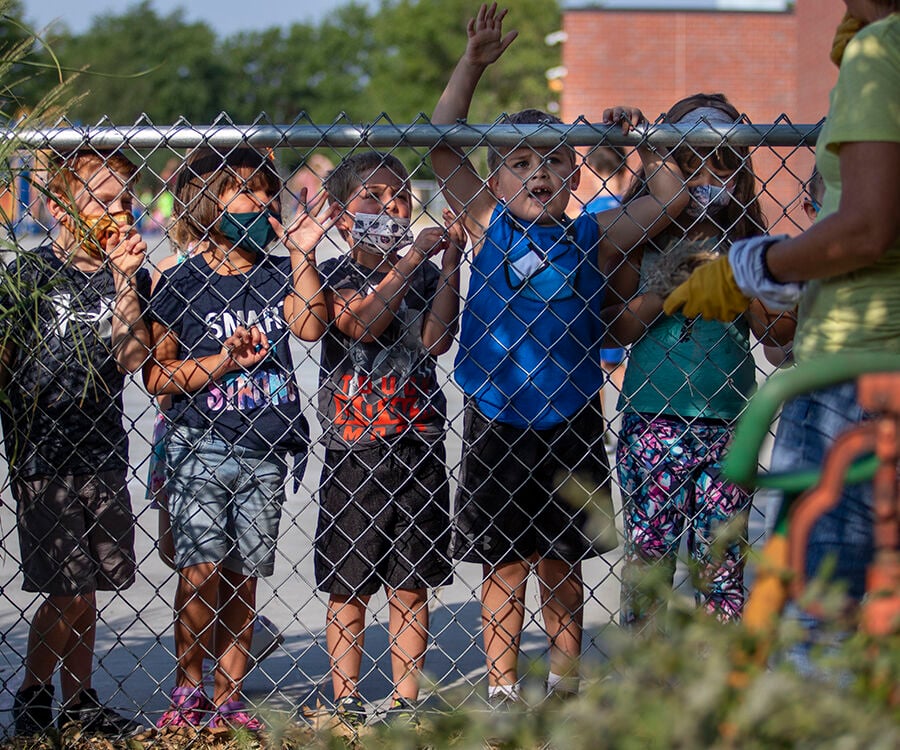 WAVERLY – When Arica Carlson asked the teachers of Hamlow Elementary how they utilize the butterfly garden on the backside of the school, she was shocked to hear that they don't because of it's overgrown, untamed aspects. 
Carlson, mother of first-grader Grant Carlson, immediately wanted to change that. Thus, the butterfly garden reopened on June 30 for revitalization efforts led by Carlson. 
Carlson reached out to the garden's founder Justin Evertson for more information. The estimated 25-year-old garden grows mostly Nebraska-native plants which makes the garden self-sustaining and helps the birds and insects who feed on the plants, Carlson said.
According to Carlson, both the chinkapin oak tree and the black cherry tree that grow in the garden can support hundreds of different species of insects. The garden also grows coral berries which are very important for birds in the winter. Along with these vital plants, sunflowers, ironweed, switchgrass, snow-on-the-mountain plants and much more also inhabit the space. 
"Justin knew what he was doing when he installed this," Carlson said. "You can tell that there's good bones." 
Evertson is a landscape professional with the Nebraska Forest Service, so when his children were students at Hamlow, he felt that the butterfly garden would be perfect for educating the students of Hamlow about the environment. Carlson said that Evertson is known as the Wizard of Waverly for his pattern of creating gardens like this as well as planting trees in common places in Waverly. 
Evertson reported that in the last ten years, the garden had been abandoned because it became difficult to maintain it by himself. 
Because of this, Carlson has been working to ensure that does not happen to her through outreach to parents as well as communicating with teachers on how they can utilize the space. As of now, Carlson has been having parent volunteers help her work in the garden on Friday mornings from 8:30 until noon. 
During this outreach, Carlson also asked around for some sort of seating for the garden. Carlson felt like seating would add so much more to the garden and create more of a welcoming space for children and adults.  
Cub Scout Pack 76 came to the rescue. Pack 76, also known as Webelos Den, built eight benches for the garden with the wood and screws donated from Millard Lumber, according to Webelos Den leader Meghan Johnson.
"It already gives us a sense of people here instead of just a swath of green," Carlson said. 
With a window view from the first grade classroom, Carlson hopes to add much more color, including Nebraska's state flower, the goldenrod. She also hopes to add more of an emphasis on prairie land. 
"I think that the prairie is shrinking, but also our knowledge and our interaction with the prairie is shrinking," Carlson said. "Our opportunities to be in spaces that are native to the land we're living in are shrinking, and it's so important to kind of see the ecology pieces of all of that."
Hamlow principal Michelle Rezek said that even though it is overgrown now, she is beyond excited to see the final outcome. 
"You can see that it's a work in progress, but you can also see the potential for creating an amazing space for kids," Rezek said.  
Carlson's goal for the garden is for the students to use the garden along with their lessons on butterflies, planting seeds, Nebraska ecosystems and to simply enjoy the outdoors. 
"Studies have shown that nature is so good for your brain," Carlson said. "Giving kids a space to have a calm space, I think it makes a big difference."
Rezek also said that Carlson's coordination and passion does more than just complete the garden, it fortifies the community. 
"I don't even know how to begin to describe her work," Rezek said. "Her organization and getting the seating and kind of rallying the community. The environment is amazing, but the work behind it with her organization and drive, I am beyond appreciative for."
Carlson estimates that the garden itself will be fully up and running hopefully by this time next year. She hopes people will be just as curious about the space as she was when she first stumbled upon it. 
"I just would love for people to know about this space and get excited about the space, or at least curious about this space," Carlson said. "What it can do for the kids that go to school at Hamlow, and what it can do for nature and for our ecological system here in Nebraska."
Be the first to know
Get local news delivered to your inbox!