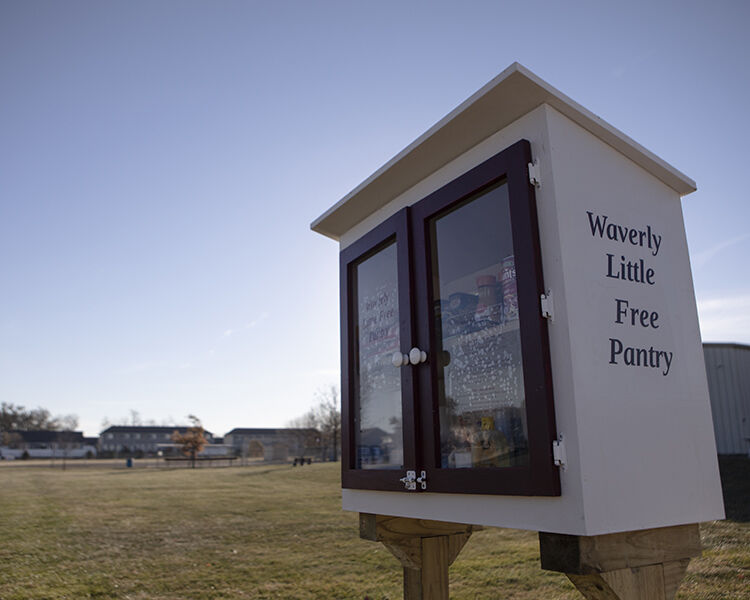 WAVERLY – Terese Johnson said she has wanted to have a Little Free Pantry in Waverly for a long time, but when the COVID-19 pandemic hit in March, her drive for establishing the pantry only increased.
On Monday, Waverly's first Little Free Pantry popped up on the northeast corner of the Waverly Community Center on North 141st Street. It will offer a variety of foods, and hygiene products like tampons and toilet paper.  
Little Free Pantries is "a grassroots, crowdsourced solution to immediate and local need," according to the website. Being nationwide with a few pantries in Canada, the website also lists instructions on how to establish a pantry as well as how to build your own pantry. 
Brian Johnson volunteered to build a pantry as a part of the community effort to have it installed. After Brian Johnson completed the small, house-like box, Terese Johnson painted it and received help from Patty Seier to install it. According to Terese Johnson, Seier was a huge part of creating a Little Free Pantry in Waverly.
"[Terese Johnson] called me with her project idea and I said I would love to help her get it installed and keep it stocked," Seier said. "I'm glad to be a part of Terese's passion to help others."
Terese Johnson said the pantry will have a box located at Russ's Market for donations and a food share with the First United Methodist Church food bank. She said that since the pantry is self-sustaining, it will be reliant on these two ways of donations, along with random donations directly to the pantry. 
"There are people who have a need to give and there's people who have a need to receive," she said.
For Terese Johnson, this project is meant to be a community project, unrelated to any specific entity in Waverly. When deciding where to establish it with Pastor Jacob Cloud at First United Methodist Church, they found that the Waverly Community Foundation building would be the perfect location due to its centrality to Waverly. 
Terese Johnson said she worked with the city, First United Methodist Church food bank, Waverly Community Foundation and several volunteers including Brian Johnson and Seier. 
Due to COVID-19, Terese Johnson said now is the time people are finding themselves in need. Having the pantry available in Waverly, will allow all those in need to have the supplies they may not have access to. 
"I've always considered Waverly to be kind of a strong, upper middle class area," Terese Johnson said. "That doesn't mean that we're not prone to need. And we have people who have need in our area, and then we have people who have just suddenly found they are in need."
As for the future of the Little Free Pantry, Terese Johnson said she is hopeful for its success within the community. 
"I'm really hoping that people will give and take from it and feel very comfortable giving and taking from it with absolutely no judgments," she said.
Be the first to know
Get local news delivered to your inbox!