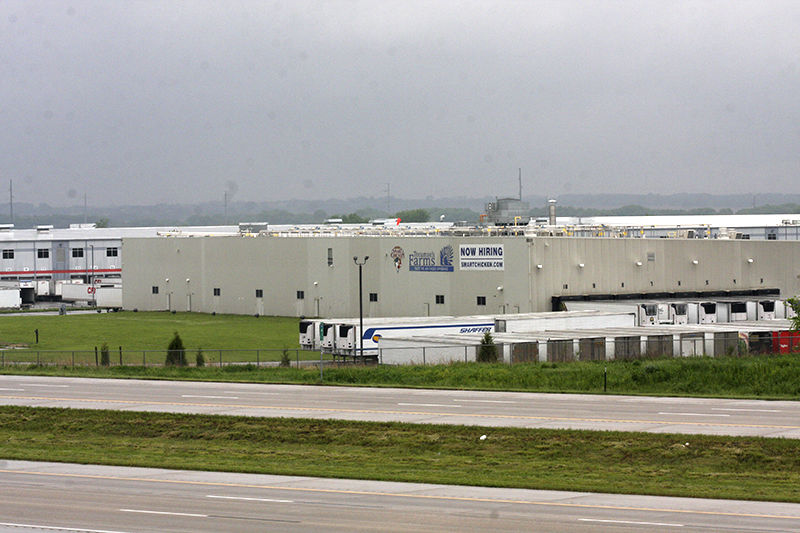 WAVERLY – The spread of COVID-19 continues in Lancaster, Cass and Saunders counties.
The Lincoln-Lancaster County Health Department (LLCHD) reported additional 34 lab-confirmed cases of COVID-19 Monday, bringing the community total to 1,090.
There are a reported 20 cases of COVID-19 tied to the Smart Chicken plant in Waverly. Five cases were identified last week by contact tracers from LLCDH, according to the Lincoln Journal Star. The report did not state whether these individuals lived in Waverly or the surrounding area.
Tyson Foods Communications Manager Morgan Wathous did not confirm or deny the number of COVID-19 cases tied to the Smart Chicken plant, a poultry production facility that is owned by Tyson Foods. In an email sent May 22, Watchous said the company's top priority is the health and well-being of its employees, their families and the community.
"We take this responsibility very seriously and are doing everything we can to keep them safe and healthy," Watchous said.
Watchous said Smart Chicken began implementing preventative measures in late January to fight the spread of the virus. The measures included social distancing guidelines for employees. They use markers and dividers on the production line and in welfare areas, Watchous said. Signs are posted in multiple languages.
The poultry production facility has also increased cleaning and sanitization efforts and installed UV light sanitation devices in the air ducts. They also sanitize the air nightly, Watchous said.
Face masks and face shields are supplied to all employees, who are required to wear them while working. And the company has relaxed attendance policies and are encouraging all team members to stay home if they are sick, Watchous said.
No closure has been announced for the Smart Chicken plant in Waverly, but officials say they continue to monitor the situation.
"Our team members are here to protect each other, provide for their families and make food for their communities," Watchous said. "While our plants remain fully open and operational, if we cannot operate our facilities safely, we will not hesitate to idle them to ensure the safety of our team members and community."
There are 38 persons who have tested positive for COVID-19 in Cass County as of Monday, according to the Sarpy/Cass Health Department's online dashboard. Three deaths have been reported in the entire health department district. A map supplied on the dashboard indicates that there are zero to six cases in the Ashland, Greenwood, Waverly, Eagle and Alvo zip code areas of Cass County.
Of the 495 confirmed cases in Sarpy and Cass counties, 54 percent acquired the virus by direct contact and 32 percent through community spread, according to the health department. The first case in the health department district was identified on March 13.
The Cass County courthouse is closed to the public until further notice after three employees tested positive for COVID-19.
According to Dan Henry, chair of the Cass County Board of Commissioners, two employees in the county clerk's office and one in the treasurer's office tested positive. The employees were tested after developing mild symptoms.
The employees and people who have been in close contact with them have been advised to quarantine for 14 days by the Sarpy/Cass Health Department and federal officials.
Last week it was reported that one employee of the courthouse tested positive and the facility was closed for deep cleaning and sanitization on Thursday and Friday. Henry said the courthouse was briefly opened to the public Tuesday morning, but the Cass County Board of Commissioners quickly voted to close the facility to the public for the balance of the week after learning of the additional cases. They have not set a date for reopening.
"What we're trying to do here is get everything leveled out," Henry said Tuesday morning.
Although the courthouse is closed to the public, all offices remain open for business, with the exception of the county clerk's office, Henry said. That office is closed and the staff members are in quarantine, he added, as two of the five employees there tested positive for the virus.
Henry said county officials are working on a way to prevent the need to close down an office or the courthouse during a pandemic.
"We're trying to come up with a plan where that won't happen again," he said.
For the time being, business can be conducted in the other county offices over the phone, through email and by appointment, Henry said.
"The rest of the offices are still open, still answering the phones," he added.
The county is not conducting a mass testing event for courthouse employees, Henry said. If an employee develops symptoms, they are tested.
Henry said when they closed the courthouse last week after the first positive case was discovered, the custodial staff was ordered to do deep cleaning and sanitization.
The courthouse had just reopened on May 11 after having been closed for several weeks due to the pandemic. At the time, social distancing rules were established, and on May 18 all persons entering the courthouse were required to wear a mask.
In Saunders County, the number of positive cases is 27, with three additional persons testing positive after a mass testing event in Wahoo on May 18, according to Three Rivers Public Health Department. Of those three, two are adults and one is a child. In total, 194 people were tested that day. Three Rivers officials report a total of 369 cases in Dodge, Washington and Saunders counties.
Symptoms of COVID-19 can include fever, cough, sore throat, shortness of breath, headache, chills, muscle pain or a loss of taste or smell. Symptoms can appear two to 14 days after exposure.
Health officials encourage residents to continue to stay home if possible, to wear face coverings, and to wash their hands frequently.  Those at risk of complications from COVID-19 should continue to stay away from others. 
In Lancaster County, persons who experience these symptoms are urged to access drive-through testing offered by Bryan Health and CHI Health St. Elizabeth in Lincoln. Residents begin this process with a free online risk assessment available at BryanHealth.com and CHIHealth.com.
If testing is recommended, individuals will be given an order and referred to one of the testing sites.  Only those with an order and referral from Bryan Health or CHI Health St. Elizabeth, or an order from their doctor are permitted at the drive-through sites.  Those who need assistance may contact the Health Department at 402-441-8006.
The website COVID19.lincoln.ne.gov also includes a dashboard that summarizes Lancaster County COVID-19 data. The website also has a COVID-19 Risk Dial, which indicates that the risk of the virus spreading in the community remains high.