Airstream has long been famous for its classic shiny camper trailers that can be parked along the smooth dirt driving paths of campsites that have hook-ups for electricity and plumbing. But now it has come out with its four-wheel-drive off-road camper van for those who want to get even further off the beaten path.
With the Interstate 24X, Airstream is venturing into territory that was, up to now, mostly occupied by start-ups that specialize in making campers for overlanding and boondocking. This means real wilderness camping, which has gained in popularity during the Covid pandemic.
With a starting price of about $214,000, the Interstate 24X has knobby off-road tires and all-wheel-drive, allowing it to crawl along muddy rutted trails with less chance of getting stuck. Its sheer size — as the name implies, it's 24 feet long — could prevent it from getting too deep into the woods, but it's designed to venture further into the forests or deserts than Airstream's other camper vans.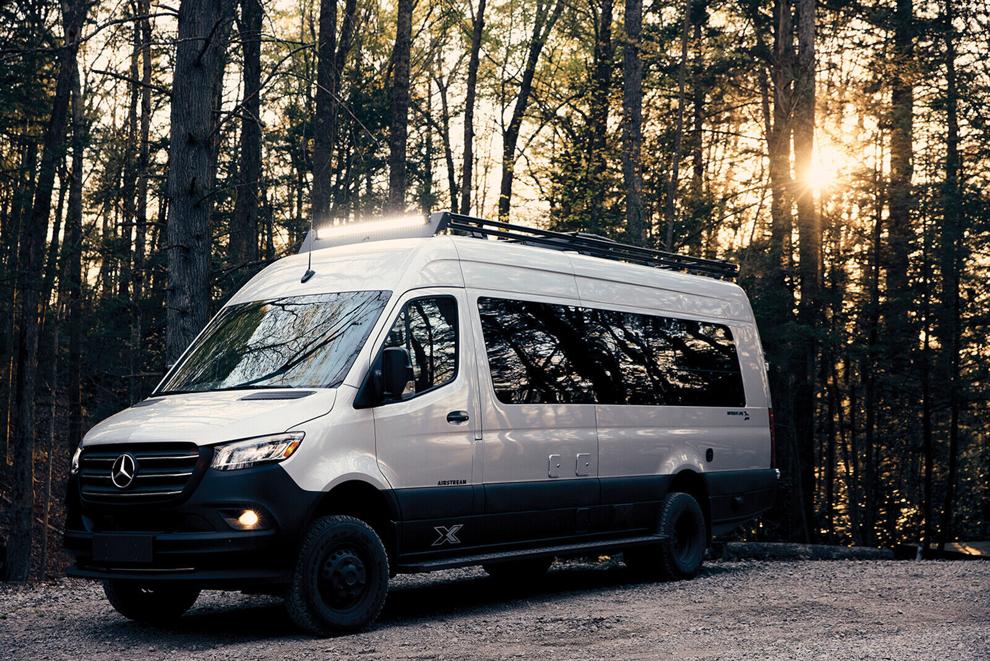 Airstream has recently started offering off-road capable trailers, like the Basecamp 20X and 16X, but those are designed to be towed behind other vehicles. There are other Airstream camper vans, like the Interstate 24GT and 24GL, but the Interstate 24X is Airstream's first to offer four-wheel-drive.
Like the other Airstream Interstate models, the 24X is based on a diesel-powered Mercedes-Benz Sprinter van. It has comfortable bed space for two adults — four people could fit in a pinch — and seats as many as six.
In designing the interior, a lot of attention was paid to storage, according to Airstream. A track-like storage system along the walls, ceiling and floor allows for hanging and securing gear with straps.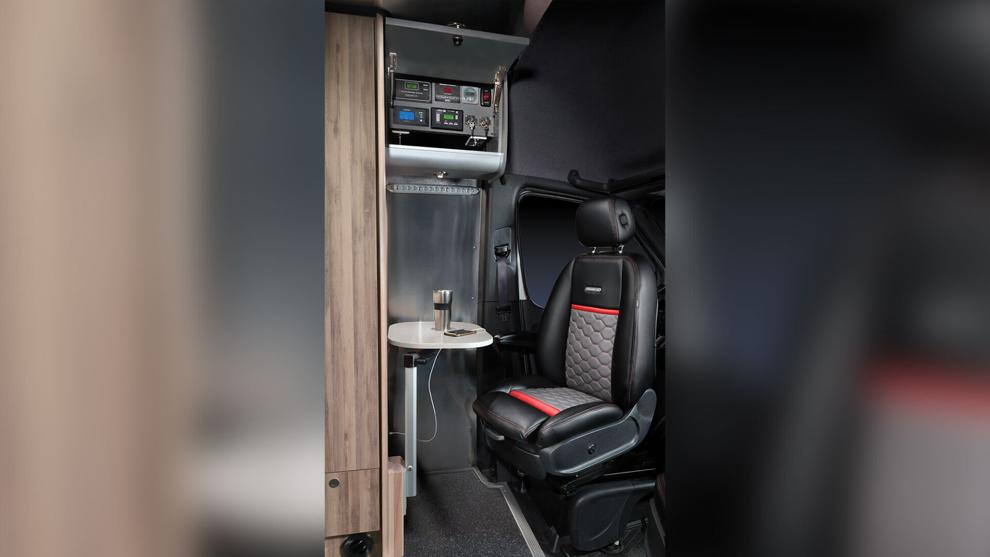 The on-board bathroom also "features amenities that surpass the minimalist setup you find in most adventure vans on the market," according to Airstream. For instance, it has heated floor, a clothesline, and vanity mirror. The van also has a small kitchen with a two-burner cooktop and a microwave oven.
For living off the grid, the van comes with lithium batteries to power accessories and has solar panels to charge them. There are also extra inputs for more solar panels on the outside, and the van comes with a gasoline-powered electrical generator.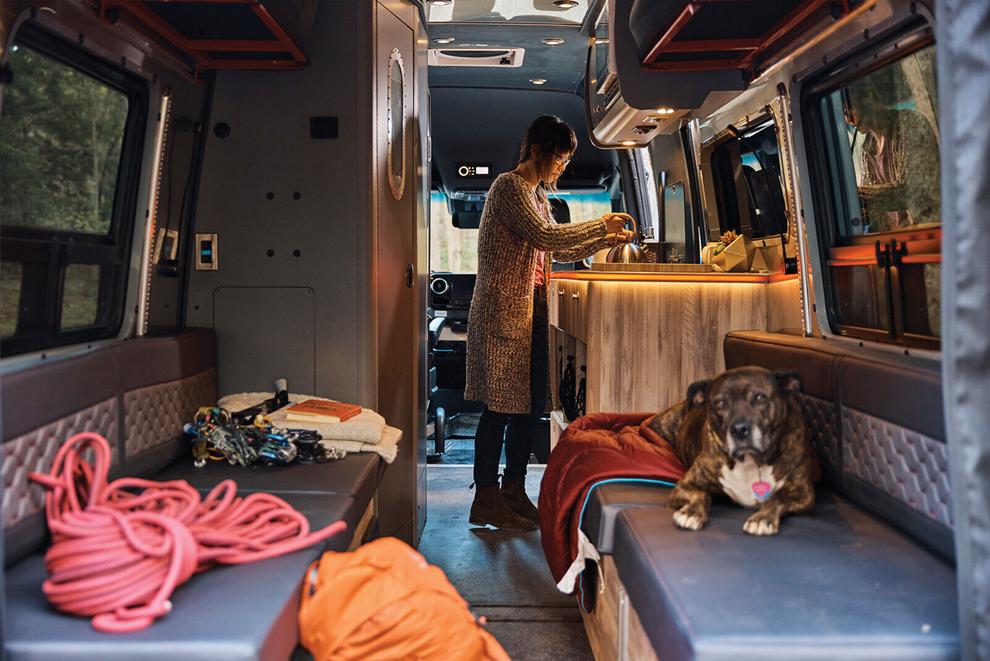 For remote work, the van is equipped with a 5G-ready cellular antenna. There are four mounts for removable tables. One mount allows a table to be used as a standing desk outside.
For driving into unlit off-road areas, the van sports a 3.5-foot light bar above the windshield. There are also other lights around the outside of the van for use at the campsite.
Camping became more popular during the pandemic, resulting in an increase in RV sales which had previously been declining. Airstream's parent company, Thor Industries, which also owns Jayco, Keystone, Heartland and other RV companies, said it has a $14.3 billion backlog of orders. That's about a year's worth of production for Thor's companies, an Airstream spokesman said. Airstream said its first Interstate 24X van orders should be completed by this fall, though.
9 underrated Mexican vacation destinations
Mexico City
Note: Save these destinations for when it's safe to travel again. Be sure to check the travel rules before visiting Mexico.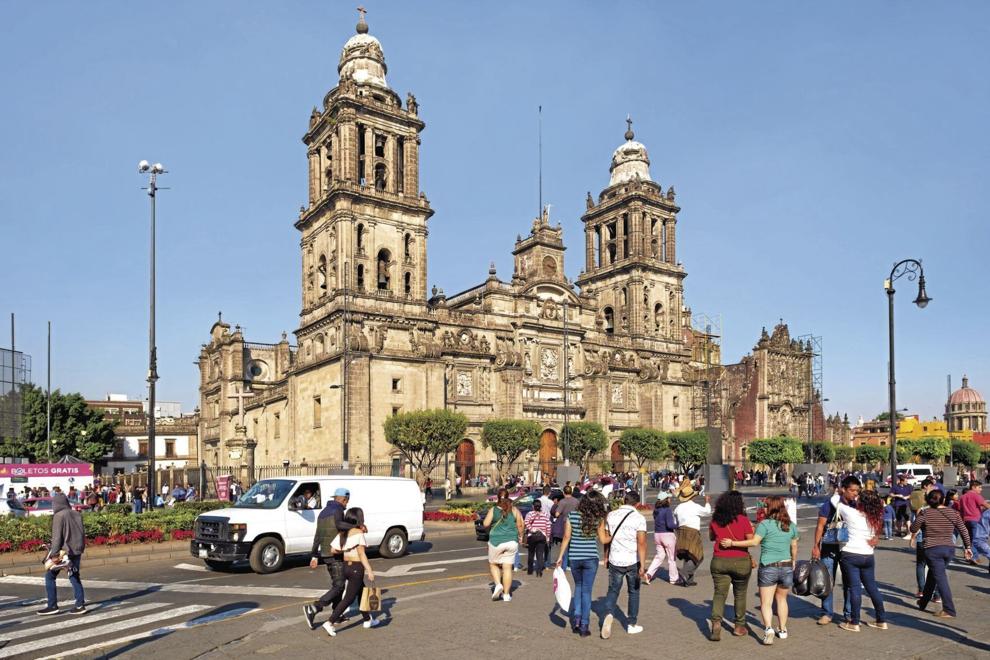 Mexico's capital is the largest city in North America, has more museums than any city in the world, and is home to some of the best street food on the planet.
The space-age Museo Soumaya is just one of the city's many hubs of culture. You'll find Frida Kahlo and Diego Rivera's former house in the charming Coyoacan district. That's to say nothing of the famous murals that are found throughout the city — from street art to the National Palace and Antiguo Colegio de San Ildefonso.
Food is stellar everywhere in Mexico City — from holes-in-the-wall like Las Buenas Migas to internationally famous spots like Pujol. You'll also find stands slinging tortas, tacos, tlayudas, tlacoyos and nearly every type of regional cuisine on seemingly every other block across the city.
You'll also find history here in spades. The Centro Historico is one of the largest preserved colonial zones in the Americas, with beautiful architecture and the ruins of Templo Mayor.
Puebla
Just a couple of hours due east of Mexico City — past the country's most famous volcanoes and some beautiful mountainous terrain — is Puebla. Visit, if for no other reason than to sample its amazing local cuisine. The region is famous for its eye-catching sweets — there's even a street — Calle de los Dulces — famous for its abundance of sweet shops.
Food aside, Puebla is bursting with culture, including the Museo Amparo. Its collection includes cutting-edge contemporary exhibitions alongside an incredible selection of artifacts from the region's indigenous and ancient cultures. After that, head to Arena Puebla for lucha libre matches in all of their glory.
Couple your time in Puebla with a trip to Cholula, less than 30 minutes west, for historical ruins, colonial charm and lively nightlife.
Merida
Merida is the cultural capital of western Yucatan. Expect a high concentration of boutique hotels, art galleries, shops, cafes and restaurants along the streets that line the center of town.
The city is more than a blend of Spanish and indigenous cultural roots — there's a serious French influence on the town's layout and style. We recommend hopping on a walking tour. For a glimpse of Merida's ancient past, check out the Mayan World Museum of Merida.
Sample local Yucatecan food like papadzules (tortillas, eggs and pipian sauce), pavo relleno negro (shredded turkey in a rich charred chili sauce) and cochinita pibil (a wildly spiced shredded pork).
If you need a beach break, head to Progreso, an hour north of Merida. You'll also find that Merida is well set up for day trips to archaeological sites like Chichen Itza and Coba, or colonial towns like Valladolid.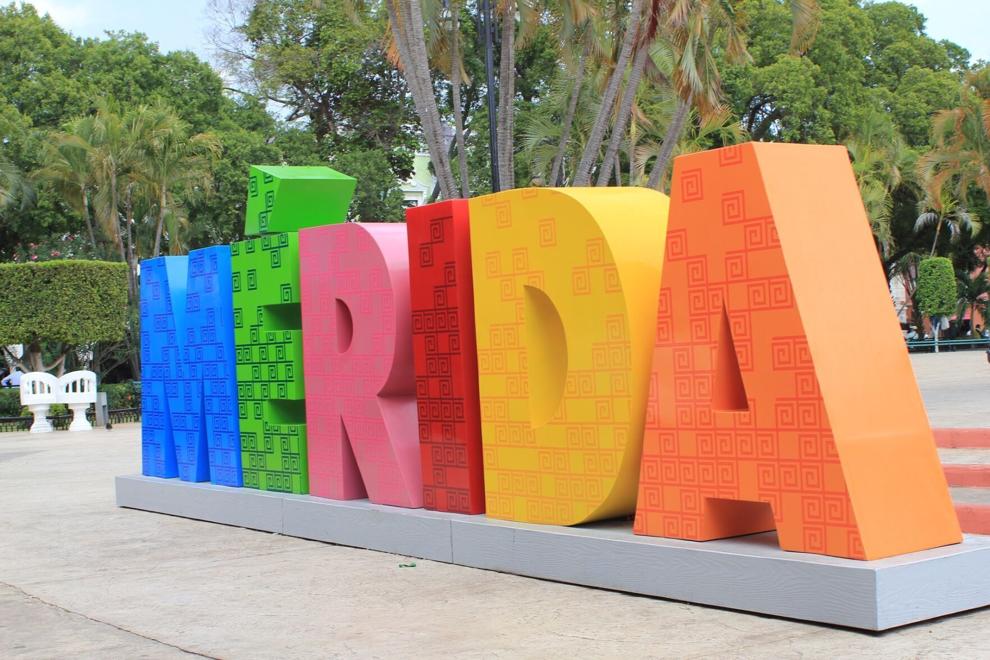 La Paz
Mexico's Baja region feels a world away from the rest of Mexico, and that couldn't be truer than in La Paz, the capital and largest city in Baja California Sur.
The city is packed with authentic seafood eats, cool bars and cafes — walks along the malecon are a great way to find all of those things.
More adventurous travelers are in for a treat. La Paz provides a lively home base to explore the numerous natural wonders of the Baja region. The most famous is Isla Espiritu Santo, an uninhabited island with beach campsites. Otherwise its only residents are sea lions, birds and the numerous underwater species.
At Balandra Beach, desert landscape meets the sea in a scene of white sand, turquoise water and rugged mountains.
The Sea of Cortez is a major winter breeding ground for several whale species — you can spot whale sharks in the waters near La Paz from October to May.
Guanajuato
Guanajuato is packed full of too-pretty-to-believe colonial beauty — impossibly narrow cobblestone streets wind through its hilly terrain.
The dense warren of streets that makes up Guanajuato's center are part of its inimitable atmosphere. Leafy plazas seem to appear out of nowhere, ringed by colorful buildings. The city is dominated by its baroque churches. Explore more by following a callejoneada — a roving band of musicians that sing ballads, drawing crowds with their tales of the town.
A fair number of university students makes the town's center lively — you'll find bars, cafes and restaurants all buzzing with locals on most nights of the week.
The city also hosts the month-long Festival Cervantino, celebrating "Don Quixote" author Miguel de Cervantes. Or, opt for the Mummy Museum which — as its name implies — has fascinating exhibitions of mummies.
Puerto Escondido
Coastal Oaxaca beach towns draw an entirely different crowd than you'll find in Cancun, Puerto Vallarta and Acapulco. Puerto Escondido anchors this region, and you'll pay far less here than in the more popular Mexico beach destinations.
The city has a number of small boutique hotels that make a stay here perfect for low-key couples looking to unplug. Tuck into cold drinks and fresh Mexican fare along the Zicatela after a day in the sun, or shop at Mercado Benito Juarez for local souvenirs.
The Zicatela is one of the most famous surf spots in all of Mexico, drawing legions of local and international surfers over the decades. At night, the area comes alive with bars and nightclubs.
Keep in mind that the surf throughout this part of Oaxaca is not to be underestimated. Exercise extreme caution when swimming in this region. Playa Principal provides slightly calmer water.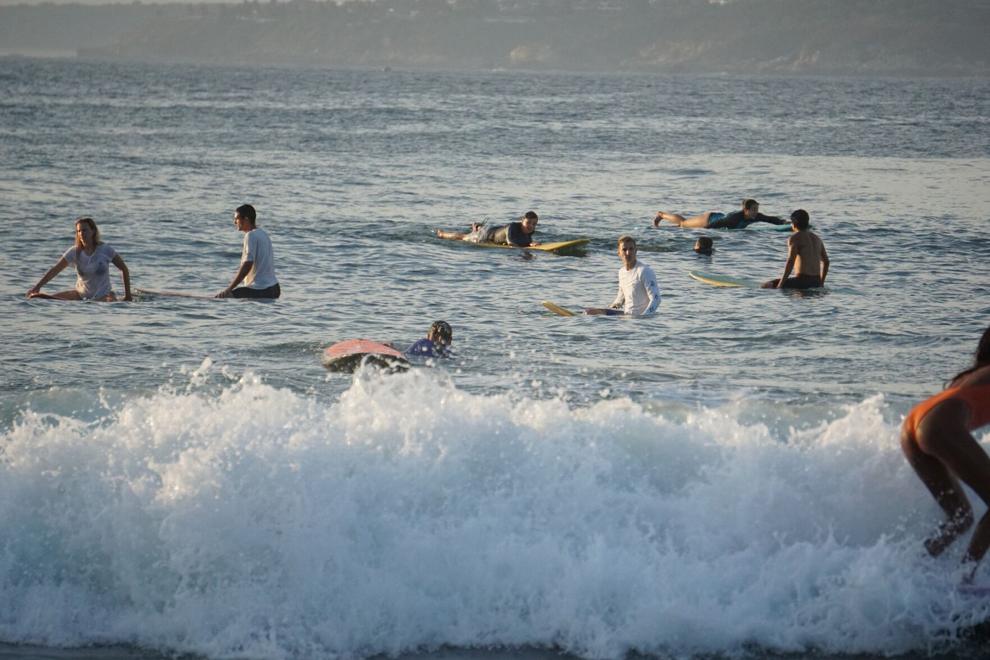 San Cristobal de las Casas
In the central highlands of Chiapas, San Cristobal del as Casas serves as the nerve center of the region's indigenous communities who live in the mountain towns throughout the region.
On the surface, the beauty of San Cristobal is its colonial heritage. Beautiful churches, cobblestone streets and low-rise pastel buildings surround the walkable historic center of town.
The city is home to the Centro de Textiles del Mundo Maya, displaying historic and modern indigenous textiles in their full glory. It's worth picking up an authentic souvenir as well.
Much of the magic of San Cristobal stems from the surrounding natural beauty. Take a boat ride into Sumidero Canyon or a tour of El Chiflon Waterfalls and Lagunas de Montebello National Park.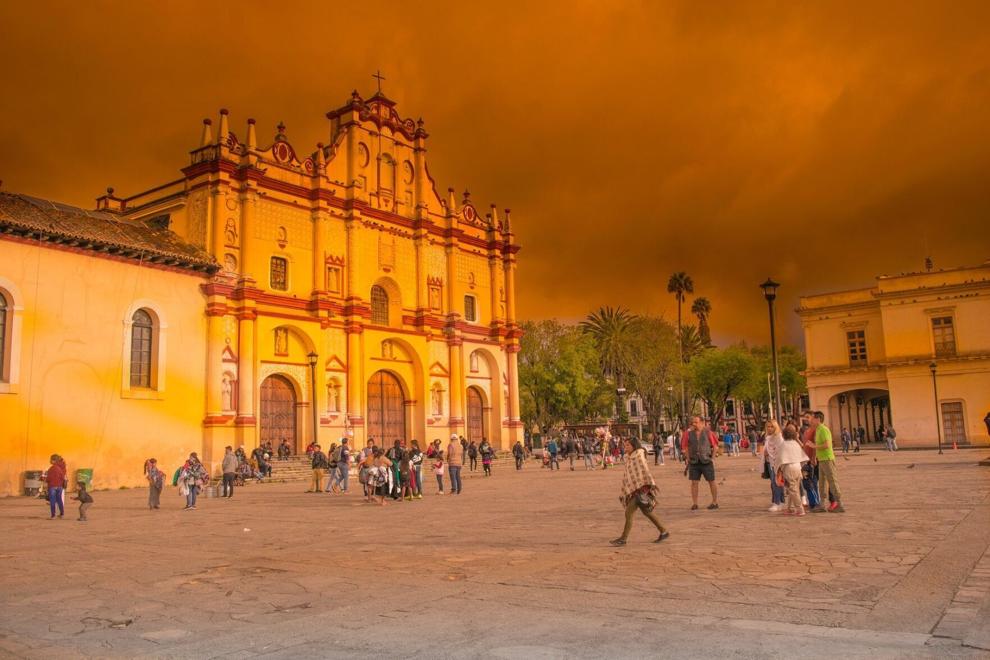 Bacalar
The Bacalar of today resembles Tulum the way it once was, but getting here requires some grit: It's a four-hour drive from Cancun on a good day.
Bacalar is most famous for the Laguna de Siete Colores (Lagoon of Seven Colors), a sandy-bottomed series of shallow lagoons that creates the effect of seeing limitless shades of blue. It's a major marine habitat, and perfect for swimming or snorkeling (just make sure to use an environment-friendly sunscreen).
We also recommend grabbing a kayak (from your hotel or one of the many beach clubs) to paddle around the extensive shoreline. Otherwise, the pleasures here are simple: yoga, lounging around in hammocks, sampling local fare and sipping drinks.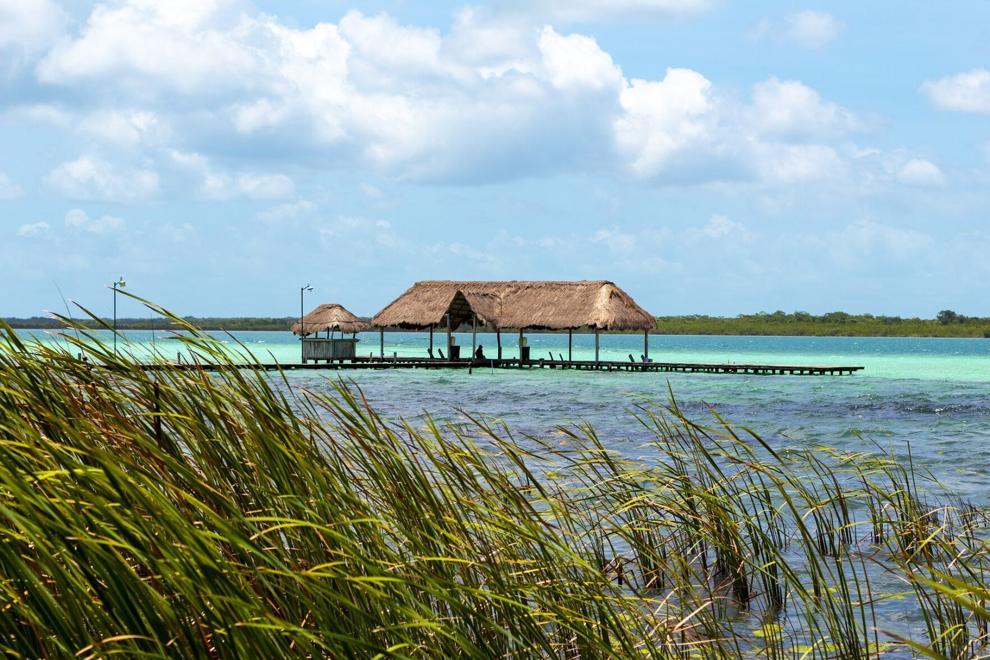 Guadalajara
As the capital of Jalisco, Guadalajara embraces its local heritage, most notably in the form of tequila (for which Jalisco is famous) and mariachi music (celebrated with a week-long festival in September). The historic city center is home to an incredible collection of baroque churches and architecture that give Mexico City's Centro a run for its money. The city also hosts one of the world's largest book festivals every year.
If you're in search of fine art, you'll find numerous murals by Jose Clemente Orozco. His famous "Allegory of The Man of Fire" cupola mural is at the UNESCO-designated Hospicio Cabañas. The contemporary art scene is also on the rise, with more and more galleries opening every year. Accompanying that is an explosion of foodie dining destinations throughout the city center.
For a day trip, head 20 minutes out of town to Tlaquepaque, for tours and tequila tastings.