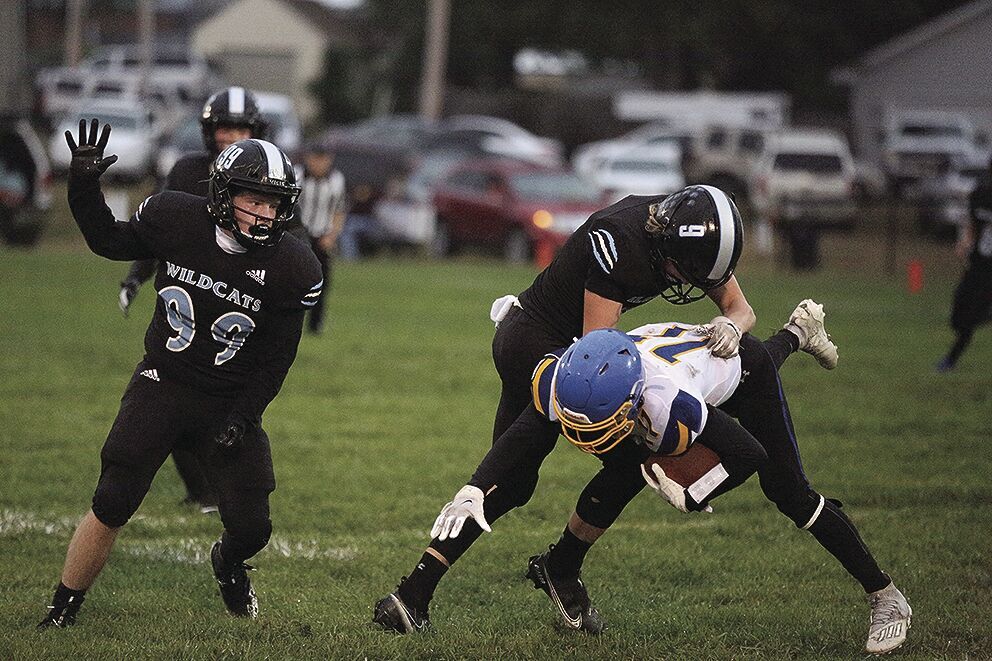 CEDAR BLUFFS – The Cedar Bluffs football team fell to 0-3 on the season after dropping a 54-28 decision at home on Friday night against Nebraska Lutheran.
The Wildcats and Knights were tied at 14 late in the first half, but the Warriors scored 14 points in the final two minutes and scored on the final play of the first half on a 35-yard pass.
Lutheran outscored the Wildcats 24-14 in the second half.
Turnovers played a key factor in the game. The Wildcats lost four fumbles on a wet and chilly night in Cedar Bluffs.
Wildcat Zephan Kluthe scored the home team's first touchdown on a 7-yarder in the second quarter. The 2-point attempt failed and the Knight lead remained 14-6.
The Wildcats drew even when running back Isaac Baker broke free and scored on a 45-yard touchdown with 11:02 remaining in the second quarter. Baker added the 2-pointer and the score was tied at 14.
The Knights used two long scoring passes to add scores late in the first half.
Quarterback Josh Cizek scored on a 24-yard run in
the fourth quarter to cut the lead to 38-20.
The final score for the home team came on a 4-yard touchdown run by Garrett Pleskac. Kluthe added the 2-point conversion, making the final score 54-28 Knights.
The Wildcats rushed for 276 on 44 carries.
Cizek led the way with 96 yards on 17 carries. Baker added 85 on 10 carries while Kluthe and Pleskac chipped in 65 and 38 apiece.
Cizek completed 3-of-11 through the air for 28 yards.
Senior Brody Ptomey led the Wildcats in tackles with 10 and also added a fumble recovery.
Senior Gabe Anaya added six tackles with three behind the line of scrimmage.
Baker and Cizek each finished with five tackles apiece.
Be the first to know
Get local news delivered to your inbox!