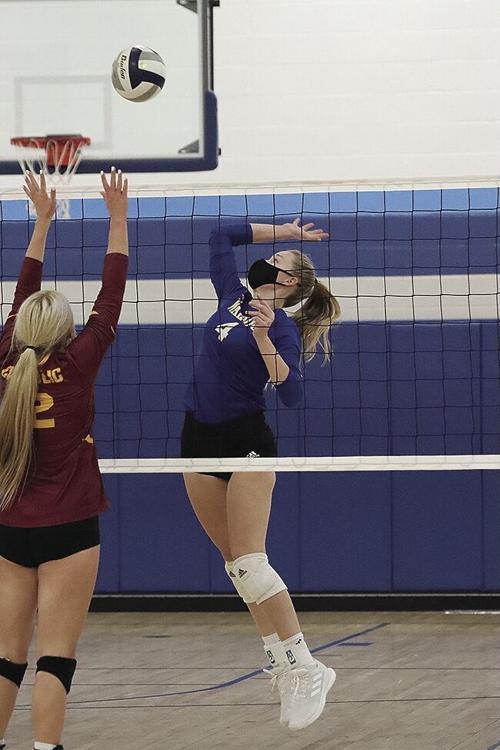 ASHLAND – The top-ranked undefeated Wahoo Warrior volleyball team rolled to a 25-20, 25-19, 25-19 road victory over the Malcolm Clippers on Sept. 29.
Wahoo hit .207 against the Clippers and were led by junior all-stater Mya Larson who hammered out 16 of the team's 40 kills.
Senior Lauren Kavan also played well offensively while piling up nine kills. Kavan also led the Warriors defensively while coming up with 19 digs.
Senior Kelsie Sears added six kills, led the team with four ace serves and was solid in serve receive.
Junior libero Taylor Luben piled up 15 digs along the back row for Wahoo.
Senior Elle Glock dished out 31 set assists.
After a couple of days off the Warriors began play in the two-day Ashland-Greenwood tournament with victories over Omaha Roncalli Catholic and Omaha Gross Catholic.
Wahoo defeated Roncalli in straight sets by scores of 25-20 and 25-13.
Wahoo was too strong offensively at the net and hit .388 against the Pride.
Larson, Kavan and Sears combined for 26 of the 32 kills for the Warriors.
Luben and Larson each finished with 13 digs while leading the team defensively.
Glock got the ball to the hitters along the front row and finished with 27 set assists in the two sets.
Wahoo got past Omaha Gross Catholic by scores of 25-14 and 25-10.
Wahoo hit nearly .600 and were led at the net by Larson and Kavan who combined for 19 kills. Glock and junior Josie Sutton added five kills apiece.
Kavan and Sutton controlled the match from behind the service line while combining for three aces and 13 points scored.
Luben led the team with seven digs.
Glock handed out 25 set assists.
The Warriors returned to tournament action on Saturday morning when they took to the court against Omaha Roncalli Catholic, again.
The Warriors needed just two sets to get past the Crimson Pride 25-9 and 25-12.
Wahoo hit .447 and were led offensively by Larson who finished with nine kills. Sears and Sutton combined for 12 more.
Luben, Sutton and Kavan combined for six aces from behind the service line.
Luben led Wahoo with nine digs.
Glock handed out 21 set assists.
The win put Wahoo into the tournament championship game against the fourth-ranked Lincoln Lutheran Warriors, the same team that eliminated Wahoo from last year's state tournament.
Wahoo got a small measure of revenge on Saturday while completely dominating in a 25-10, 25-16 straight set win.
Larson and Sears combined for 20 kills in just 31 swings.
Larson also added a team best three ace serves.
Kavan and Larson combined for 15 digs and Glock handed out 23 set assists.
The four tournament wins improved Wahoo's record to 18-0 on the year.
Be the first to know
Get local news delivered to your inbox!