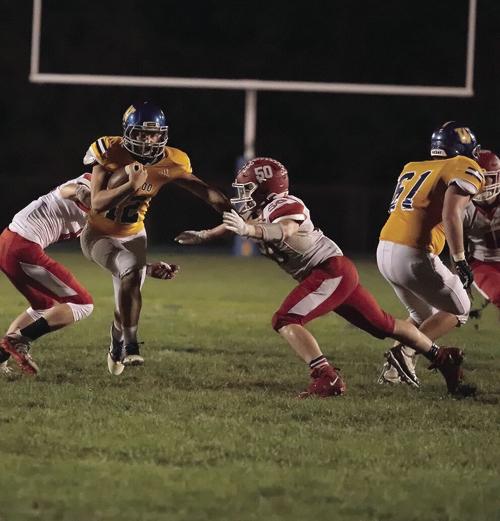 WAHOO – The fourth-ranked Wahoo Warriors cruised to a 46-6 home win over the Platteview Trojans on Friday night in Wahoo.
Senior quarterback Tate Nelson had a big night for the Warriors and finished with a career-best four touchdown passes, with three of them coming in the first half.
Nelson connected on a go-route with senior Sebastian Lausterer from 53 yards out in the first quarter. Sophomore kicker Kael Eddie added the EP and Wahoo was up 7-0.
The Warriors went to the air again a few minutes later and Nelson connected with senior receiver Cooper Hancock on a 32-yard pass over the middle. The extra point was no good and the Warrior lead was 13-0 going into the second quarter.
Nelson went to play action for his third score when he connected with senior fullback Grant Kolterman on a 4-yard pass in a goal line situation. Eddie added the EP and Wahoo was up 20-0.
Nelson scored the fourth touchdown of the first half with his legs just before the end of the first half when he plunged in from a yard out. The EP was good and Wahoo went into the locker room with a 27-0 lead.
Junior Colin Ludvik got in on the action in the third quarter when he bounced a run outside and took it 64 yards to the house. The two-point conversion failed the lead remained 33-0.
Nelson passed for his fourth touchdown of the game when he connected with Hancock again, this time from 30 yards, pushing the Warrior advantage to 39-0.
Reserves finished out the fourth quarter and it was reserve running back Malachi Bordovsky capping the scoring for the home team with a 9-yard touchdown run.
Platteview scored their lone touchdown on a 16-yard fumble return late in the game, making the final score 46-6.
Wahoo rushed for 329 yards with Ludvik leading the way with 168.
Nelson added 148 yards passing, pushing the Wahoo total to almost 500.
The Wahoo defense just missed out on earning their fourth shutout of the season when Platteview scored on the fumble return.
The Platteview offense managed just 37 total yards against the Wahoo defense.
The Warriors will take to the road on Friday when they travel to Louisville to take on the Lions.
Louisville started the year with two wins, but have lost three-in-a-row while getting outscored 100-19.
Be the first to know
Get local news delivered to your inbox!