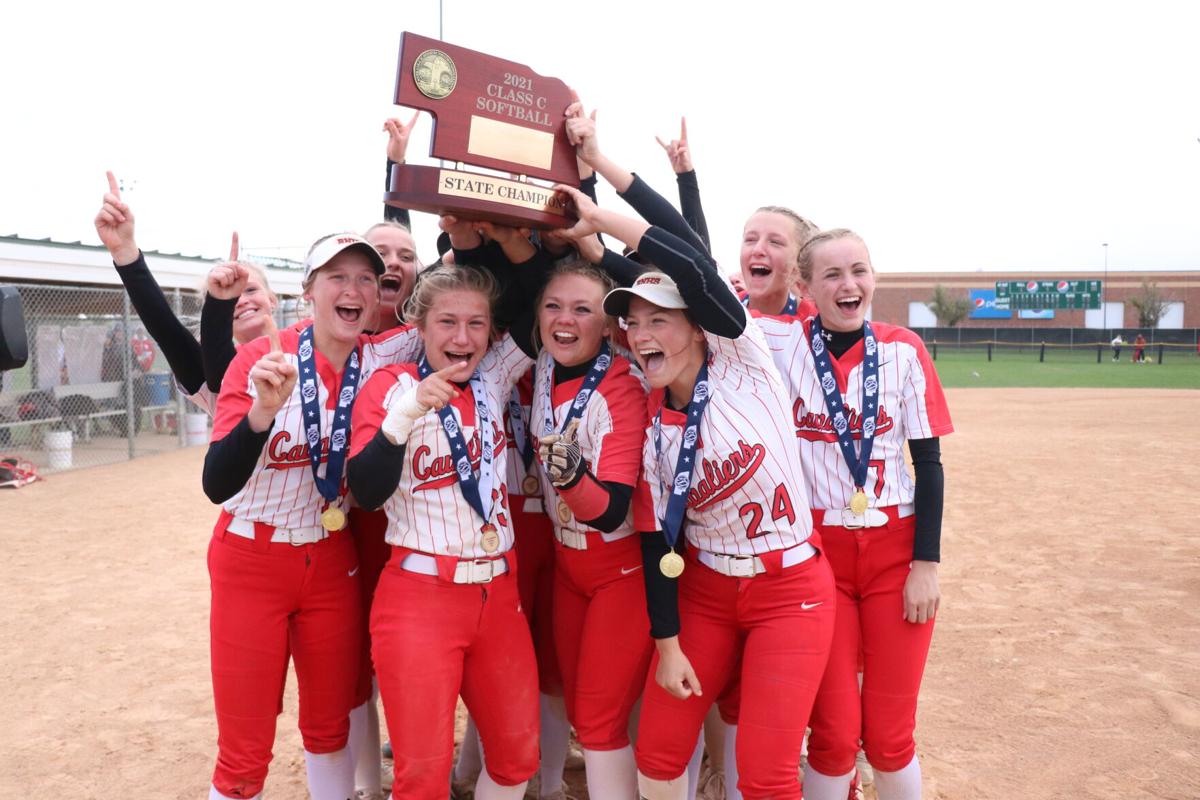 The sounds and feelings of defeat resonated with the Bishop Neumann Softball Team after a 5-2 defeat to Yutan-Mead back on Sept. 7. This group never forgot how that first loss of the year felt and made it their mission to play better if they ever got another shot at them. Little did they know, they would get that second chance in the Class C State Championship Game on Oct. 15 at the Smith Softball Complex in Hastings and wouldn't disappoint in a 6-0 shutout of the Patriots.
"We all had the same goal," Macy Sabatka said. "We just needed to show them who we are and how we play Neumann Softball. It was an amazing feeling to be able to do that, especially in Hastings."
Other wins for the Cavaliers in route to their second state title were Cozad 9-1, Malcolm who was their other loss on the year 5-4, and Guardian Angels Central Catholic 3-2.
In the championship against Yutan-Mead, Neumann took advantage of mistakes made by the Patriots in the first inning. A throwdown to third by Yutan-Mead, scored both Mary Chvatal and Avery Mayberry, putting the Cavaliers up 2-0.
Two more runs were tacked on in the fourth inning on back-to-back doubles by Emma Kavan and Grace Schulz. A two-run homer in the fifth by Mayberry to center all but sealed the win.
"I knew going into that at bat we needed to keep our bats going," Mayberry said. "We needed to keep the momentum going our way and I stepped up and did what needed to be done."
During the game, the Patriots were only able to get four base hits and had runners in scoring position twice. They were in the sixth and the seventh inning.
In her final high school pitching performance, Sabatka went out with a bang, with no earned runs and two strikeouts. Mayberry had two RBIs in the game and Kavan and Schulz had one run batted in.
To reach the championship, Neumann knocked off Guardian Angels in a tight game on Thursday night.
The Cavaliers grabbed the lead in the second when Aubrey Sylliaasen hit a sac fly to left driving in Grace Sullivan. In the fourth, the lead was extended to 2-0 on a homer to center by Kaysha Swartz.
"That home run was all thanks to my coaches and teammates," Kaysha Swartz said. "They give me the confidence to do what I do, and I wouldn't be able to do it without them."
After Kayla Fischer reached base with a double in the fourth, the Bluejays recorded two outs. A single by Tori Buss and a rare error on Neumann helped GACC tie the game up at 2-2.
In the top of the seventh, the Cavaliers went to work breaking that tie with Hattie Bohac reaching first on a single to left. After Mayberry reached on an error, courtesy runner Elizabeth Lilly was thrown out at third, advancing Mayberry to second.
The next batter Logan Sylliaasen hit a ground ball to the pitcher that the Bluejays failed to get her out on. On this crazy play, Mayberry was able to score from second and give Neumann a 3-2 lead.
After Sabatka walked the first batter in the bottom of the seventh, A ground out, a pop out, and a fly out ended the game.
Pitching seven innings, giving up no earned runs, and picking up one strikeout was Sabatka. Swartz, Logan Sylliaasen, and Aubrey Sylliaasen all drove in one run.
On Oct. 13 it was another close victory for the Cavaliers against Malcolm.
Neumann struck first in the third, going up 3-0 on a double by Bohac and a two-run homer by Mayberry. The Clippers answered right back in the bottom half of the inning with a double and single, scoring four runs to take a one-run lead.
After not scoring in the fourth, the Cavaliers scored two in the fifth to take a 5-4 lead. Mayberry drove in the first run with two outs on a triple to center and Logan Sylliaasen singled to left scoring Mayberry.
The Clippers had a chance to drive in the tying run with no outs when a hard grounder was hit at Chvatal at short. At first, the ball ricocheted off her glove, but she rebounded to throw a strike home to Bohac to get the Malcolm runner out advancing from third.
"We have a play in practice where we do ricochet drills and that's a play, she has probably made a million times," Neumann Coach Dave Brabec said. "It's just one of those deals where if you practice it your prepared for those rare circumstances it happens."
Sabatka pitched seven innings, gave up two earned runs, and had five strikeouts. Leading the team with three RBIs was Mayberry and Logan Sylliaasen and Kavan both had one run driven in.
To start the state tournament, the Cavaliers eight run ruled Cozad in five innings.
Neumann scored a majority of their runs in the second when they put up a five spot. They were driven in on a single in the infield by Kaysha Swartz and doubles to left by Chvatal and Bohac.
Two more runs were scored in the third on a homer to left by Sabatka and an error and a walk in the fourth.
When asked what united this team in gutting out four straight wins in the state tourney, the Cavaliers third baseman Kaysha Swartz said it's the team's close bond.
"We are really united, and we always have each other's back," Swartz said. "Our dugout is on fire during the game and that helps us out a lot."
Pitching five innings, giving up no earned runs, and three strikeouts was Sabatka. Schulz, Sabatka, Kavan, Mayberry, and Chavatal all had one RBI.
Neumann ends their state championship season with a 34-2 mark. The Cavaliers also broke the state record for Class C with 363 runs in a season and tied Malcolm in 2016 for the most hits in a year with 394.