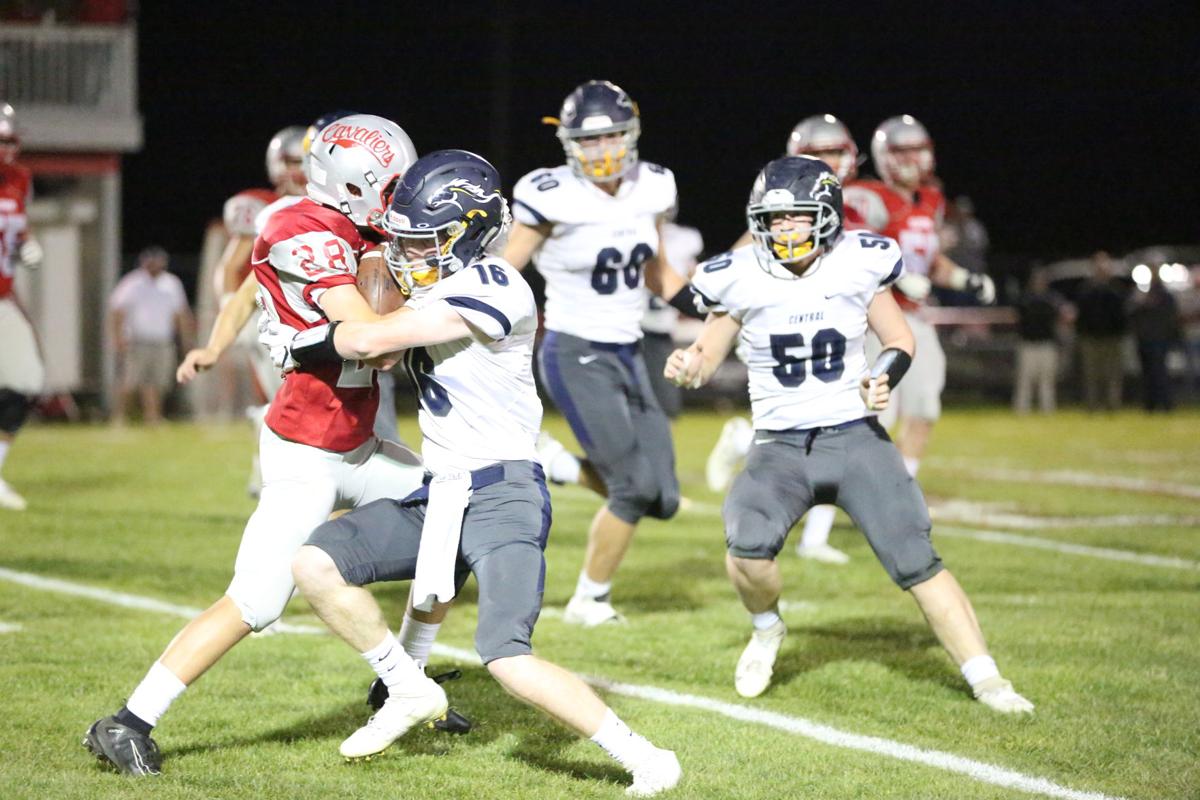 RAYMOND – Raymond Central football coach Wade Houchin enters his third year as head coach of the Mustang football team and this year's team appears to be in a position to succeed, unlike the first two.
It's taken Houchin two full seasons to engrain his philosophy and doctrine centered around accountability, effort, trust and hard work.
"It's not where I would like it to be, but we have made some strides toward improving the football culture here and we hope to turn that into winning some more football games," Houchin stated.
Houchin's biggest lament is having only 30 guys out.
"That really makes it tough. Really tough, especially when you get down to trying to play a junior varsity schedule," he said.
There is a bit of good news. The 30 athletes committed to playing for Houchin are pretty good.
The Mustangs return seven returning starters on offense and eight on defense.
Houchin has a two-year starter returning at quarterback in 165-pound junior Conner Kreikemeier.
In spite of his experience, Kreikemeier might not play quarterback for the Mustangs this fall.
"Conner kind of got forced into playing quarterback as a freshman and has started for us for two years. I'm not sure that is the best spot for him, so we are going evaluate and determine where he can have the most impact," Houchin stated.
Kreikemeier passed for 861 yards and nine touchdowns and rushed 651 yards and six touchdowns.
Houchin said that carries will split between 140-pound senior Mitch Albrect, 155-pound freshman Kyle Peterson, 150-pound junior Logan Bryce and 160-pound sophomore Mason Kreikemeier
"This year's team is the fastest and most athletic team I have had here. We have some pretty talented skill guys," said Houchin.
145-pound junior Travis Nelson is the team's fastest player and will be asked to make plays in the passing game and on special teams.
Houchin has high hopes for 6-3, 165-pound junior Andrew Otto. Otto will utilize his angular frame and vertical jump to make plays in the passing game.
"Andrew is set to have a breakout year. He is a tremendous athlete," said Houchin.
The offense will be 'centered' around 200-pound senior offensive lineman Michael Potter.
Houchin calls Potter his best overall football player and the unquestioned team leader.
260-pound senior Scott Tvrdy and 195-pound junior Noah Thornburg will flank Potter along the offensive line to form a solid front.
The Mustangs improved defensively by nearly seven points a game last season and Houchin thinks this year's group will be even better.
Potter spearheads the stop unit and returns after leading the team with 76 tackles and two interceptions a season ago.
Conner Kreikemeier can play multiple positions on the defensive side of the ball and returns after piling up 64 tackles and two interceptions last season as a sophomore.
Senior Lucas Buresh (175) and sophomore Rylan Stover (140) are both expected to start on both sides of the ball for the Mustangs in 2020.
The Mustangs will open the season at home against Fillmore Central on Aug. 28.
The nine teams on the schedule combined to finish 44-43 last season and just two, Ashland-Greenwood (week 5) and Wahoo (week 8) made the playoffs in 2019.
"I like our athletes against anyone on our schedule. The question is whether or not we will be able to hold up up front. That will determine how much success we have this season," Houchin stated.
Be the first to know
Get local news delivered to your inbox!