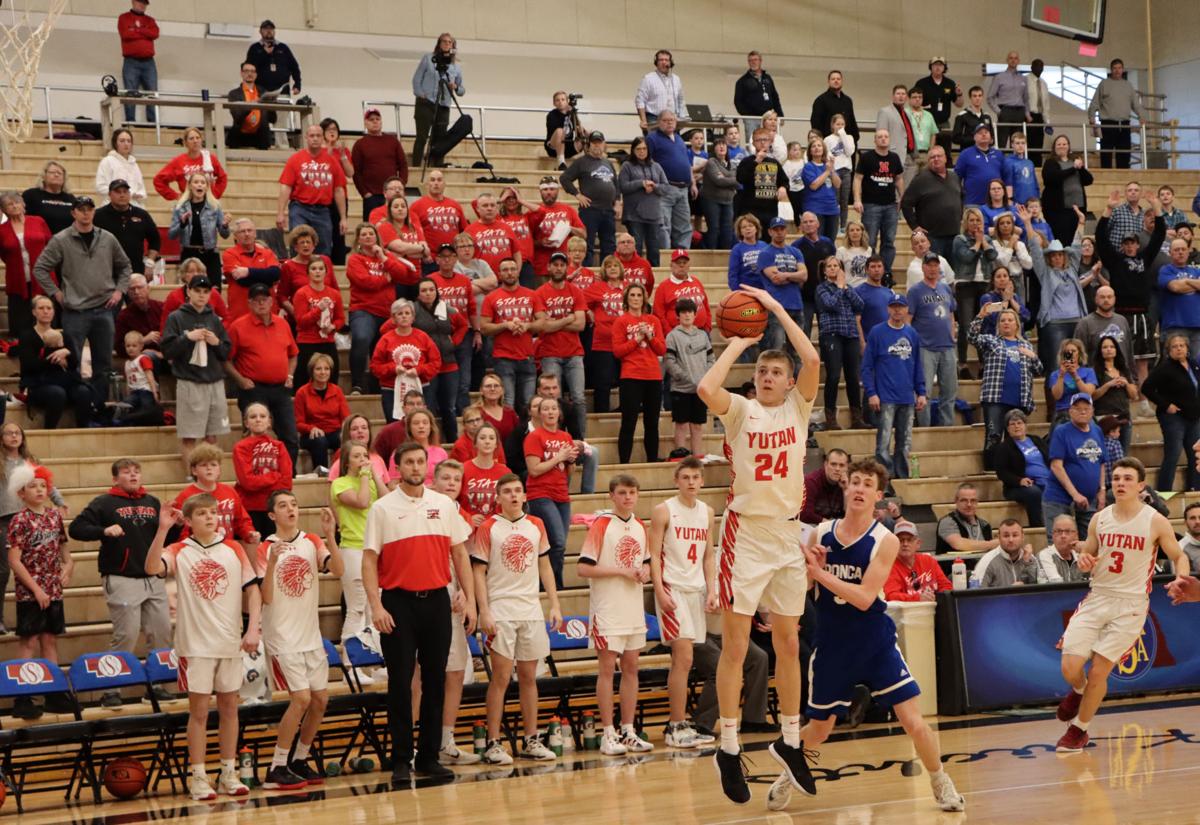 LINCOLN – Yutan senior Colby Tichota got a chance to experience something only a select few get to experience during their years playing high school basketball.
Tichota and the Chieftains found themselves down by three points and 94 feet away from their basket with just 0.6 seconds remaining.
Senior Joel Pleskac's inbound pass found the 6-foot-
6 Tichota 22-feet from the basket and the Yutan senior turned and got the shot up as the buzzer sounded and the jumper touched nothing but the bottom of the net sending the game into overtime tied at 49.
It took two overtime periods before the Chieftains were able to pull away for the 63-56 win.
Petersen admitted after the game that the last second heroics were the result of practicing for that specific
situation a number of times throughout the season at practice.
The game was close throughout and had a feel of a potential overtime game.
Yutan had a great offensive first quarter and led 17-13 after eight minutes.
A pair of 3-pointers from Tichota and another from Pleskac combined with six points from senior Trey Knudsen resulted in 17 first quarter points for Chieftains.
Ponca tightened up the defensive screws in the second and third quarters and outscored the Chieftains 21-14, resulting in a 34-31 deficit for the Chieftains.
Yutan converted on 13 free throws in the fourth quarter and got 10 points from junior point guard Brady Timm.
Ponca appeared to win the game on a 3-pointer from Cayden Phillips with less than two seconds remaining, giving Ponca a 49-46 lead.
Petersen took a timeout, setting up the final play, leading to the Chieftains improbable victory.
Timm scored all 19 (15-20 from the free throw line) of his points in the second half and in the two overtime periods, but it was his work on Ponca leading scorer Carter Kingsbury that was even more impressive. In addition to his 19 points, Timm also added seven assists and six rebounds.
Timm hounded Kingsbury the entire game and held him to just 10 points, nearly 13 below his season average. The 6-foot-5 Ponca senior finished with just two made field goals and six free throws.
Knudsen finished with a game-high 20 points and came away with three steals.
Tichota finished with 13 points and added five rebounds and four blocked shots.
Sophomore Sam Petersen scored five points and led Yutan on the boards with 11.