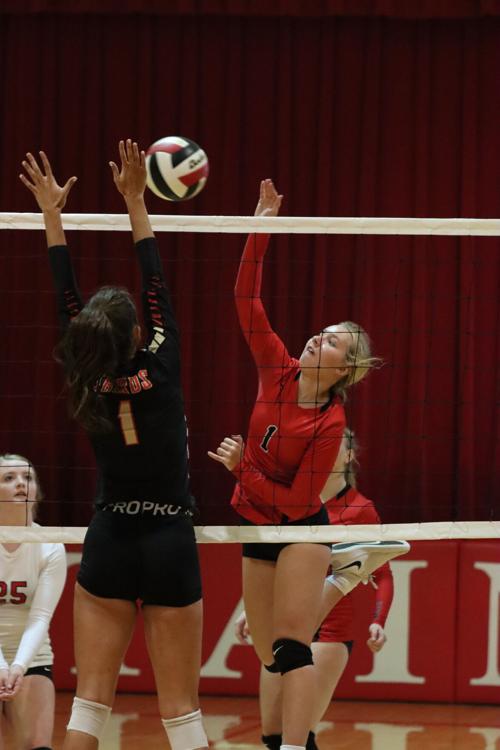 YUTAN – The Yutan Chieftain volleyball team opened the 2020 season with a pair of wins over Elmwood-Murdock and Johnson County Central at the Yutan Triangular on Aug. 27.
The Chieftains defeated Johnson County Central in three sets 25-10, 24-26 and 25-7.
Yutan finished with 25 kills against the Thunderbirds and they were led by junior Haley Bedlan who came through with 10 while hitting .409. Freshman Ellie Lloyd added six more.
Junior Christina Kerkman led an aggressive Yutan serve and paced the team with seven ace serves while connecting on all 13 of her attempts.
Lloyd, Kerkman and Bedlan led the way defensively while combining for 53 of the teams 71 digs.
Junior Heidi Krajicek handed out 16 set assists.
Bedlan and senior Mya Hays led the Chieftains in serve receive.
Yutan needed just two sets to defeat Elmwood-Murdock 25-16 and 25-20.
Yutan hit .277 against the Knights and were led offensively by Lloyd and Bedlan who combined for 15 of the team's 23 kills.
Krajicek led the Chieftains behind the service line with three aces while missing on just one of her 12 serves.
Lloyd and Bedlan combined for 21 digs.
Krajicek and Kerkman combined for 18 of the team's 20 set assists.
Hays led the team in serve receive.
Yutan hosted Syracuse at home on Tuesday night. Results will appear in next week's Wahoo Newspaper.
Be the first to know
Get local news delivered to your inbox!