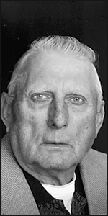 Marvin V. Woita __________________________________ WESTON - Marvin V. Woita, 88, of Weston, passed away Monday, Aug. 10, 2020 at the South Haven Living Center in Wahoo. He was born Dec. 4, 1931 in Prague to Frank and Agnes (Faimon) Woita and spent his entire life as a farmer in the Weston and Prague areas. On Sept. 15, 1956 he was united in marriage to Adelyne Polacek. He served on District 83 School Board, the Weston Co-op and the Weston Credit Union for many years. He was a member of the Saunders County Livestock Feeders. Marvin is survived by his wife of 63 years, Adelyne Woita of Weston; sons, Keith Woita of Wahoo, Glen (Audrey) Woita of Omaha and Dale Woita of Weston and many nieces and nephews. He is preceded in death by his parents, Frank and Agnes Woita; brothers, Adolph, Stanley and Ernest Woita; sister, Adeline (Frank) Egr and sisters-in-law, Celestine Woita and Gladyce Woita Lee. A funeral service was held on Aug. 14 at Wahoo Community Church. Interment was at St. Francis Cemetery in Wahoo. Memorials can be sent in care of the family for future designations. Visit www.marcysvoboda.com to leave condolences. Svoboda Funeral Home, Wahoo, in charge of arrangements.
Obituaries Newsletter
Sign up to get the most recent local obituaries delivered to your inbox.