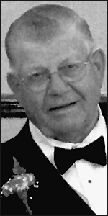 Dean Herman Hansen __________________________________ MEAD - Dean Herman Hansen, 87, of Mead, passed away on Wednesday, Aug. 12, 2020 at the Saunders County Medical Center in Wahoo. He was born on April 24, 1933 in Elkhorn to Herman and Martha (Stender) Hansen. He grew up on the family farm on West Center Road. Dean attended Elkhorn Elementary School and graduated from Elkhorn High School in 1951. From an early age, Dean had a passion for music, especially the accordion. Dean contracted polio at the age of 4 and doctors told the family that he would struggle to walk and would not be able to farm. Dean proved them wrong. At the age of 8, Dean took up the accordion and after lessons from Fritz Poppe, Donald Rolfs and at Johnny Svoboda's Music Center, Dean honed his musical skills. Through perseverance and several surgeries he learned to walk again. After high school, Dean spent a year on the road with the Herb Molter Band, then returned to the farm to help his dad. In July of 1952, Dean received a call from the Sparta Orchestra and he played with them for a few years, during which they were featured on the weekly KMA radio station in Shenandoah, Iowa. Dean met Marguerite Blumer at a dance in Millard and they were married on March 5, 1955 in Millard. Dean and Marguerite were blessed with four children: Murray, Marla, Lonny and Lynette. They raised their family on the Center Street farm until moving to the farm south of Mead where they have lived for the past 49 years. Dean's passions were all interwoven, his family, his music and the farm. Each was a part of the other and they gave him great joy. Early on, he played with Eddy Janak and Ernie Kucera before starting his own band in 1979 which featured his children. The Dean Hansen Orchestra performed in Nebraska and surrounding states for over 40 years. He has been enshrined in the Sokol Hall of Fame in Omaha and the International Music Hall of Fame in Buffalo, N.Y. Dean was most happy when he was with his family, playing music and tending to his farm. Dean and Marguerite had spent a short time at a facility in Omaha but after consistent and strong persuasion from Dean, they returned back to the farm. On Wednesday, Aug. 12, 2020, during a visit from the home care nurse, Dean became ill and was rushed to the hospital. Dean is survived by his wife of 65 years, Marguerite; son Lonny (Denise) of Ithaca; daughters Marla (Richard) Janak of Papillion and Lynette Hansen of Blair; grandson Jared (Taylor) Janak of Maricopa, Ariz. He was preceded in death by his parents, Herman and Martha and son, Murray. Due to COVID-19, private services were held. A celebration of life will be held at a later date. Reichmuth Funeral Homes was in charge of arrangements.
Obituaries Newsletter
Sign up to get the most recent local obituaries delivered to your inbox.