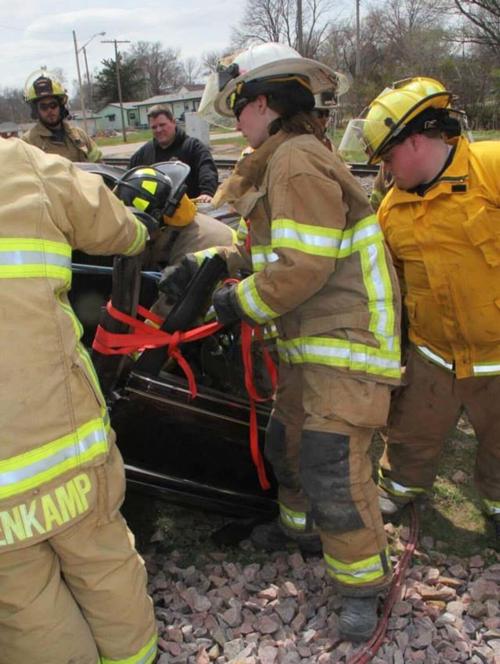 CEDAR BLUFFS – Jen Wolsleben saw the boy lying face down in the sand.
She knew quick action was needed.
The boy, who was about 12 years old, had been a passenger on a utility terrain vehicle that had rolled on a Platte River sandbar.
The humerus bone in his upper arm was fractured and a brachial artery torn, causing bleeding from the open wound. Wolsleben knew if the bleeding wasn't stopped, the boy could die within five minutes.
So she did what could be considered some outside-of-the-med-kit-type thinking. She used a blood pressure cuff to stop the bleeding.
That wouldn't be the last quick-acting rescue for Wolsleben, who's a firefighter and an emergency medical technician for the Cedar Bluffs Volunteer Fire and Rescue Department.
Now, Wolsleben is the First Responders National Society's most recent recipient of the St. Florian and St. Michael Challenge Coin.
The society is comprised of people who promote awareness and offer support regarding issues facing first responders.
Wolsleben said she joined the Cedar Bluffs department in 2011 as a way to give back to her community.
Her dad, George Wolsleben, is a Saunders County sheriff's deputy and chief of security for Woodcliff Lakes and she said public service has always been part of her life.
She was part of the Woodcliff Security team when a call came in at about 6 p.m. one evening in 2012.
Wolsleben and the security team began treating people at the site until the Cedar Bluffs Rescue Squad arrived.
She saw the boy in the sand. Someone had placed a T-shirt and beach towel on his arm. Security team members saw a large pool of blood.
"Recognizing the small size of the patient, we knew it was considerable blood loss," she said.
Wolsleben knew that when inflated, a blood pressure cuff stems blood flow. So she used her blood pressure cuff as a make-shift tourniquet to stop the bleeding.
"It was the tool I had at the time and it worked," she said.
Data from the Cedar Bluff Fire Department's Facebook page would credit Wolsleben with saving the young man's life.
Her work didn't end with the blood pressure cuff.
"We then used some T-shirt material to pad his arm and splinted his arm to his side to support the fracture," she said.
The boy was placed onto a backboard and hauled out of the river to the rescue squad on the road. Due to other calls, a medical helicopter wasn't available, but the boy was transported to an Omaha hospital.
"He recovered and went on to play hockey that season," she said.
A few years later, she was first on the scene a serious all-terrain vehicle crash.
It happened during the July Fourth fireworks at Woodcliff. A man in his early
20s was on the ATV when it left the roadway and struck a cedar tree. During the crash, he was ejected from the vehicle – head first – into another cedar tree and had massive facial injuries.
Wolsleben learned about the accident from a bystander and was just 50 yards from the scene.
She found the badly injured man face down. She instructed Woodcliff Security team members to help roll the man over. She opened his airway and used a bag valve mask, continuously squeezing the bag, to help him breathe.
He was moved to a backboard and taken to a helicopter which flew him to an Omaha hospital. He also survived.
On its Facebook page, the First Responders Foundation commends Wolsleben, stating:
"Jen is a leader on critical calls and not only does she display a calming, commanding presence, she guides bystanders and encourages her fellow first responders. Jen also shines in the classroom
as a rescue training officer. Jen facilitates teamwork amongst all members of the fire department."
Wolsleben is quick to compliment her fellow volunteers.
"One of the unique aspects of the Cedar Bluffs Fire and Rescue Department is how well each individual works as a team," she said.
The department has 34 volunteer members. Jodi Teal, an Omaha area resident, whom Wolsleben has worked with at another nonprofit, nominated her.
Wolsleben didn't know she'd been nominated until Teal told the Cedar Bluffs woman that she'd been selected for the award. Wolsleben said she was honored and humbled.
"Every member of our fire department puts in such a great amount of effort, bringing individual skills and knowledge," she said.
Wolsleben has earned other honors. She was named EMT of the Year for Cedar Bluffs in 2013, 2015 and 2018.
The 31-year-old woman is engaged to A.J. Jarman. She has a husky named Storm and a horse named Venture.
She's a certified therapeutic horseback riding instructor at HETRA, the Heartland Equine Therapeutic Riding Academy at Gretna.
Wolsleben also runs 5 kilometer races, most of which she's done wearing full firefighter gear, which weighs about 70 extra pounds. She said she does this for physical fitness and community encouragement.
She enjoys serving with the Cedar Bluffs Fire Department, which she describes as her fire family.
"They're very supportive," Wolsleben said.
In the future, she plans obtain her paramedic degree and continue teaching EMS classes.
Cedar Bluffs Fire Chief Rob Benke commended Wolsleben for her work.
"She's a very hard worker," he said. "She's excellent on a call."
He noted something else: "About two weeks ago, she and the rest of the team brought back someone who was pulseless and no respirations and that person is a survivor."
Be the first to know
Get local news delivered to your inbox!