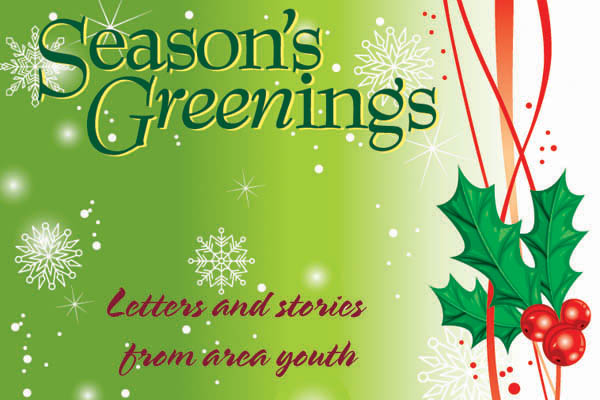 Yutan Elementary School Sixth grade students tell us Their Favorite Thing About Christmas.
There is nothing like opening presents in the morning with a surprise inside. There is always a good present. You can hardly sleep in the night. You think, what can it be? You wake up the tree is glowing. You run on the cold tile. Your parents are smiling. You wake your brother. But you can only open three gifts. The rest are for Christmas Eve. You choose the biggest one.
It's Christmas Eve and your family is opening presents. Your parents are taking pictures. Everyone is happy you can smell the food. The cookies are for dessert. It's been a great day. You wave by to your family as they go. You wish it could last forever. But there is always next year. You will remember this day forever.
My favorite part of Christmas is cooking with my mom. We have always cooked together ever since I was just a baby. We always cook turkey, ham, mashed potatoes, gravy, cranberry jello slices, apple pie, pumpkin pie, stuffing, and a lot of other stuff. Our whole family comes to my grandma's house and always tells us what a good job we did. I love cooking with my mom. We will cook together for Christmas for the rest of our lives. That is my favorite part of Christmas, cooking with my mom.
What does Christmas mean to me? Well, I love the time I spend with my family in Iowa. I love the times my mom, my sister, and I decorate the tree with ornaments. I also like when my step-dad's family comes over to our house to celebrate and have Christmas dinner. Every year on Christmas Eve I go to my great grandma's house to open presents. On Christmas morning, I wake up super early and open my gifts and eat a fantastic breakfast. For me, Christmas is always happy, cheery, fun, joyful, exciting, and is always great family time.
My favorite part of Christmas is opening presents on Christmas morning. One reason is that it is exciting to see what you get. Another reason is that you get awesome presents every year. The last reason is that after you open them you can play with them and have lots of fun. On Christmas every year you should be with your family and have lots of fun.
My name is Joey W. and my favorite part of Christmas is spending time and having fun with friends and family. I love to have snowball fights then build snowmen and destroy them. One of my favorite things is when we shovel our steep driveway and then put a few coats of water on with a hose. The best part is when we use the sleds and go 20 M.P.H. down the driveway.
Every Christmas Eve my family and I go to our grandparents house and open presents and have fun. Usually we leave at around 2:00 A.M. When we wake up the next morning we open our presents from Santa.
My favorite thing about Christmas is getting together with family. Every year we go sledding. We give presents to each other. The best thing is the food. Everyone brings their best family recipes. It is so much fun spending time with your family.
I love Christmas because you can have snowball fights, have hot chocolate, and have a great big Christmas tree in the corner of the living room with presents underneath it. My family has this great big celebration and we have a great time. We have soup and we open presents with the whole family. We always have Christmas at my Grandma Maggie's house and have lots of food. And that's what I love about Christmas.
My favorite thing about Christmas is making Christmas cookies with my family! I've always loved baking cookies, and I love Christmas, so what's better than making Christmas cookies! I can't even think of anything better! I love putting sprinkles on the cookies, but sometimes I put too much. Anyway, I am really excited for this year's cookies they are going to look and taste amazing! I hope you have a Merry Christmas!
My favorite thing about Christmas is going to see my cousins in western Nebraska, getting the go kart out and the sled out, and pulling my brother and younger cousins. Then we go make cookies and frost them. After that we make snow forts and have snowball fights in the yard by the barn!! Go kart + rope + sled =fun! And last but not least we open presents and take a nap. Then it starts all over again!! And that is my favorite thing about Christmas. P.S. MERRY CHRISTMAS!!!!!
My favorite thing about Christmas is going to my grandma's house on Christmas Eve and seeing everyone. My cousin and I are always trying to figure out what the present is. It starts when we all get there and we run to the Christmas tree and find ours. Then we look at its shape. We are always asking her questions like if it is this or that. But she never says yes. She always says no. After we get tired of not getting it right we are ready to eat. So we grab our plates and pick out what we want. Then we usually go downstairs and eat. While we're eating we ask each other questions like "What do you think I got?" or "How is the food?" When we are done eating we run upstairs. We know it is present time. So we go into the living room where everyone else is and we hand out presents to whoever they are for. Then we open them one at a time. Everybody watches you. Then we say thank you and give hugs. That is what I like about Christmas.
My favorite thing to do on Christmas is decorating the house. Dad puts the lights on the house and garage. I put up the snowman, penguin and Santa. It's funny when we decorate because the dog is pulling down Santa's pants and you see snowflake underwear. When we are done we do a drum roll. It's lots of fun when my dog starts barking because it's so bright! Then my little sister starts running in circles!
My Favorite thing about Christmas is when it snows. I like to start up the lawn mower and move snow. I make a big hill that goes straight down. This is fun for because then I have my own hill to go sledding. Christmas is awesome.
My favorite part of Christmas is that I get to see my family. I barely get to see them, and the only time is at my family reunion. I get to play with my younger cousins and talk to my older cousins. We play lots of Christmas games. Then we open gifts. So that's why I like Christmas.
I like that my family comes up for Christmas. I don't get to see them very often. My uncle plays x-box with me and my aunt plays the Wii with me. On Christmas Eve my family has a big dinner and the family plays poker with quarters. On Christmas day we open up presents. (Whisper) I usually know what I got because I usually open my presents a little when my mom and dad are sleeping.
There are lots of Christmas traditions that people do! My family has several that I enjoy!
On Christmas Eve are able to open one present. Sometimes we are able to pick out our present. We wake up early on Christmas Eve and wait until both of my parents to get up also. Sometimes we have to wake them up instead.
On Christmas day, we always go to my grandma's house in Blair. Normally we leave to go there at 11:00 a.m. and eat at 1:00 p.m. When we arrive there we set up all our food that we brought. After everything is set up we all get in line and pray. We dish up a lot of food and all of the leftover food that wasn't eaten, they send home with the people who want it. My grandma makes Banana cream pie for dessert. In the sunroom, we all wear our hats, while eating our pie we look for the presents that all the cousins drew out of a hat on thanksgiving. This year I drew my cousin Taylor and she drew me.
Each year I go to two Christmas parties. There is one at my aunts and one at me grandmas. It's very convenient because they both live in Blair.
Two of my cousins moved to Indiana with their family a couple years ago. They normally come back for Thanksgiving and stay all the way to the 27 of December but this year they only are coming for Christmas Eve.
After we are done with opening presents we go to a movie in Blair. Last year we went to go see Alvin and the Chipmunks- Chipwrecked. I hope we get to go see a movie this year. Sometime we go see two movies but most of the time we only go see one because we don't have enough time until we have to leave. Some of the time we get a pop, some popcorn and share some candy.
When we get home from the movies we sit around and talk about what we likes about the movie. We have some giggles too. We normally stick around for a couple of hours. My cousin Taron and I go outside and play basketball for awhile. Eventually we go inside and watch some T.V. Later we hear my mom say that it's time to hit the road. So as we gather up all the presents and leftovers we give hugs to my cousins and their parents.
When we are in the car we listen to Christmas music and enjoy some family time! When we get home it's normally around 11:00 p.m. to 12:00 a.m. By that time it is pretty close to get ready for bed. So we open up all our presents that my mom, dad, and sisters have got me.
I have lots of favorite parts of the holiday season.
While we open presents on Christmas morning we watch the Peanuts special. I like the Peanuts specials with Snoopy, Charlie Brown, Lucy, Linus, Sally, and Woodstock. If we don't watch it, my dad puts in a DVD of Star Wars or watches car races. Another one of my favorite traditions is staying in my PJs all day. It's comfy and when you take it off it feels like Christmas is over. Last year, I got bunny PJs that I am going to use this year.
Another tradition is going over to my aunt's house on Christmas Eve. We give presents to my cousins. We go youngest to oldest. I am in the middle. My grandma gives the best presents. One year she gave me gold bracelet and my sister a guitar. Another year, I got a Lego set. We eat pizza for dinner.
I also go to my grandma's house a week before Christmas. We have a white elephant gift exchange and ham for supper. We get to open one present and play with it while everyone does the white elephant. At the end of the night, my grandma has a black trash bag with toys in it and each kid gets to reach in and pick one. Last year I got the movie the Fox and the Hound.
My last favorite tradition is my mom's cousin comes over for dinner. We play board games and watch movies till dinner is ready.
I hope I can continue these traditions this Christmas. I wish everyone a Merry Christmas and Happy New Year.
My family and I have many traditions that I enjoy and I am going to tell you a few.
First on Christmas Eve, we go to mass at St. James Church in Mead. After that, when we get home, my sister and I get to open one Christmas present [usually one of the smallest ones.] Then we all go to sleep and the next morning I am usually one of the first ones up and I go around waking my family up. Next we all go to my living room and open presents I really enjoy this because I get some really cool stuff and I get to spend time with my family. After this we get in the car and go to my grandparent's house and a very big lunch of ham, goose, mashed potatoes and gravy, corn, and pumpkin pie. Once the big feast is devoured we hit the road again and head for Colorado to go skiing. When we reach Monument we stop at my Aunt's house and sleep for the night. Then we get on the road again and go to Salida, Colorado where we stay there for the night. The next morning we go up Monarch Mountain Pass and start skiing. I have a lot of fun up on the mountain. We ski for about two hours and then we get some grub. After we eat lunch we go skiing for another three to four hours. We go skiing again the next day with the same routine. When we finish we go back to Monument and wait for the New Year. Finally December 31st comes and we watch the Dick Clark New Year's Eve Show. Since we are one hour behind Nebraska in Colorado it is a very long wait and my mom hates it, but when the crystal ball drops we shoot the champagne lid and drink sparkling grape cider. Then we go to sleep.
When we get up in the morning we all have a bowl of cereal, say our good byes to everyone, and get on the road again. When we are first leaving, we stop for coffee and hot chocolate. Then we get in the car and start driving again. When 12:00 A.M hits we stop and get some food and then we keep on driving. The trip is usually fun because of my sister and my dad's phone. These two things help pass the time very well. Finally we hit my grandparent hous and pick up all of our Christmas presents, load them up and hit the road again. Once we get home we unload everything and everyone goes and sits down in our living room and we watch television. We talk about our likes and dislikes of the trip. After this it is about 9:30 P.M and we all hit the rack.
That is how my family and I spend our holiday season. I hope you all have a good holiday season like me. Wishing you a Merry Christmas and a Happy New Year.
My family and I have many different things we do at Christmas.
I like to go to Black Friday, but my mom picks out some of my gifts and I get to see what it is. I have to wait until Christmas to open them though. It's worth it because then I get to pick out my presents that I want.
My family also decorates a tree every year and I say I will help but then a good movie comes on and my mom ends up doing it all. We put up our tree this year and this time I had basketball practice so I couldn't help. But when I got home I had to put on all of the ornaments on the tree. I'm really bad at putting them up so there is a just a big cluster of ornaments on the front of the tree and none on the back. We also put up lights on our house too. My dad does that, but I help by untangling the lights and checking to make sure they work. I also have to put the lights in a line so my dad can put them on the house easier.
Another thing we do is on the day before Christmas my brother, sister, and I always get to open one gift before Christmas. The first time we did this I was six and I got a Spongebob Squarepants Gameboy. I was so thrilled!
On Christmas day, I usually wake up really early to open presents. However, my parents take a long time to get out of bed so it takes about thirty minutes before we get to open our presents. Once everyone is up, we open them. Then my family goes over to my grandma's house and has Christmas there too. We usually eat first and then open the presents. The food we have is really good like the turkey and pumpkin pie. Last year I got a new Xbox game and a gift card. After all of that we go home and get ready to go to church. Then we go home and watch movies and relax all day.
After Christmas we have a New Year's Eve party. We usually have some of the cousins over and we stay up all night and watch the ball drop at midnight in Times Square. We all have hot chocolate and go to bed. Then we wake up and go outside and build a snow fort and a snow man. Then we come in and have hot chocolate again.
I hope you have as fun of a Christmas as I do. Have a MERRY CHRISTMAS and a HAPPY NEW YEAR!!!!!!
I would love to share my favorite parts of the holiday season with you.
Every Thanksgiving at my grandmother's house we have a drawing to see who you have to bring a gift for at the Christmas Eve party she holds every year. I always draw a baby's name. On the day before Christmas in the morning we go to my grandma B's house and at night we go to the party at my other grandma's house. We open gifts at both houses and when we get home we all have gifts in our hands. But we leave them on the table to worry about tomorrow. In the morning, like everyone does, we open our gifts but we open them differently. See my parents always put numbers on them. So we have to open them in order. But it must take them a while to put #'s on all of the presents considering they get my brother and I so much the tree is almost impossible to see even one branch on the tree. When we are done opening all of the presents we put them in our rooms. That takes a while. Next we go outside and make paths for the sleds. We spend so much time outside we get tiered of that so of that my brother always starts a snowball fight. When we all get back inside my mother makes hot coca. That warms everyone up. When we are all warm we get out some of the newest games out and then we invite my oldest brother and his girlfriend out to play them. As soon as we figure out how to play one game we play that for like three hours. Then we play another game for a few hours and another game and another and so on. By the time we've played all the games my brother has left with his girlfriend and we are all so tired we can hardly stand up and walk to our rooms. Sometimes we just sleep in the living room because we can't move.
Wishing you a very Merry Christmas and a Happy New Year.
My family and I have a lot of family traditions during the holiday season.
My family and I love to see our extended family members. We hardly get to see them, so it is a real treat. We usually have three Christmases so that we can see everyone.
I like all of the foods that we get to eat at Christmas. It is all very good and I love it! There is ham, mashed potatoes, and a lot more.
I like how we get off of school so we don't have any homework at all. My mom doesn't have work so we all have a good time. I think on the last day before school lets out, we have a party in our classroom also.
Sometimes my brother and I get to wake everyone up (lot of fun.) We always get yelled at though because we get up too early. We have a big family so sometimes it is hard to get everyone up. This year we don't get to though. We all have a lot of fun doing all of this stuff.
We also have a sledding contest if there is snow on the ground. I've only won once when I got lucky and everyone crashed. One year we got snowed in so we didn't get to do the sledding contest. We all still had fun shoving all of the snow.
We also had a snowman building contest. I haven't won that yet though. One year we made one huge snowman and we had fun destroying it. It is a lot of fun building a snowman and then wrecking it.
This year I'm going to Niobrara and staying in a log cabin. I hope it is a lot of fun. We are going sledding and a lot of other things.
Remember that Christmas is really not about the presents. It is about being with family. I hope you have a great Christmas and a Happy New Year.
I'm going to tell you about what my family and I do during the holiday season!
First, we like to have a family get together at our house, and then we like to have our closest friends over, just to catch up on what we missed. On Thanksgiving you would normally have a feast but what we do is talk, have lunch or dinner (whatever it is closest to).
Then we get a jar out and put all of the grandkids names on a piece of paper. Whatever name you get you have to buy them a present that is 20 dollars (or less). After Thanksgiving we have a Black Friday shopping day with my aunt and uncle while my grandma and grandpa watch my sisters! But they can't get my presents that night because I am with them!
The next tradition is that my aunt and uncle come from North Dakota to Yutan to come and see us. On Christmas Eve I get to open one or two presents just to tide me over till Christmas day. We open presents in the morning at my mom's house. When we open our presents it's usually a fiasco! After that we get done with that we go to church. We usually have a gift exchange, but this year we probably going to nursing homes and coming back and opening presents. Fun! When we get done at church, I go to my dad's house and then later to my Grandma's house. We eat, have fun, open presents, and even play ping pong! Sometimes I play hide and go seek with all of the cousins in my grandma's house!
My whole family all come over to my house to watch movies and to play games. This tradition is fun! The movies we watch are like The Christmas Story, Frosty the Snow Man, and Jack Frost!
I hope I can continue these traditions this year and throughout my life! I hope you liked my Christmas traditions and I wish you a Merry Christmas and a Happy New Year!!
I have many things I enjoy during this holiday season.
Before Christmas I go shopping with my mom and sister. It takes hours and I like it. I like going shopping because you get to wrap them and give them their present.
On the holiday I like to open presents and be with my family. We do something called the Beathy Christmas where we join together and play games where we get presents. I go sometimes to my grandma's house to eat with my family. I go to my dad's to open presents also. I also go to my other grandma's house.
On Christmas there is good food. I like the holiday because of the food. My family has lots of hot chocolate, nuts and lots of meat. My grandma makes really good desserts. She sometimes makes angel food cake. At my other grandmas, we eat at the Golden Steer. The Golden Steer has hamburgers and steaks. It is a great restaurant.
On Christmas I open presents. I have to wait for my mom and sister so I can open them. My family and I take turns to open presents. At the Beathy Christmas, we go youngest to oldest to open presents at my house. My sister and I take turns too. I like it because I have a huge family so I get lots of presents.
Christmas is a fun holiday when families join together to celebrate and have a merry Christmas.
During this holiday season, there are many things I love about Christmas. I am going to write about some of them in this essay.
One of my favorite traditions is spending time with my family on Christmas morning. We all get to open a bunch of presents around our tree. And we all have a huge cup of hot chocolate. Then we go to church with my family and have a breakfast. It is really tasty because there are pancakes, bacon, and sausage. I put lots of syrup on it. It is nice to eat with your whole family.
Another tradition is to spend time with both sides of my family. The Frahms and the Simons are both big families with lots of cousins. We play football in the snow and come inside for a cup of hot chocolate. Then it would be time for a big feast. Yum! Then it's time to go to the other side of my family. We have a big feast there also. We eat turkey and lots of pie with tons of whipped cream.
Then on Christmas night we go raccoon hunting. We spot them with a light. Then we shoot them with a .22. Then we will take them to a place to sell them. We get to our hunting place by four wheeler. We take our little cousins with us.
A really fun tradition is to go sledding behind a four-wheeler. They will pull you up and down hills really fast through really deep snow. They will try to make you fall off but you have to hold on tight.
There will be a big snow ball fight. There are two teams and both teams try to hit the other team. If you get hit your out. When the game starts everybody runs for cover like behind cars and trees. One by one people get out snow balls everywhere flying through the air like missiles. It is good to make your snow balls before you start. So you don't have to make them during the game.
I have lots of favorite parts of the holiday season.
There are so many holiday traditions out there. You are going to read some of my favorite things I do during the holiday season.
One of my favorite holiday traditions is decorating our Christmas tree. We decorate our tree soon after Thanksgiving. We get out our tree and all our boxes of ornaments. This year we had five boxes to unload. We use a fake Christmas tree because one year we used a real tree and there were pine-needles everywhere. When we decorate our tree we listen to Christmas music. When our tree is decorated we put our village under it. Then we light it up!
A few weeks before Christmas we watch the Christmas specials. Every night after supper we gather in the living room to watch one of our favorites like Rudolph the Red-nosed Reindeer, Frosty the Snowman, or The Grinch Who Stole Christmas. Sometimes we have a snack like popcorn or chocolate covered pretzels. Then we all snuggle up with blankets and get comfy to watch the ounce a year movies.
On Christmas Eve we go to the mass in Mead. When we get home we open all the presents from Mom and Dad. My sister and I always open the ones that are the same size at the same time. After that we set out Santa's cookies and milk. Then off to "sleep". I actually just lay in bed until I'm so tired I can't keep my eyes open.
The next morning I wake up and sneak to the living room to make sure Santa came. When I know he did I wake up my sister Ashley. We have to wait until eight o'clock to get my mom and dad out of bed. When he is ready with his camera we each pick a present to open first. We open presents from youngest to oldest, one at a time. For every present we open there are three pictures taken. When all the presents are open we get about an hour to play with them. Then we get into nicer clothes to go to my grandmother's house in Iowa. When we get there we get around an hour to hang out. Then we bring up the gifts. All of my cousins gather in the living room and try to find a place to sit. When all of the adults count down we rip open our gifts. When the presents are open we throw away the wrapping paper and go around giving our thanks to the gift givers. After a while my grandmother calls us into the kitchen to load our plates. I eat in the basement with about six of my cousins. After we have eaten we get a few hours just to hang out and play with relatives. We always have a great time. It's so much fun!
Thanks for reading. I hope you celebrate as many fun traditions as I do. I always have a great time decorating or just being with my family. I'm wishing you a very Merry Christmas and a happy New Year. Thank You.
My family has many traditions that I enjoy
On Christmas Eve we make cookies for Santa. It is fun making cookies because we dance to music. We get to customize are cookies. We get to help make the frosting for the cookies.
On Christmas Eve, we get to help set up the Christmas tree. We get to help put on the ornaments. We help put the star on the very top of the tree. Each year we take turns putting the star on. This year it is my turn. We get to put on the streamers. It looks really cool when we plug it in.
On Christmas Eve, we set up all the decorations inside and outside. We put up all the lights in the hallway, kitchen, and living room. We set up all the snowmen inside and all the Santa's inside. Outside we set up all the reindeers, candy canes, and the fake presents. Then we set up all the lights around the house. It is a lot of hard work but afterwards it is totally worth it. It is a lot of fun.
Every Christmas Eve we get to open one present. My parents pick which present we get to open. We have to close our eyes while our parents pick what present we open. We usually go youngest to oldest. I love doing it because we get to open a present early.
We usually go to bed at 9:00 P.M., wake up at 5:00 A.M. and go wake up are parents. They don't wake up in until about 6:00 A.M. We open the presents after breakfast. Then we get to play with the presents and try on our clothes. Then we clean up the mess and we go outside and we make a giant snowman. That takes a long time to do, but it is really fun. After all that, we go inside and pick up all the clothes and we clean our rooms. Then we put all the food that is for the Christmas party in containers and get it ready to go. Then we all take showers, get dressed for the party, and go to my grandparent's house. When we get here we help my grandma set up the tables and the food for the party. Then we wait for are cousins. When are cousins get there we play. We do all sorts of stuff with our cousins.
I wish everyone a Merry Christmas and a Happy New Years.
My family and I have many family traditions that we enjoy during the holiday season.
My favorite part of our Christmas is that we get a chance to see our family members, open gifts, and give them. Before we get to open any presents, we go to our grandparents' house and bake Santa Claus cookie pizzas that say our name on them, if we think we were naughty or nice, and what we want for Christmas. After we bake cookie pizzas, we eat ham for supper, along with cheesy potatoes, salad, oatmeal, and peanut butter toast. If we behave, we get to dance to Christmas music all night until we feel like our legs are going to fall off. Then we spend the night there. Due to the fact it is Christmas Eve, we get to stay up late and wait for Santa to come until we get busted by the parents. I am always excited to see the beautiful Christmas tree and the presents underneath it because I know that very next day we get to open our presents!
Last Christmas was fun, but this year is going to be the best one yet. I hope your Christmas will be just as merry as mine.
What are your favorite parts of the holiday? I have many holiday traditions that I really enjoy.
One of my favorite parts of the holiday is my cousins and I will buy presents for each other. I like this because everybody will get something different and they will not get the same thing. Sometimes our topic is board games or clothing. Some years the topic is something to fit their personality like a necklace or an art kit. This is one of my favorite parts of the holiday season. My aunt will pair us up or choose who we will buy a present for. The gift can't be more than $20.00. Sometimes my cousins do not follow the rule. They will buy a gift for someone that is $30.00 or more. That happens every year. That is one of my favorite parts of the holiday season.
Another part of the holiday season is at my grandma's when we open our presents from youngest to oldest. I am almost the last one to open a present. It stinks! Then I have to watch the rest of my cousins open presents. I like this tradition, but I don't like it at the same time if you know what I mean. I like this because if we did not have this tradition, everyone would open their presents at the same time. That would be chaos! This is a good and bad tradition.
This tradition is another one of my favorite parts of the holiday season. My grandma makes lots Christmas cookies and we eat them while we open our presents. We try to eat all of the cookies but sometimes our stomachs start to hurt if we eat too many cookies so we stop. This is a very fun part of the holiday season.
The best tradition of all is on Christmas Day. One of the kids in my family will choose a theme for dinner that night. Some of the past dinners we have had were Mexican food, steak, Italian food, and Chinese food. My favorite dinner was the Chinese dinner. I choose that dinner a few years ago. That is why it was the best. We had Kung Pao chicken, fried rice, and crab rangoons. YUM! It was a very good dinner. I am very curious to see what the dinner will be this year.
One last tradition is on Christmas Eve, my whole side of my dad's family goes to 7:00 p.m. mass Most of the time we can't find a seat because it is so packed. Sometimes the family gets split up. We do not sit together almost every year because it is so packed. I like going to mass.
I want to wish you a Merry Christmas and a Happy New year!
When Abraham Lincoln celebrated Christmas, he had traditions just like us. My family also celebrates Christmas with many different traditions.
You might not put much thought into it, but everyone has a different way of celebrating Christmas and other holidays. During Christmas, one of the hardest things to deal with is not being able to open the presents until Christmas time. But, if I did open one of my presents I would be breaking one of my family traditions. I call it "Present Time". To follow through with this you have to wait for every single person to gather around the Christmas tree to be able to open presents. Annoying I know.
Another tradition my family uses is favored by me and my father. I call this one "Sight the Lights". This is when you simply drive around in a car with you father to look at all the Christmas lights you possibly can. I favor these drives because afterwards we get a pumpkin spice cocoa from Star Bucks, and a foot-long chili cheese dog from Sonic. Be warned; as little siblings can make this peaceful drive a chaotic one.
Another favored tradition my family enjoys is the Christmas breakfast. This one has no specific name because usually your body is too tired to think after waking up at five o'clock in the morning. My dad made pancakes filled with cherry pie filling last year. Jealous? I would be if I were you. But I'm not so, HA!
And yet another food related tradition is the Christmas dinner. Unlike the breakfast this tradition has a name. It is called the "Christmas Dinner". I found this an appropriate name for the activity it was used for. We do this one by eating. My family does this with family at three different times at three different places. Each time with family surrounding us. The main reason for this is because I simply have too much family to celebrate Christmas once.
My brother and my sister enjoy this tradition most of all. They might say it is "Cookie and Milk" tradition but I don't necessarily care as this is not my favorite tradition at all. All you have to do is bake some cookies and pour a glass of milk. Though my brother and sister would be told by my mother, "You must bake the cookies with love and care. Make sure you don't pour the milk until Christmas Eve though."
And finally back to an enjoyable tradition. This one is called "Santa's Guiding Lights". This one is fun just because it's cool to see glowing lights on your house. Red, green, and white lights are traditional Christmas colors. Remember the "Sight the Lights" tradition? Now people can sight your lights.
Now for everyone's favorite. The Christmas tree tradition. The most classic and original tradition of them all would be this tradition. Without a Christmas tree there would be no Christmas to celebrate because "Santa" would have nowhere to put his presents. My family always goes together to pick out our Christmas tree.