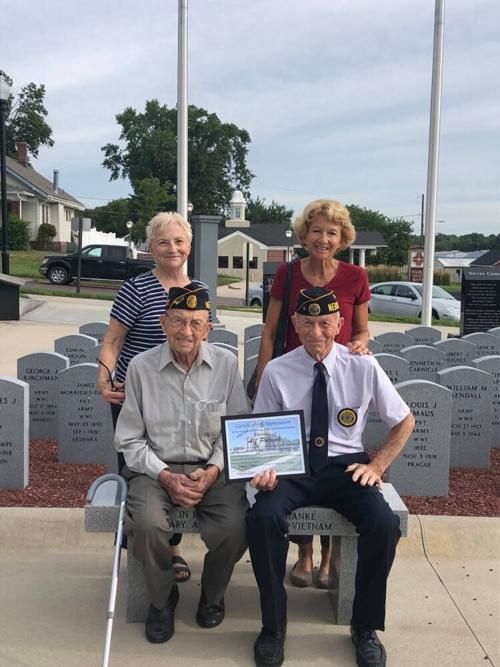 WAHOO – A man who has made a lasting impact on his neighbors and his community was nominated as the Saunders County Veteran of the Month for August.
Each month, the Saunders County Board of Supervisors recognizes a veteran who is a resident of Saunders County. Alf Polacek from Prague was nominated for the honor in August by his niece, Audrey Chromy.
He grew up on a farm northwest of Prague and is one of 10 children. The story of Polacek's first name is interesting. He said his family was running out of names when he came along, so he was named Alphonse after the priest that baptized him.
Polacek was drafted into the Army at the age of 19 in 1953 during the Korean War. Two of his brothers already served in World War II and another in Korea a couple years prior.
Polacek went to Ft. Leonard Wood, Mo. for basic training and then completed training as an engineer-heavy equipment. After training, he was shipped out to Japan, where he was assigned to the 302nd Engineer Battalion. There he was part of the team tasked to rebuild airfields.
He completed his time in the Army in April 1955 as a corporal and returned to Nebraska. He was awarded the National Defense Service Medal, United Nations Service Medal, Korea Service Medal and the Army Good Conduct Medal.
After his discharge from the Army, Polacek married his sweetheart, Carol, and they have been married for over 60 years. He was a rural mail carrier for 25 years and he served on the Prague Village Board of Trustees for 12 years.
Polacek continues to volunteer for the village and he maintains the Prague Cemetery, mowing in the spring and summer, and making sure the graves and driveways are shoveled when the snow comes. He has been member of American Legion Post 254 for over 60 years, serving in positions such as commander and vice commander, and on the firing squad. He is also an active member of the St. Johns Catholic church, volunteering whenever and where ever needed. Now that he is retired he enjoys restoring Ford Broncos and pickups, two-cycle tractors, and he also enjoys attending tractor pulls in the area.
Polacek has made such a positive impact on his community that a few years ago, one of his neighbor girls named Emily wrote about him in a school project about heroes. In her essay "My Hero" she wrote about this hero who may not be famous, but he is special to her because he is a veteran. She talked about all the wonderful everyday things that we take for granted but he doesn't because he doesn't look for praise, but for a sense of community. This young girl makes Veterans Day cards for the all the veterans in Prague and Polacek always thanks her in person. She ended her essay saying how much she will miss Polacek when he is gone because the world will not be the same without him and when she grows up, she hopes to be just like him.
The Certificate of Appreciation for service in the Armed Forces of the United States of America was presented to Polacek at the Aug. 18 supervisors meeting. It reads: "The Saunders County Supervisors wish to recognize your military service to the United States of America. Throughout our nation's history, it is the efforts of men and women such as yourself that have provided the freedoms we, as Americans, dearly enjoy today. Please accept our deepest gratitude and appreciation. Let us never forget your demonstrated sacrifice, service, love and commitment to your county. Signed by County Board Chairperson Doris Karloff and Veterans Service Officer Mary Pace."
Be the first to know
Get local news delivered to your inbox!