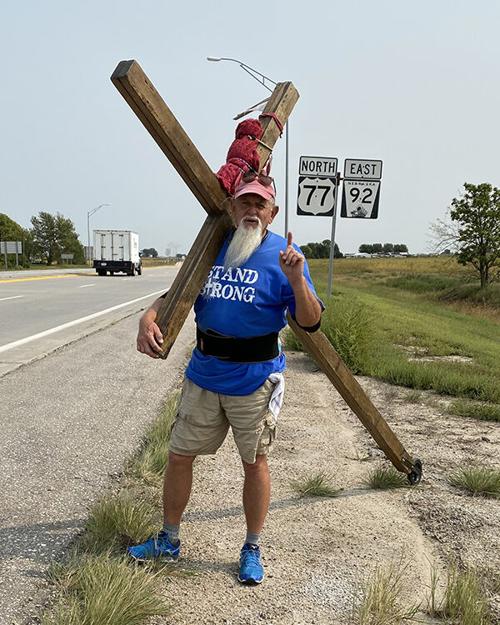 WAHOO – For the past seven years, Steve Epp has been carrying a huge cross across the United States in an effort to bring Jesus to the streets of America. In his writings, the Tulsa, Okla. pastor often uses the word "Wahoo" to emphasize his point. He didn't realize there was an actual Wahoo until he carried the cross from Fremont to Wahoo last week.
"I didn't know there was a Wahoo," he said as he stood along Highway 92 at the Highway 109 junction on Sept. 17. He was waiting for his wife and partner in this venture, Saundra, to pick him up. They were spending the night in Wahoo at the fairgrounds camping area.
Epp, age 64, started his project seven years ago, walking along major highways across the country to spread his message through his organization, called "The Well Tulsa." This was his first time in Nebraska. He landed in Wahoo on the 26th day he had spent in the Cornhusker state. His trip had been a positive one so far.
"I love the people here," he said.
Epp has felt very welcome in the Midwest. He finished traveling through North Dakota two weeks ago and was in Wisconsin and Minnesota before that.
"North Dakota, South Dakota and Nebraska have been three of the friendliest states I've walking in, other than the Deep South," he said.
He walks eight to 10 miles per day. His route through Nebraska traveled north to south on Highway 77, which encompasses Highway 92 as it travels from Mead to Wahoo.
His wife drops him off at the starting point and picks him up when he's done for the day.
Even though he is walking along busy highways, Epp said many people stop to talk to him.
"Sometime two people stop a day, sometimes 20 people stop," he said.
When they stop, Epp asks them if there is something he can pray about for them. He shares his 14-word message: "Jesus loves you and so do I. What can I pray to you about?"
"I'm here to tell them Jesus loves them," he added.
Epp sees his calling as transforming lives as he walks through the country. Many people have become his friend after these brief visits, he said.
"Transforming lives keeps me out here," he said.
Epp was raised near Los Angeles. He hated living in such a large city, and was eager to move when he became an adult. He settled in the Cherokee Nation area in the northeast corner of Oklahoma, where he and Saundra raised their five children. They have a home in the Tulsa area where they can play host to their 19 grandchildren.
Epp ministers to many Native American tribes, not just the Cherokee Nation regularly. He stopped to spend time with members of the Winnebago and Omaha Nation tribes while in Nebraska.
Be the first to know
Get local news delivered to your inbox!