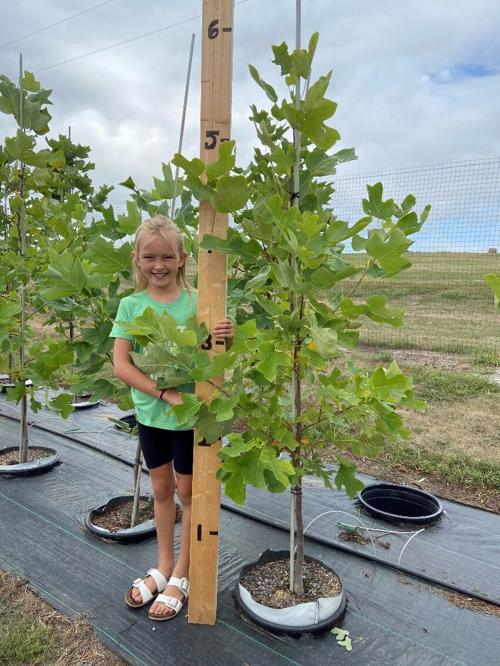 GRETNA – For the past nine years, Heather and Brian Byers, the owners and operators of Great Plains Nursery, located just outside of Weston, have been supplying the Gretna Arbor Society (tree board) with trees for Gretna's annual "Free Tree Giveaway and Planting Workshop." Over the years, hundreds of free trees have been given out to the citizens of Gretna.
This year 80 trees were made available during the Sept. 12 event. Two trees were given away with a bag of mulch and tree guard for each.
Heather and Brian Byers grow all their oak trees from seeds collected throughout the state of Nebraska. Additional trees are grown from cuttings or bareroot trees. All their trees are grown in RootMaker containers or bags. This method climates the problem of girdled and "J" roots normally found in contain grown trees. In addition, roots are not lost like when you buy ball and burlapped (B&B) trees. Theirs is a wholesale business but they will sell retail if you call before you come.
Great Plains Nursery also sells shrubs. Brian Byers also finds the time to start vegetable seeds in their greenhouse. The plants are then sold at the annual Weston Catholic Church plant sale with all funds going to the church.
The Byers' five children play an active role in the nursery. Every year as the next daughter reaches a certain age, they become tree model for the Gretna trees. This enables the recipients of the trees to have a good idea on the height of the tree. This year, seven-year old Gracie Byers was selected to model the trees.
Because of COVID-19, this year's tree giveaway has been modified and is now a drive-through event so the driver never needs to get out the vehicle. Pre- and post-tree planting and care information will be given out when the trees are picked up.
The members of the Gretna Arbor Society (Tree Board) appreciate the efforts both Heather and Brian Byers put into growing healthy trees able to with stand our harsh Nebraska climate.
The Gretna Arbor Society's theme for the year is "Insuring Residents of Gretna Plant and Care for Trees Properly." The free tree giveaway is one of the key reasons the City of Gretna has received the Arbor Day Foundation's Tree City USA Award and the special Arbor Day Foundation Tree City USA Growth for 2019. Only six Nebraska cities received the Growth Award for 2019. This marks the 33rd year award for Tree City USA and 23rd year award for the Tree City USA Growth Award.
Great Plains Nursery specializes in native trees and shrubs for conservation and landscape. Sourcing seeds in the state helps customers select trees that are able to withstand the extreme weather conditions in Nebraska, according to the nursery's website. For more information, go to www.greatplainsnursery.com or call 402-540-4801.
Be the first to know
Get local news delivered to your inbox!