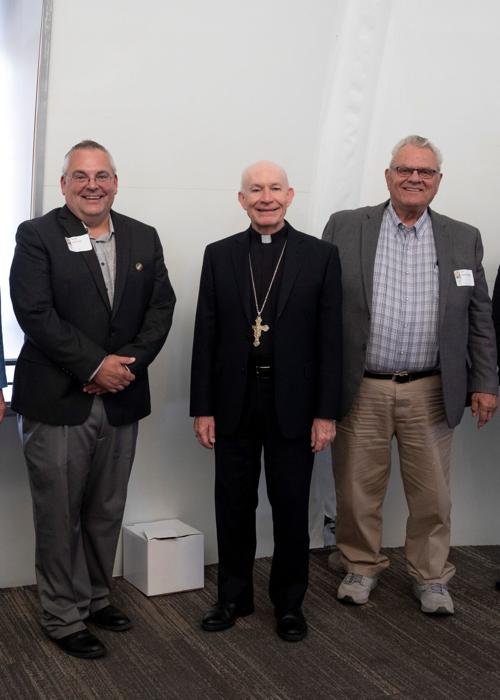 OMAHA – The Catholic Businesses Group-Omaha (CBGO) held their fifth annual "Leading with Faith" Awards on Thursday, April 22, at the Champions Run Club in Omaha. Two area Catholic business leaders were chosen from among seven finalists this year.
"This prestigious honor is given to honor individuals who live out their Catholic Faith at work," said Sue Mandel, the organization's president.
Scott Hartman, senior director of Community Support Services at Boys Town and Erv Eisenmenger, owner and CEO of West Point Implement in West Point both received the award before a crowd of 140 people at the event. The winners were announced by Deacon Chuck Adams, a board member of CBGO and the group's spiritual director. Archbishop George J. Lucas was also an honored guest and gave out the awards to the recipients.
Hartman, a member of St. Wenceslaus Catholic Church, in Wahoo, is a strong advocate for the God-given dignity of all and is passionate about the importance of strong families and communities. He likes to quote Servant of God Father Flanagan, "The work will continue, you see, whether I am there or not, because it is God's work, not mine."
Eisenmenger, a member of St. Mary Catholic Church, in West Point, is a role model for his employees. His nominator wrote, "Erv's success is reflected in the culture of his business – helping employees through difficult times while encouraging his Catholic beliefs and values."
The five additional finalists who were nominated by their peers include: James Carroll, at Spirit Catholic Radio Network (Omaha); Stacey Gutchewsky, at Midwest Labs (Omaha); Dr. Carolyn Manhart, MD, at CHI Health (Omaha); Michael Moylan, at Shamrock Development (Omaha) and Joan Ruskamp, at J & S Feedyards (Dodge).
Attendees were treated to a spirited message from keynote speaker John Abbate, restaurant franchise owner and Catholic author. His new book "Invest Yourself: Daring to Be Catholic in Today's Business World" gives testimony that business success and a thriving faith are not mutually exclusive. A free copy of the author's book was provided to each lunch guest.
The CBGO was organized eight years ago in Omaha to provide an opportunity for Catholic professionals to meet together and support one another in discovering ways to be successful and faithful. The "Leading with Faith" Award reflects that purpose, honoring faith-filled Catholics who live their faith in their work, in how they relate to employees, customers and business contacts, in how they serve the community and their parish. Meetings are held the third Thursday of each month. For information about the group or to join, visit the website: www.cpbcOmaha.org .