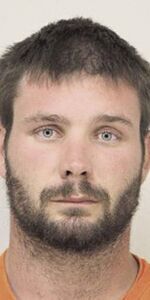 WAHOO – A Malmo man accused of murdering his fiancé has pleaded not guilty.
Kolton Barnes entered a plea of not guilty in Saunders County District Court on Aug. 17 in front of Judge Christina Marroquin.
Barnes has been charged with first degree murder in the killing of his fiancé, Kayla Matulka, on the morning of July 15 at their home in Malmo. Matulka was found by her 11-year-old, who went next door to get help. Barnes returned to the home later in the day and was arrested.
Barnes was also charged with two counts of child abuse because Matulka's two children, ages 6 and 11, were in the home at the time of the incident, as well as cruelty to animals for killing the family's dog, Diesel.
Matulka and Barnes had recently moved to Malmo from Lincoln and were planning to be married on Oct. 10, 2020 in Malmo. Matulka grew up in Blair but has family members in other parts of Saunders County, including Yutan.
Barnes has been held without bond in the Saunders County Jail since his arrest. Earlier in the month Barnes' attorney, Matthew J. McDonald, requested Barnes' bail be reduced to $250,000. McDonald claimed Barnes was not a threat to abscond and was not a danger to others. He mentioned his client's police record, which includes an arrest for disturbing the peace in 2013 and minor in possession a year later, when Barnes was a minor. The defendant also was sentenced to probation and two days jail time for a 2017 driving under the influence conviction.
On Aug. 18, Marroquin denied the request and set bond for Barnes at $5 million. The judge also denied a motion filed earlier by the defense to compel access to the defendant's credit cards to pay bills or cancel if needed.
McDonald has also filed a motion to depose four witnesses for Barnes' defense. They include Matulka's mother, Tammi Matulka, a friend of the couple named Jaden Johnson and Matulka's two minor children. The judge had not ruled on this motion as of last Friday.
The defense attorney has also filed a motion on Aug. 17 for discovery to gain access to video recordings of the minor children being interviewed about the case. The judge took the matter under advisement.
Earlier in the month, Saunders County Attorney Joe Dobesh filed an order to designate an assistant state attorney general as a special deputy county attorney in the case.
Barnes will be in court for a pretrial hearing for Oct. 19 at 9:30 a.m. in Saunders County District Court.
McDonald is a member of the Nebraska Commission on Public Advocacy, an agency that assists counties in providing criminal defense services for indigent defendants, which is mandated by state and federal law, according to the website ncpa.nebraska.gov.
Be the first to know
Get local news delivered to your inbox!