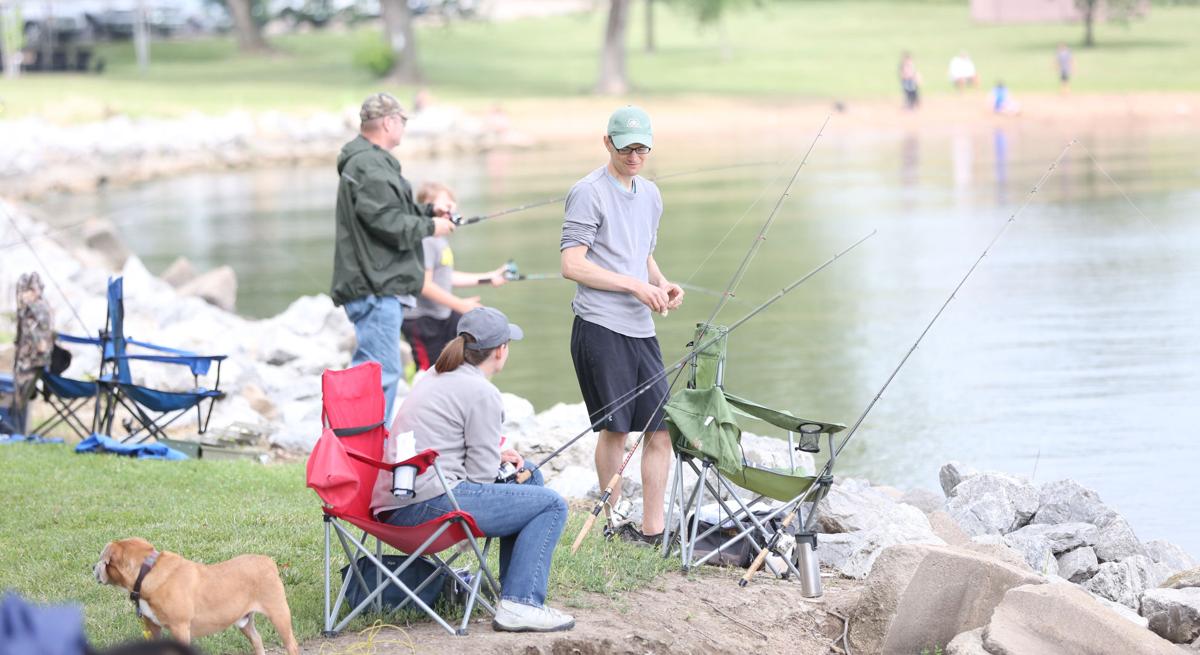 LINCOLN – Fish are nervous all across eastern Nebraska as restless anglers look for a break from the day-to-day monotony of self-quarantine.
Nebraska Game and Parks Fisheries Biologist Daryl Bauer is usually traveling the state this time of year, wetting lines in pits, ponds and lakes from Ogallala to Omaha.
But, he like everyone else is confined to his small patch of land in the state's capital of Lincoln.
"Guys are fishing. I know Holmes Lake is busy. The warm days help and the fact that most everyone is going a little stir crazy has people wanting to get out of the house and fishing is one of the few activities still allowed," Bauer said.
As far as the rest of the state Bauer is relying on his contacts to get reports on what guys are catching.
Spring can be a tough time to dry off a cooler full of fish, but it can also be very rewarding according to Bauer.
"Everyone loves to sit on a shoreline on a warm afternoon and experience a good crappie bite, but with the wild fluctuations in temperatures from one day to the next in the spring, fishing for crappie can be frustrating," Bauer said.
When it's warm the crappie are active and can be found in shallow water. But when temperatures fall the fish move to deeper water and can be incredibly challenging to catch.
Crappies love protected habitats, bays, coves and similar areas protected from Nebraska's notorious north wind.
Crappies can and will chase prey according to Bauer, but their personality leans more mellow than high-strung.
An effective way of catching them is presenting bait and keeping it there, giving the fish a chance to move in and eat it.
Bauer reminds anglers that panfish are often overfished despite their hearty nature and he says that it is okay to catch and release even for crappie.
"A 12-inch or larger crappie is a rare fish. Harvesting a mess of 10-inch crappies for a meal of fresh fish is great, but if I come across a big one, I would just as soon put it back and let someone else have a chance at catching him," Bauer stated.
Czechland Lake near Prague and Lake Wanahoo near Wahoo have established reputations as strong panfish fisheries. The largemouth bass bite is also strong at the two eastern Nebraska lakes.
Bauer stated that he heard that the fishing has improved at Memphis and that guys are catching fish this spring.
"Memphis went through a rough patch, but guys are catching fish there again," Bauer added.
Branched Oak Lake near Malcolm has gained a reputation for being one of eastern Nebraska's top recreational hotspots.
Jet ski and speed boat activity will hit its peak in a couple of months, but Bauer said that if you can find a quiet cove to cast a line fishing can be a successful venture.
All of the state's parks and recreation areas remain open for day use, fishing and recreation.
Overnight camping is prohibited throughout the state through Friday, May 8.
The Nebraska Game and Parks Commission has canceled all group events through May 31, making scheduling family fishing outings and group events centered around fishing extremely difficult.
"I know a lot of stuff has been canceled through the end of May, but we are hopeful that the rest of the summer won't be affected, time will tell," Bauer added.
Be the first to know
Get local news delivered to your inbox!