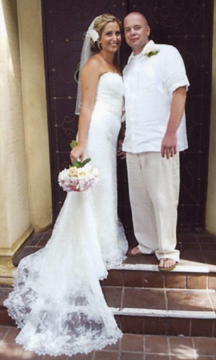 LA JOLLA, Calif. – Andrea Anderson and Rich Alexander were married June 23 at the Darlington House in La Jolla, Calif.
Parents of the couple are Mick and Kathy Anderson of Wahoo and Richard Alexander of Hastings and Linda Alexander of Grand Island.
The bride is the granddaughter of the late Mitchell and Marie Bodzek of Linwood and Iva and the late Ray Anderson of Oakland.
Matron and maid of honor were Amy Kindschuh and Ali Anderson, sisters of the bride, both of Lincoln.
Groomsman was Justin Anderson, brother of the bride, of Central City.
The bride is a 2001 graduate of Wahoo High School and the University of Nebraska-Lincoln. She is employed by Archstone Properties in California.
The groom is a graduate of Grand Island Public School and the University of Nebraska-Lincoln. He is self-employed.
Following a honeymoon to Hawaii the couple lives in San Diego, Calif.