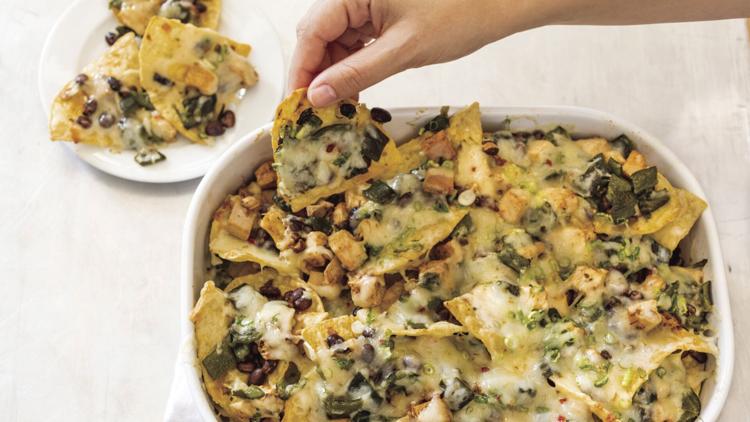 Leftovers are one of the best parts of a Thanksgiving meal. But sometimes, the day-after side dishes — the mashed potatoes, roasted vegetables, casseroles, stuffing and gravy — all get gobbled up before the extra turkey.
If that happens, don't go for another sandwich. Instead, give that leftover turkey another life with this nacho recipe. It requires just a few minutes of hands-on work and will transform your leftovers into a crisp, flavorful and fresh meal.
To give these nachos a noticeable but mild kick, we charred poblano peppers under the broiler. While those cooled, we toasted chili powder and cumin in oil along with garlic and dried oregano, then we stirred in the turkey, black beans and lime juice into the mixture. After a 10-minute stint the oven, the nachos — and your transformed turkey — are ready to eat.
Spicy turkey nachos
3 poblano chiles
1 tablespoon vegetable oil
3 garlic cloves, minced
1 teaspoon chili powder
¼ teaspoon ground cumin
1 teaspoon dried oregano
1 ½ cups leftover turkey meat, cut into bite-sized pieces
1 (16-ounce) can black beans, drained and rinsed
2 teaspoons lime juice
8 cups tortilla chips (about 6 ounces)
2 scallions, sliced thin
4 cups pepper jack cheese, shredded
Adjust oven racks to the upper-middle and lower-middle positions and heat the broiler.
Place poblanos on rimmed baking sheet and broil on the upper-middle rack until skin is charred, 3 to 5 minutes per side.
Transfer poblanos to a large bowl and wrap tightly with plastic.
When cool enough to handle, peel, seed and chop the poblanos. Reduce the oven temperature to 400 degrees.
Heat oil in a large nonstick skillet over medium heat until shimmering. Cook garlic, chili powder, oregano and cumin until fragrant, about 30 seconds. Off heat, stir in turkey, beans and lime juice.
Arrange half of the chips evenly in a 13-by 9-inch baking dish. Top with half of the turkey mixture, half of the scallions, half of the chopped poblanos and half of the cheese. Repeat.
Transfer nachos to the lower-middle rack and bake until the cheese is melted, about 10 minutes. Serve.