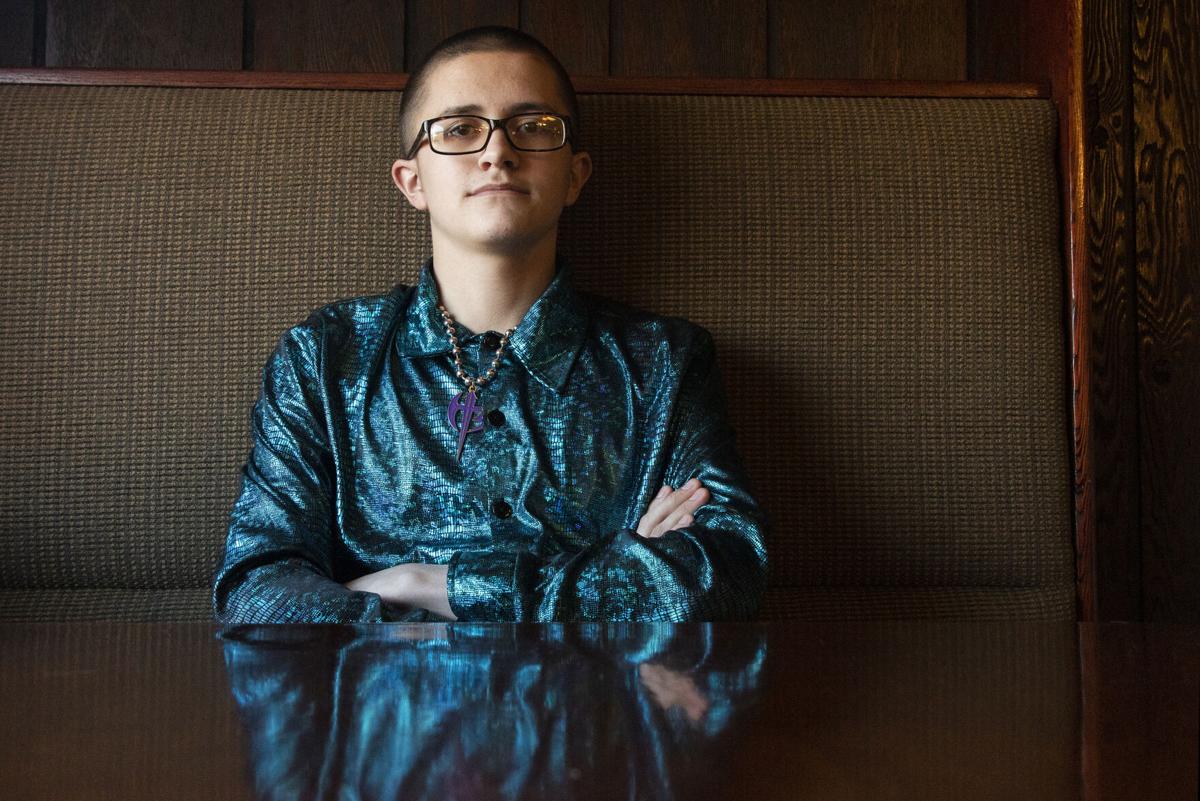 WAVERLY – Tanner Decker describes himself as an old soul. 
The 16-year-old grew up in the HoneyCreek Restaurant listening to music from the 1950s, 60s and 70s. He and his family love playing card games and board games together and he enjoys watching vintage television shows like "Hee Haw," "I Love Lucy" or "What's my Line?" 
Every once in a while, one can catch Tanner sporting his favorite disco costume with a strikingly sparkly indigo blue shirt and bright white bell bottoms. 
"I like disco," Tanner said. "But I guess disco apparently died in the 80s."  
Not to Tanner though. Along with his appreciation for the culture of the mid to late 20th century, Tanner collects antiques and Ty Beanie Babies with his mother. In fact, Tanner said they are only missing the 1999 "Millenium" bear in a box from the McDonald's collection. 
During the day he goes to school and enjoys math class and his friends, and at night he's either working at HoneyCreek with his parents James and Viola Decker, spending time with friends 60-plus-years-old or mastering any of the multitude of interests and talents he has cultivated since he was in fifth grade. 
His talents range from beautifully produced landscape oil paintings inspired by Bob Ross, sketches of cartoons, card tricks, ventriloquism and interior design. Oh, and if you ever need an auctioneer, Tanner is your person. 
This all stems from Tanner's love for learning. His interest in older television shows and movies aids him in his determination to learn more about the past and culture which has resulted in many of his talents.  
His love for learning also surfaces at school. Tanner said his favorite class is math and described himself as a teacher's pet and someone that likes to follow the rules. Along with this characteristic, he enjoys getting to know his teachers because it "strengthens a relationship between a teacher and student," he said.
"If you're respectful to them and you learn a little bit about them, then they'll be more respectful to you," he added. 
Tanner will be a junior during the 2021-2022 school year and said he's not entirely sure what he wants to do after high school because he'd like to find something that can encompass all of his interests. 
 One career path that has stood out to him since he was little is teaching. Tanner said he would line up all the stuffed animals he and his father had won in claw machines and pretend to teach them with a whiteboard he had on his wall.
"I always thought about being a teacher," he said. "I don't know why, I was drawn to it."   
But he's also drawn to a lot of different things including auctioneering. However, Tanner said that he could incorporate auctioneering into the classroom as a brain break or warm up. 
His mother hopes he pursues something in art. 
"I think he can go in many directions," James said.
Tanner is not like most 16 year olds. And he likes that about himself, which is something his parents passed on to him from an early age. 
"I told him I said it doesn't matter what people think about you," James said. "Be your unique self."
Tanner sure does. He likes being different from his peers at Waverly High School. While it doesn't help making friends, Tanner doesn't really care. 
"Nobody really enjoys what I enjoy, and they also consider it weird," Tanner said. "They grew up listening to their own music and their parents didn't teach them the stuff that my parents taught me...It doesn't really bug me."
While kids his own age might not understand him, Decker said adults support him and encourage him to continue with his talents. One of those adults who support him is HoneyCreek regular and Tanner's good friend Karol Dubinsky who moved to Waverly just a few years ago.
When she first met Tanner, Dubinsky was immediately reminded of her grandson who is also named Tanner and resembled the Waverly youth. While there was that connection, Dubinsky said they would not have been friends if Tanner's interests didn't run so similarly to hers. 
They both enjoy the same music, movies and television shows. For her, this is a sign of Tanner's old soul.    
"I think every now and then you run into a child that you think is special in certain ways," Dubinsky said. "This kid is special in many ways."
Tanner knows he's special too which is why he describes himself as one of those rare old souls.
"I'm just an old soul," Tanner said. "You don't see many people like me anymore."