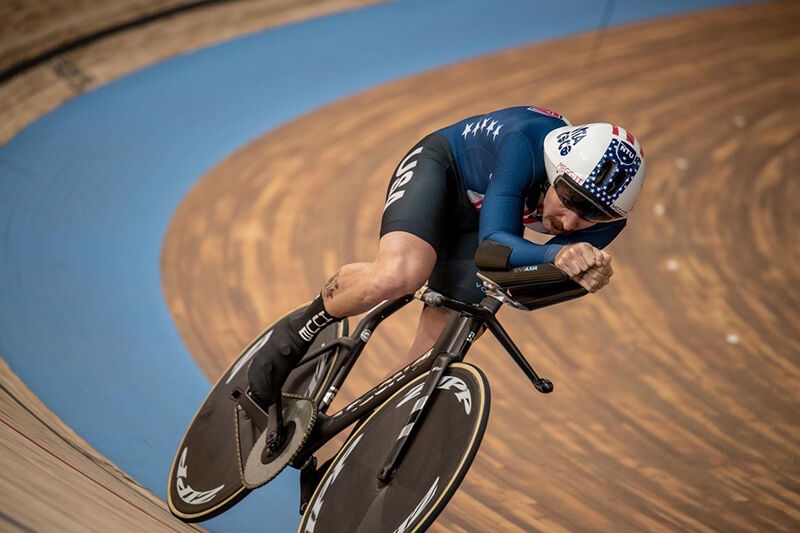 HOUSTON – Ashton Lambie has degrees in music and business from Hastings College, enjoys post-ride snacks from Casey's General Stores and owns the world record for the fastest individual pursuit track racing time at less than four minutes. He's easily identifiable by his old-school strongman mustache, which he has sported since his college days. And he's a Waverly High School graduate.
He has been called one of the most interesting cyclists in the world.
Lambie started riding for distance at 15 after he tried out his dad's old road bike that hung on a wall in their house. He completed his first 100-mile ride shortly after and kept his legs fresh with nine-mile rides to and from school. Lambie said he doesn't get back to Waverly often, but he made sure to stop at Joni's a few times before moving to Houston recently.
Now, at 31, he's been riding for more than half of his life, and doesn't plan to change course any time soon.
His early cycling feats were on gravel — he completed 500-mile rides as a teenager and in 2015 he took the record for the fastest ride across Kansas. He says the easy access to gravel roads as he was growing up made for unique but functional proving grounds.
"Nebraska was an amazing training facility, to be honest," Lambie said. "The endless gravel roads, low traffic and great scenery all made riding a great time there."
His Midwestern origins would prove formative to his future accomplishments, providing the springboard to eventual cycling superstardom. He first tried individual pursuit cycling in a grass field north of Lawrence, Kan., that had been repurposed into a velodrome (a track cycling course). In individual pursuit, two cyclists line up on opposite sides of a 250-meter course and race to catch the other from behind or notch the faster time.
"It went great, with a few track records and wins on my first night," he said.
It seemed Lambie had a knack for track racing, too. From there, he says he kept trying bigger races, domestic and around the world. He won his first national championship in 2017, which earned him a spot on the USA national team and the prestigious Team USA cycling jersey.
"It's always a huge honor to get to represent the country at any domestic or international event," he said. "I hope it inspires people as much as it inspires me."
As the name implies, one-on-one competition is inherent to individual pursuit. But for Lambie, his No. 1 challenger is himself.
"I really like pushing myself, improving little bits at a time, and love the training process," he says. "There's always something new to keep working on, and discovering and implementing that is all part of the process."
He first captured the world record in individual pursuit in 2018, when he completed the race with a time of 4:07.251. And he has since eclipsed his own record three times, most recently with the world's first sub-four-minute time, at 3:59.93.
He trained tirelessly to hit that number. But for now, he's satisfied.
"The four-minute barrier was the last number I was really going for," he said. "It wasn't something I had in mind when I started, but it seems like a good marker."
Now he'll turn his focus back to distance riding and the 2022 Lifetime Grand Prix, which he says is a new and prestigious gravel racing series. It includes six races spread throughout the year, some on mountainous terrain in Utah and Colorado, others on the plains landscape he knows so well. They're the kinds of events that require extensive training, but that's when he's in his element.
"I just kind of keep my head down, do the work and get results," he says. "If you love training, it's a good life."