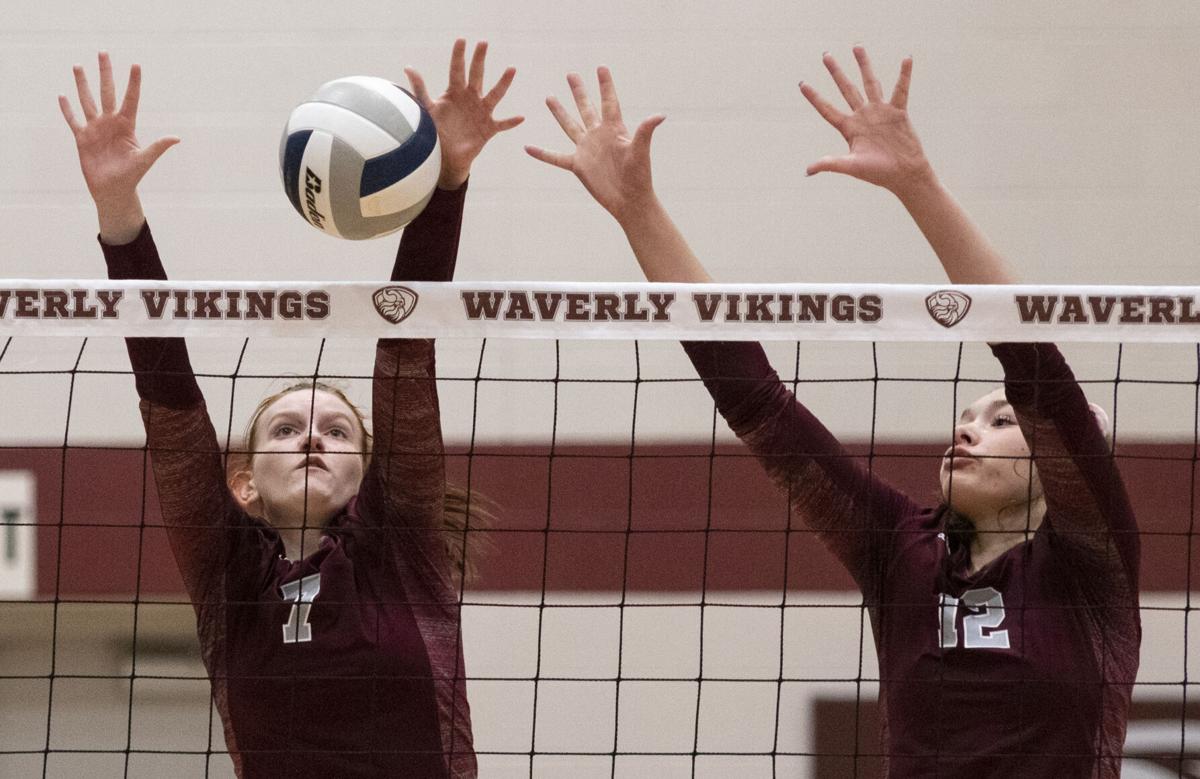 LINCOLN- The Class B No. 3 Waverly Volleyball team took a step up in class, playing all Class A schools at the Lincoln Southeast Tournament on Oct. 1-2. Considering the Vikings were still without Bekka Allick, who just returned from representing Team USA at the 18U FIVB World Championships where the U.S. earned bronze, they did good going 3-3.
"The team fought hard the entire tourney and to finish 3-3 in this tough Class A tournament is a great accomplishment," Waverly Coach Terri Neujahr said. "Two of the matches got away from us, as we all thought we had chances to win them both but made a couple of errors that sent the tide the other direction. I'm really proud of how the team came together and fought to the end, despite that. We will be better because of this tourney."
Waverly's first match of the tournament was against Class A No. 8 Lincoln Pius X on Friday. The Vikings tried to keep it close with the Thunderbolts but ended up losing 25-20 and 25-18.
Both Kara Kassebaum and Jaelyn Dicke had six aces registered in the match. Joslyn Rice finished with three kills and Hannah Allick and Eden Moore had two kills.
Earning four blocks in the match was Mady Banitt, while Moore had three blocks, Dicke had two, and Allick, Kassebaum, and Rice each had one.
Picking up 14 assists in the match was Allick, while Karsen Vanscoy had one. Leading the team with ten digs was Vanscoy and Dicke had eight.
In their second game Friday, Waverly moved on to play Lincoln North Star. Against the Gators, the Vikings were able to get back into their winning groove, earning a sweep with 25-12 and 25-20 set wins.
Kassebaum was the heavy hitter for her team with seven kills and right behind her was Dicke with six kills. Finishing with five kills was Rice and Moore ended with four.
Waverly had another excellent match at the net with eight blocks. Banitt had four of those blocks, Allick and Kassebaum had three, and Moore earned one.
Registering 23 assists for the Vikings was Allick, while Dicke had ten digs, Rice had nine, Vanscoy had seven, and Kassebaum had six.
The Viking's toughest match of the tournament came against Kearney to close out Friday. They were able to hold off a pesky Bearcat squad 25-23, 15-25, and 25-18.
Finishing with a match high 11 kills was Dicke, Kassebaum had eight, Rice recorded seven, Moore earned three, and Allick ended up with two.
It was another great match for Waverly at the service line where they had 12 aces. Four of those were by Vanscoy, while Allick and Dicke had three, and Emelia Rourke and Rice had one.
On Saturday, the Vikings resumed tournament play against Class A No. 5 Gretna. Without their powerhouse Bekka Allick at the front of the net, Waverly could never get things moving in the right direction, losing 25-12 and 25-16 to the Dragons.
Kassebaum led the Vikings with six kills and Dicke, Banitt, Moore, and Rice all had two. Defensively, Allick had 14 assists, while Rice had seven digs, and Vanscoy had six.
Waverly's only win on Saturday came against Lincoln Southeast. They were able to knockoff a Knight squad who is still winless on the year 25-11 and 25-13.
Earning five kills in the match were Dicke, while Kassebaum had four, and Rice and Banitt each had three. Allick had four aces to lead the team, Vanscoy had two, and Rice finished with one.
The final loss was the toughest loss for the Vikings to swallow against Omaha Marion. They fell to the 10-13 Crusaders in two close sets 25-21 and 25-22.
During the match, it was Rice who led Waverly with six kills and Dicke and Kassebaum both had five kills. Allick was once again the leader in assists with 17 and also had nine digs. Vanscoy had 12 digs, and Rice had nine digs.
The Vikings took on Class C-1 No. 6 Wahoo at home on Oct. 5. They play at Bennington against the Badgers on Oct. 7 at 6:30 p.m.