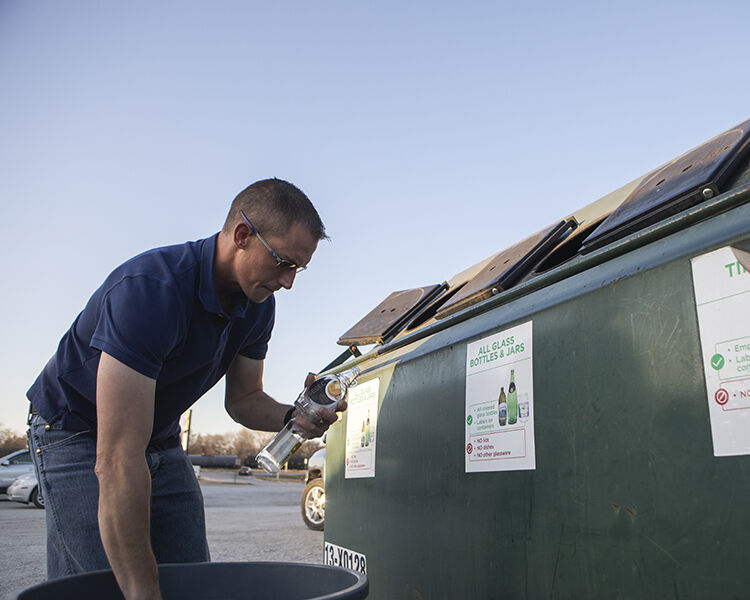 WAVERLY – During the Oct. 27 Waverly City Council meeting, the council approved a bid from Quik Dump out of Ashland to take over the city's recycling program at the beginning of December for one year at the cost of $1,800 per month. 
In June, Waverly and many other locations in Lancaster County like Davey, were informed that Lincoln would be pulling their recycling program in order to save money. Reducing from 19 sites to an estimated five sites means that Lancaster County will save the 30-year-old program quite a bit of money, assistant director of Transportation and Utilities Department Donna Garden said. 
"We went from paying $600,000, a year for collection and getting $300,000 in revenue to $3.1 million for the entire collection of the sites," Garden said.
Despite Lancaster County pulling its services in December, Waverly will be able to keep the equipment they already have which is located just off Highway 6 on the backside of Honey Creek restaurant. It includes three roll off containers, one eight yard container and three two yard containers, Waverly City Administrator Stephanie Fisher said. It accepts cardboard, glass, aluminum, tin, plaster and mixed paper.  
Garden said the department wants to ensure those that communities where the recycling sites were being removed still have access to recycling, which is why the department has been aiding places like Waverly with information and the existing equipment.
"We were not trying to de-emphasize recycling, we still think it's a really, really important program for us," Garden said. "All we're trying to do is to make it financially sustainable."
Fisher said when the city received the news, she began reaching out to various companies that offer recycling services, including Quik Dump. This contract will cost the city $1,800 per month with no extra fee for citizens and will only last one year. 
A one year contract gives Waverly flexibility in the future since this is new, Fisher said. 
"It might give us some time to see if there's any other options we want to explore," Fisher said. "There may not be, or there may be. We really don't know."
Normally, Quik Dump creates three-year contracts, Quik Dump owner and Waverly native Rick Mendoza said, but because of the unknowns in the recycling industry, Mendoza compromised. 
Mendoza said the process will stay the same but days may change based on what Waverly citizens are saying about how full the containers get before the weekend. 
"We're looking to better the process, but we're not going to change anything," Mendoza said.
Be the first to know
Get local news delivered to your inbox!