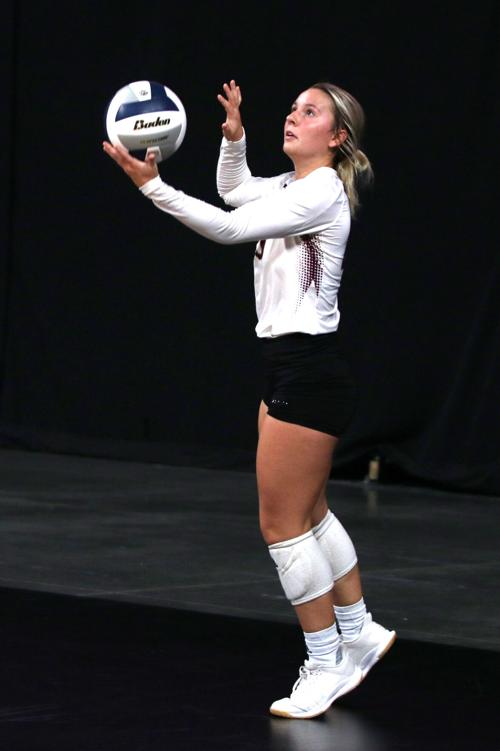 Waverly- The Eastern Midlands Conference recently announced their all-conference selections for the fall 2021 season. Awards were given out for the sports of softball, cross country, girls golf, tennis, volleyball, football, and play production.
Four Vikings were able to pick up All-Conference selections on the softball diamond. They were Kaylei Denison, Tenley Kozal, Peyton Krumland, and Malia Thoms.
Denison was an outfielder, Kozal was the first baseman, Krumland played third, and Thoms was the second baseman. On top of making All-Conference, Kozal was also Academic All-Conference as well.
Taking home Honorable Mention All-Conference selections were Megan Brinkman, Tataum Peery, and Alexis Shepard.
Five more players from the Waverly Softball Team were awarded Academic All-Conference. They were Katyn Kappler, Brooke Luedders, Raynah Sutter, Lily Krajewski, and Riley McCall.
After a great volleyball season that ended with the Vikings being rated No. 3 in Class B, three players earned All-Conference Awards. They were Bekka and Hannah Allick and Karsen VanScoy.
Bekka Allick was one of the top all-around players in Class B, picking up 442 kills, 40 aces, 50 blocks, and 546 digs. Her sister Hannah dominated at the setter position with 983 assists, while VanScoy had the team lead in digs with 546 and aces with 60.
Honorable Mention All-Conference went to Jaelyn Dicke, Kara Kassebaum, Eden Moore, and Joslyn Rice.
Kassebaum finished one kill shy of 200 for the year with 199 and was second on the team with 68 blocks. The sophomore Moore had 146 kills and registered 57 blocks in the front row. In the back row, Rice had 344 digs, 31 aces, and five assists.
On top of the athletic honors, six athletics earned Academic All-Conference as well. They were Hannah and Bekka Allick, Emelia Rourke, VanScoy, Jaelyn Dicke, and Kassebaum.
After going 7-4 this season and making the quarterfinals of the Class B State Football Playoffs, the Vikings football team had four athletes pick up All-Conference Honors. Leading the list was Trevor Brown, followed by Wyatt Fanning, Riley Marsh, and Cole Murray.
Brown was one of the top offensive and defensive linemen in Class B all season, along with Fanning who had one interception and one blocked punt.
Both Murray and Marsh made their presence known on offense, where Murray threw for 880 yards and 13 touchdowns and rushed for 458 yards and nine touchdowns. The top receiver for Waverly this season was Marsh with 535 yards and six touchdown catches.
The Vikings were well represented on the Honorable Mention list with 15 athletes earning this recognition. They were Kaleb Axmann, Toby Becker, Preston Harms, Aj Heffelfinger, Garrett Jenkins, Charlie and Eddie Johnson, Quinten Kastins, Jacob Krauter, Devin Moore, Levi Powell, Caiden Rose, Anthony Rueles, Cooper Skrobecki, and Kaden Wolfe.
More impressive is 14 athletes earned Academic All-Conference. Leading it off for Waverly were Fanning, Charlie and Eddie Johnson, Powell, Rose, Axmann, Brenden Barnes, Harms, Heffelfinger, Trey Jackson, Jonathan Martin, Austin Neddenriep, Samuel Schernikau, and Skrobecki.
For girls golf, tennis, boys and girls cross country and play production, only Academic All-Conference was handed out.
Earning this recognition for the girls golf team were Mallory Retzlaff, Sophie Bingham, Mya Dubas, and Brianna Hartman. All four girls golfed at a majority of the varsity meets and at districts this season.
For the girls cross country Alayna Landis was the only one to receive Academic All-Conference, where Will Franzen, Austin Meyers, Caleb Heisinger, Kolton Jueneman, Daniel Kasparek, and Dominic Delahoyde earned it for the boys. Kasparek was also one of the three Vikings cross country runners to qualify for state in Kearney.
In boy's tennis, Adam Haeggner, Jace Rice, Hogan Wingrove, Zachariah Hartman, and Landon Scott earned Academic All-Conference. Scott was also a state medalist for Waverly at the Class B State Tennis Meet, taking sixth place in No. 2 doubles.
For play production, Trey Erlandson, Summer Kreikemeier, Jenna Pool, Regan Wiseman, and Tressa Neemann took home Academic All-Conference. They will be competing in the A-3 District Meet at Lincoln High at 9 a.m. on Dec. 4, for a chance to qualify for the state competition at the Johnny Carson Theater in Norfolk on Dec. 10.