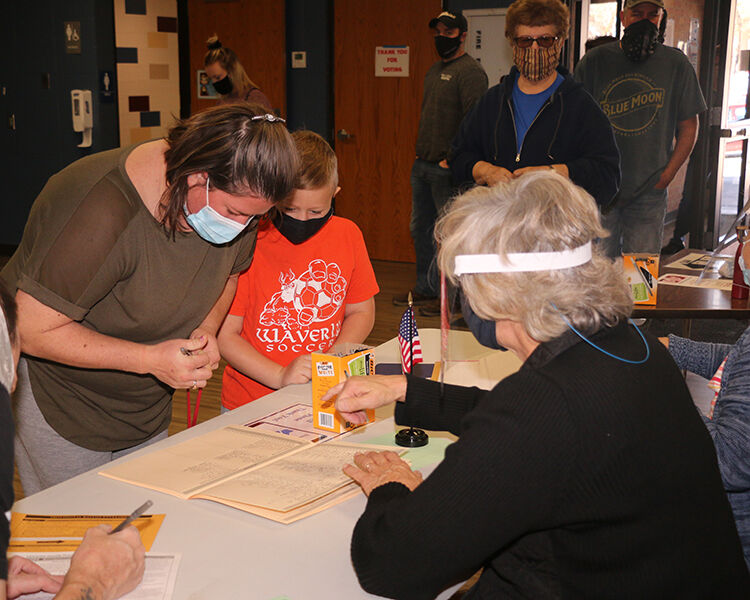 WAVERLY – Voter turnout varied around the area during the General Election on Nov. 3.
In Lancaster County, election officials reported a 76.3% voter turnout which is a 3.3% increase from the 2016 General Election. There were 203,163 registered voters in Lancaster County with 155,020 ballots cast on election day. 
In 2016, Lancaster County only had 189,380 registered voters and 138,236 total votes, according to the 2016 final election results. 
In the presidential race, Democrats Joe Biden and Kamala Harris received 80,513 votes and Republicans Donald J. Trump and Mike Pence received 68,321 votes, per the unofficial ballot counts in Lancaster County.
Voter turnout was much higher in Cass County, where a little over 81% of voters participated in the 2020 General Election. Cass County Election Commissioner Linn M. Moore said she believes the percentage is a record for the county. 
The county had a total of 18,937 registered voters and 15,445 ballots cast, according to the county' unofficial ballot count. In the 2016 General Election, had 17,490 registered voters and 13,097 ballots cast making an almost 75% voter turnout. 
The presidential ticket had a 99% turnout with 10,121 voters opting for Donald J. Trump and Mike Pence and 4,737 voters selecting Joe Biden and Kamala Harris.
Saunders County experienced an estimated 7% increase in voter turnout and had 12,847 ballots counted, according to an unofficial ballot count from Saunders County Clerk and Election Commissioner Patti Lindgren. 
There were exactly 15,800 registered voters, which means the total turnout percentage is 81%. This is a record for Saunders County with the previous voter turnout high of 76% in 1976, Lindgren said. 
In the 2016 General Election Saunders County had an estimated 74% voter turnout with 14,811 registered voters and 10,942 official ballots cast. 
On Tuesday, 7,134 of those ballots were cast in person throughout Saunders County. Despite this being a decrease of 3,808 ballots cast from the previous election, voter turnout was made up by early voting ballots.
There were 5,713 early voting ballots with a total of 5,872 early voting ballots sent out. While the voter turnout for early voting remained about 97 percent, the 2016 General Election only had 1,606 early voting ballots cast out of 1,651 early voting ballots sent. 
Lindgren said that this election was much more of a challenge for several reasons, including her office dealing with COVID-19 cases in early October and the large amount of early voting ballots. 
While her 10-person team including herself was able to prepare and verify early ballots beginning Oct. 26, it still took her team about 10 hours to actually count each ballot due to the high volume of early ballots. 
Lindgren said she would prefer voting by mail because it would not only save time and money but also create an environment that requires less planning. Lindgren said it can be difficult to find polling places as well as volunteers for those polling places.   
"For one thing, we're having a harder and harder time finding poll workers and this COVID virus definitely did not help that matter at all," Lindgren said. 
Lindgren said that misinformation proved to be an issue as well as not receiving early voting ballots in the mail which created about 160 provisional ballots. In a normal general election the county only has an average of 70 provisional ballots. 
Lindgren said this lengthens the process quite a bit, but they plan to have the ballot count certified before submitting it to the Secretary of State on Nov. 23. If there were to be any type of recount, which Lindgren said would be unlikely, it could happen after Nov. 23.
Be the first to know
Get local news delivered to your inbox!