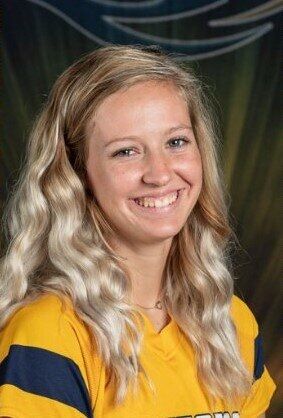 Wahoo- The 2021 softball season was my first as the Sports Editor of the Wahoo Newspaper. In fact, after spending a few years out in Broken Bow where there is no high school softball, it was my first time covering it as a high school sport.
 I was not disappointed with what I saw, as I quickly found out how rich of a softball tradition this area has. It's obvious with how these kids performed day in and day out, how dedicated they are to this sport.
You know Saunders County has some good softball teams when both teams playing for the Class C State Title are from this county. Something that was truly amazing to witness, and doesn't happen every day.
This year's team is comprised of six senior athletes and four juniors from four different high schools in Saunders County. The selection process was a difficult one, to say the least, with so many worthy athletes in this sport.
Without further or do, here is the list of the All-Area Team for the 2021 Season. Congratulations to all the athletes who were selected.
Hattie Bohac, Bishop Neumann Sr.- Making her third straight appearance on the list for the Wahoo Newspaper All-Area team is Hattie Bohac. She was selected as the catcher for this year's team with her solid play throughout the season.
The four-year starter for Dave Brabec led the Cavaliers to the Class C State Title with a perfect 1.000 fielding percentage behind the plate which is nearly unheard of. On top of her defensive stats, she had a .500 batting average, five home runs, 55 RBI's, an on-base percentage of .667, and a slugging percentage of .788 in 104 at-bats on the year.
For her career, she finishes with a .410 batting average, 135 hits, and 136 RBI's which is the most in the Bishop Neumann program history.
"She was one of the most important parts of our team," Brabec said. "Her leadership skills were amazing. She really came on as a leader about halfway through the season. If that hadn't happen I don't know if we win a championship."
Autumn Iversen, Wahoo Jr.- Autumn Iversen is another third-year selection in the Wahoo Newspaper All-Area Team. She was the main cog behind the Warriors qualifying for state for the first time since 2015 and for the second time in Class B.
She is the pitcher for this year's team after registering 130 innings finishing with a 14-5 record, 165 strikeouts, and an ERA of 1.66. All very impressive stats considering the tough Class B schedule the Warriors faced.
Besides her great work on the mound, Iversen was just as dangerous with her bat. She broke the school record with 17 home runs, a .467 batting average, 34 RBI's, a .533 on-base percentage, and a slugging percentage of 1.028.
"Autumn is dangerous on both sides of the ball," Wahoo Head Coach Katrina Christen said. "She is a great pitcher and an amazing shortstop. She is also explosive at the plate and speedy on the bases. Autumn has climbed into our record book in many categories both season and career stats as a junior. She is a leader on the field for our team and the motor that makes us go."
Shaylynn Campbell, Yutan-Mead Jr.- To say that Shaylynn Campbell had a good season for Yutan-Mead would be an understatement. The junior for the Patriots came on the scene this season and impressed with her arm, her glove, and her bat.
In the state tournament, she helped power Yutan-Mead to the state title game for Class C, after losing in the opening round. She had two great pitching performances against Cozad and Guardian Angels where she gave up one run combined and then had six RBIs and a home run in a rout of Malcolm.
For the season she had a record of 18-6 pitching, 182 strikeouts, a 2.340 ERA, and opponents had a batting average of .207 against her. Defensively she was just as stingy at second base where very few balls got past her.
With the bat, she had an average of .500, an on-base percentage of .516, 59 hits, scored 45 runs, had 50 RBI's, and had five stolen bases. Lucky for the Patriots, they have her and a majority of their team back next year, as they try to make a run at winning state.
"She is our team leader, there is no doubt about it," Yutan-Mead Head Coach Ryan Glatter said. "The way that Shay goes the team goes. There have been only a few games this year where we have had success when she is off. She really sets the tone for us."
Mary Chvatal, Bishop Neumann Sr.- Accolades are nothing new for Mary Chvatal of Bishop Neumann who is one of the most decorated softball players in the history of the storied Neumann Softball Program. One thing that beats all that is the fact that she helped the Cavaliers get over the top and win a State Championship this season.
She flashes the leather with the best of them in the state at shortstop, with 124 putouts and five double plays on the year. Her fielding percentage for the season was also nearly perfect at .914.
Equally impressive to her work with the glove is her batting stats. She had a .481 average, 30 RBIs, 32 stolen bases, an on-base percentage of .560, and a .683 slugging percentage.
For me having just seen Mary play this season, I won't forget the play she made against Malcolm in the state tournament. Leading the Clippers 5-4 in the seventh, Chvatal had an amazing throw home to beat a runner advancing from third. That play saved the game and possibly the season for the Cavaliers.
"Mary has a career 108 stolen bases, 40 career doubles, and had a 25 game hitting streak," Brabec said. "These are all records at Bishop Neumann. Mary will leave the most awarded player in Bishop Neumann history. She also has a career batting average of .484 which is the best in school history by nearly 80 points."
Kylee Kenning, Wahoo Sr.- Kylee Kenning earns her first selection on the Wahoo Newspaper All-Area Team after having a spectacular season for the Warriors at the third base position. She was also one of the most clutch players of the Class B State Softball Tournament.
She helped power the Warriors to a 13-5 win in the first round against Scottsbluff with a grand slam. She followed that up with a two-run homer against the eventual State Runner-Up Hastings, which drew the Warriors to within one run of them at 3-2.
Kenning had a .360 batting average for the year with 32 hits in 89 at-bats with 25 RBIs, an on-base percentage of .412, and a .517 slugging percentage.
"Kylee was fearless at the third base position," Christen said. "She made some huge plays for us all season long. She also came up clutch for us multiple times at the plate. She hit two of her three home runs at state, one of them being a grand slam."      
Aubrey Sylliassen, Bishop Neumann Jr.- In 2021 Neumann had the defensive version of Murders Row in their infield. A big reason for that was the play of Chvatal at shortstop, but also the exceptional talent they had at second base with Aubrey Sylliassen.
There is no doubt she was one of the clutches players for the Cavaliers this year. She not only stopped everything on the right side of the infield for Neumann but also pitched for them as well.
On the year, she logged 14 innings, had 16 strikeouts, and an ERA of 1.50.
She also swung a mean bat, with a .467 batting average in 120 plate appearances. This included 29 RBIs, eight stolen bases, an on-base percentage of .492, and a .642 slugging percentage.
"Aubrey was the most clutch hitter on our team at leadoff this season," Brabec said. "She was lockdown at second and worked well with Mary at shortstop. Aubrey was also a help on the pitching mound for us. She came in and pitched in some big games to help save our pitching for tournaments and for later in the season. Aubrey was the hardest out on the team and is one of the best hitters in the state."
Sierra Springer, Raymond Central Sr.- Helping power the Mustangs to a district final in Class C was outfielder Sierra Springer. Fresh off of making the team a year ago as a second-team selection, she earns a first-team nod this year.
In the field, she played centerfield where she was able to cover a lot of ground. Her fielding percentage for the season was .825.
On top of having a great glove, she batted .412 with 40 hits in 87 at-bats. She also drove in 38 RBIs, scored 40 runs, had 23 singles, nine doubles, and eight home runs.
For the year, her slugging percentage was .753 and she had an on-base percentage of .482. While on base, she was able to swipe 13 bases.
Sierra isn't just an amazing softball player, but a gifted soccer player as well. After high school, she will be attending Concordia where she will continue her soccer career.
"Sierra batted in the three-hole for us," Raymond Central Head Coach Bob Prai said. "Sierra has been an outstanding centerfielder for us the last two years and picked up where she left off last year. She had a fielding percentage of .825 and that probably should be higher because she covered a lot of ground out there."
Emma Kavan, Bishop Neumann Sr.- Continuing to improve and work hard has gotten Emma Kavan of Bishop Neumann to the point where she is one of the best outfielders in the state. Last season she was second team in the Wahoo Newspaper, but after a stellar senior campaign, she made the jump to the first team this year.
The three-year starter for the Cavaliers batted .412 this season with 42 hits in 102 at-bats. She finished with 32 RBIs, 27 runs, a .455 on-base percentage, a .500 slugging percentage, and three stolen bases.
On the biggest stage in the state championship game, Kavan doubled to put Neumann ahead 4-0. She also did a good job of keeping two well hit balls to her in left field in front of her, which prevented Yutan-Mead from getting extra bases.
"Emma was a very important part of our team over the four years she played at Bishop Neumann," Brabec said. "She was a three-year starter who came up with big hits each year for us. She is one of the most improved players on the team and has worked so hard to get to this point."
Piper Boggs, Ashland-Greenwood Sr.- Leading Ashland-Greenwood to the Capitol Conference tournament title during the 2021 season was the Bluejays Piper Boggs. The senior catcher made her first Wahoo Newspaper All-Area Team as an additional player on the roster this year.
She had a .479 batting average in 73 at-bats with 35 hits. Boggs also crossed the plate 14 times, drove in 27 more, while hitting five doubles, two triples, and six home runs.
The most impressive stat logged by Boggs was her .849 slugging percentage. That was second on this year's first team, only behind Autumn Iversen of Wahoo.
In the conference championship game against Yutan-Mead in September, Boggs scored a run and drove one in as well. The RBI she picked up in that game broke a 1-1 tie, and eventually helped A-G win 3-1.
"Piper is a tough out at the plate," Ashland-Greenwood Head Coach Morgan Zahnow said. "She battles well into counts and had big hits when we needed them the most. She also was a threat behind the plate and picked off many runners. Many teams did not steal against us, with Piper behind the plate."
Avery Mayberry, Bishop Neumann Jr.- Big plays in big situations. That is the best way to describe Avery Mayberry and what she did for the Neumann Softball Team on their run to the Class C State Championship this season.
In the State Title game against Yutan-Mead, she came up with a two-run home run that sealed the win for the Cavaliers and demoralized the Patriots. She also had several catches in the outfield on well hit balls by Yutan-Mead.
Mayberry batted .444 this year, with 44 hits in 99 at-bats. She was second on her team with 41 RBIs, a .537 on-base percentage, and a .768 slugging percentage. Mayberry also came across the plate 36 times to score a run.
If the Cavaliers have any chance of repeating as State Champions next year, Mayberry will definitely have to be one of the players to lead them. Her experience in the outfield will be heavily relied upon just like it was this year.