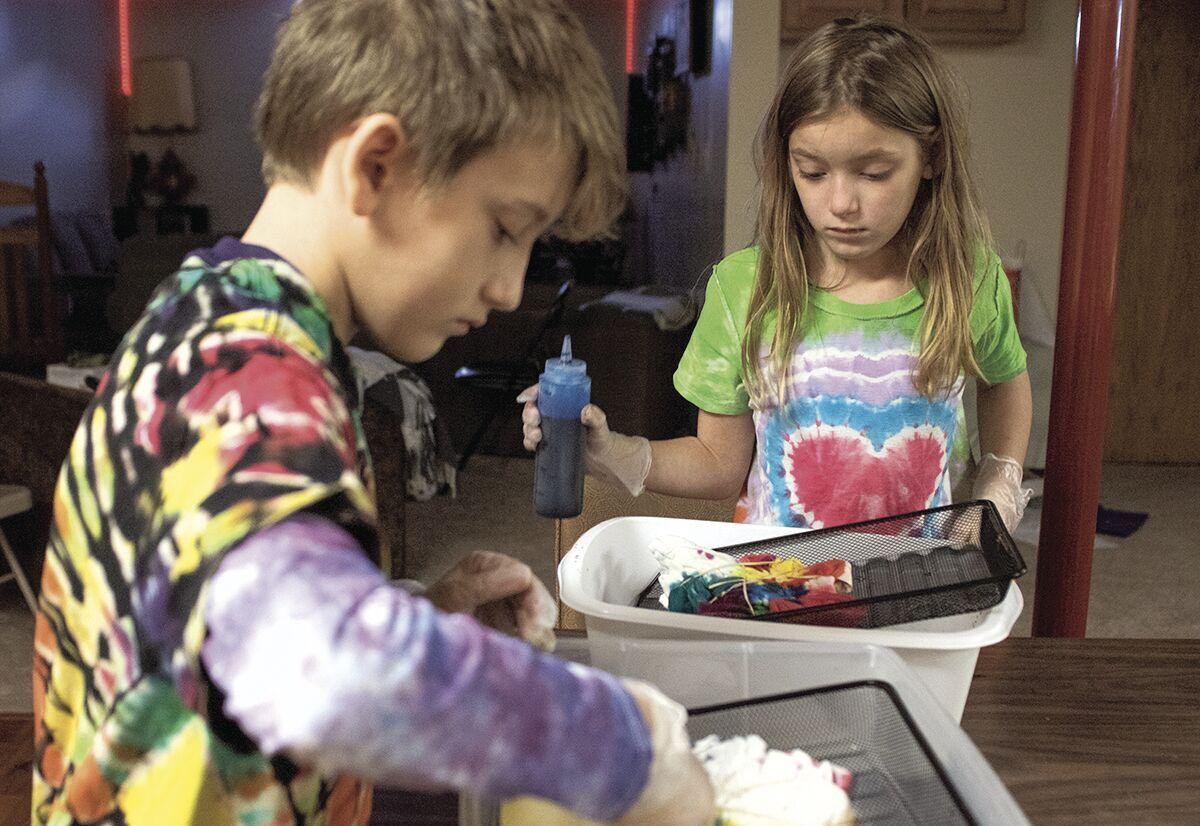 RAYMOND – Unfolding a tie dyed t-shirt is like opening a present every day. 
And for Meagan Brandt and her two children, Everly and Owen Korger, they now get to open new presents every day with their tie dye business, O & E Creations. 
"It's such a surprise every time you open a tie dye because you don't really know what it's going to look like," Brandt said. 
In spring 2020, Brandt had been laid off due to the pandemic and Everly and Owen were at home learning online because Raymond Central Elementary in Valparaiso was shut down. Going a little stir crazy as most families throughout the country, Brandt, Everly and Owen picked up tie dyeing after one of Brandt's aunts dropped off an old kit. 
After experimenting with a few shirts and seeing how much fun all three of them were having, 10-year-old Owen had the idea to sell the shirts.
"I had started to do some research, because the tie dye that we had used was craft store dye and so it wasn't like the best quality," Brandt said. "We wanted to be sure that if we were going to sell them (the tie dyed items) they were going to last a long time." 
Through her research and different Facebook groups she joined, Brandt learned more about the correct type of dye to use. Shipping took five weeks for Brandt and her kids to receive the fiber reactive dye, so in that time they were able to watch tutorials and educate themselves on different ways to tie dye. 
The process which Everly and Owen are most involved in is the liquid dye process. First, Brandt will scour the shirts in the wash with a soda ash solution to get out all of the extra moisture for dyeing. 
Once the shirts are washed, Brandt and the kids will decide what designs they want to do, like a heart or spiral. Instead of rubber bands, Brandt will utilize a wax string called sinew string to create a sharp white line. 
"A lot of people think tie dye is just rubber bands," Brandt said. 
Once the items are all tied, Everly and Owen will then apply different colors until the shirt is totally saturated with the dye powder and water mixture. Then, the shirts will be wrapped in plastic and placed somewhere warm for about 48 hours while they set. 
Brandt said the next part of the process is most important, but also the most time consuming. When they rinse the shirts, they do several soaks with soap and run them through the laundry until the water is almost clear. Brandt said they do this because they don't want their customers to have the dye bleed on other laundry when it's washed. She also suggests customers wash the tie dyed items with cold water.
Brandt also does a process that involves ice, which splits up the colors by the color components they are made up of. She has been utilizing the recent snow to her advantage. 
"I've actually really been enjoying the snow," Brandt said. "That's free ice."
While the ice process takes about 48 hours to complete, she also has a process that takes much less time called low water immersion. With this, Brandt said she ties up the item, dyes it without soaking it in a chemical solution and then mixes it with chemical water in a crock pot where it sits at a certain degree. 
Because some of the other processes include potentially dangerous chemicals or powders, Brandt normally does those tie dyes using protective measures and does not let Everly and Owen participate in these procedures. 
While Brandt was researching the tie dye process, they also began brainstorming name ideas for their business. The triad eventually came up with O & E Creations standing for Owen and Everly. 
Owen said he likes tie dyeing because of "how enjoyable and fun it is." He said when he tie dyes he experiments with different colors until he feels it is complete.
"I kind of like see what (color) there is and then dye until it turns out," Owen said. 
Everly said she prefers making the heart design and has a half-heart shirt which matches Brandt's shirt. When the mother and daughter stand next to each other, they form a whole heart. 
Owen and Everly do get a cut of the profits based on how much effort each one puts into the business each week. Brandt said this has taught Owen and Everly they if they don't do as much work, they won't get paid the same. 
"It helps them to understand you have to work for your money," Brandt said.
Since they began selling tie dye products, O & E Creations has a goal of selling to all 50 states under the advertising campaign of "Make America Groovy Again." So far they have sold to customers in 11 different states. Brandt said the business really took off toward the beginning of the new school year with the tie dye masks they were creating. 
O & E Creations utilizes Facebook and a website to sell their array of items including masks, shoes, bags, clothing and several other items. They also attended four different vendor events to sell products and advertise the business over the summer.
Brandt said they decide how much product they create based on what items are more popular and what customers are requesting. She bases prices on the difficulty of the dye, how many colors were used and the level of technique. 
"Handmade tie dyes are better quality than a print, and will last so much longer," Brandt said. "We take pride in knowing that there are people that appreciate handmade art, and understand the complex process behind it."