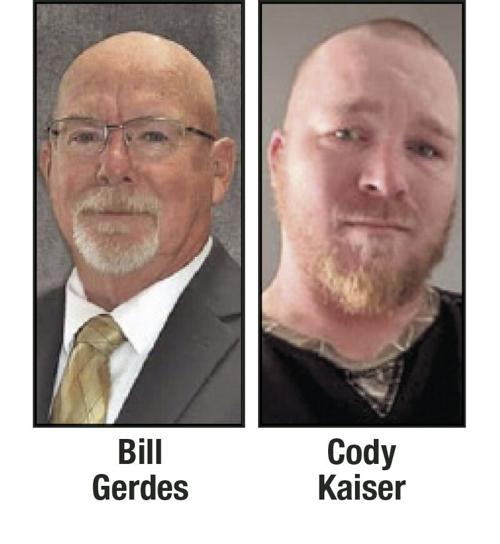 WAVERLY – Up until Oct. 9, current Waverly City Council member Bill Gerdes was running unopposed for mayor when Cody Kaiser decided to declare himself as a write-in candidate.  
Gerdes, who was born in Fremont and lived there until his family moved to a farm in Valparaiso when he was eight years old, spent 21 years in the U.S. Air Force after graduating from Raymond Central High School. He retired in 1993 as a senior master sergeant. In 2001, Gerdes moved to Waverly where he joined the Waverly Fire Department and has been volunteering there ever since. 
Gerdes has been on the city council since 2018 and has been employed by the federal government for almost 28 years. He has managed an Analytics and Business Intelligence Section under the federal government for the last 11 years. Gerdes hopes to retire in early 2022 in order to dedicate even more time to the City of Waverly and the fire department. 
Kaiser has lived in Waverly for five years but is originally from David City. Kaiser currently works as an electrician at Vandenberg Electric in David City and helps coach the youth Waverly Wrestling Club. In the past, Kaiser has worked as a Ford service manager at Sid Dillon's and helped run a program called the Butler County Trailblazer Mentoring Program for at-risk youths. He also started a Click It movement on Facebook to bring attention to the importance of wearing a seatbelt. 
In the future, Kaiser dreams of owning a barbecue restaurant and having his own line of rubs.  
Gerdes said he never intended to run for mayor, but when no one else wanted to run he felt like it would be a good challenge for himself. He also said that in the two years he has been on the council, he has seen many changes and understands that the wants and needs of the growing city have changed quite a bit since he first moved to Waverly. 
Gerdes said he hopes to maintain transparency of information and open communication through the city's website and social media, and encourage community member involvement in all aspects of the city. Overall, Gerdes wants to, "keep Waverly a safe and secure community." 
"I want all of my family and the residents of Waverly to say and mean – Waverly is a great place to grow," he said. 
While Kaiser does not have a lot of experience in public office, he plans to make all of his decisions with the best interest of Waverly's residents in mind. He feels that the constant growth of Waverly takes away from the positives of being a small town with a great community. Instead of inviting outside businesses in, Kaiser plans to encourage more locally-owned Waverly businesses. Kaiser also said he is aimed at putting a stop to the constant increase in water and sewage costs as well as any kind of wheel tax to pay for rural roads. 
"My goals [are] to continue the closeness of our community, keep our small town values, and to get out of the shadows of Lincoln," Kaiser said. "What may be right for the city is not always right for our community."
Along with the Gerdes and Kaiser running for mayor, city council Ward 1 is up for election with Kyle Bassinger and Aaron Hummel running against each other. On Nov. 3, Lancaster County will hold the General Election in which citizens can vote on these races as well as the presidential race.
Be the first to know
Get local news delivered to your inbox!