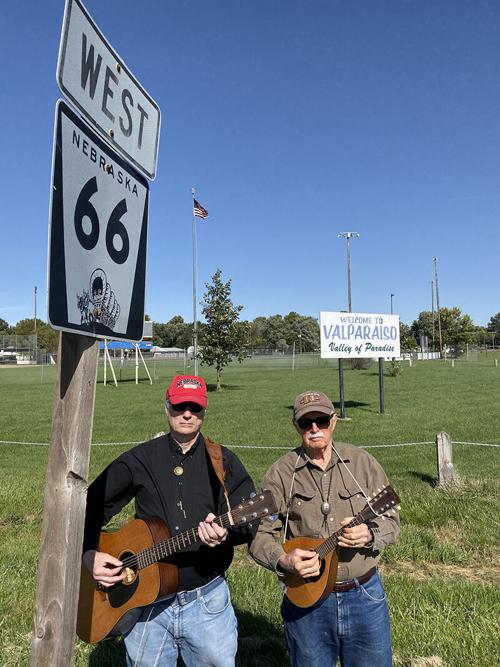 LINCOLN – Phil Brey was given his first guitar when he was 13 years old. When his brother gifted him the instrument in their Raymond home, he said the strings were so taut they could draw blood. 
Despite this, he picked up the guitar anyway and never stopped playing – until 2011 when Parkinson's disease forced him to retire his guitar and voice.
Phil, now 86 years old and living in Lincoln, has found a way to create music even with the degenerative disease. Phil writes songs inspired by his childhood in Raymond and 25 years on a farm in Valparaiso. 
"I think you can hear a certain quality of homesickness in some of the songs," Phil said. "There's the nostalgia that runs through some of the songs too."
According to his son Mark Brey, Phil hasn't slowed down one bit when it comes to writing new songs. 
"I can't keep up with him," Mark said. 
The very close father-son duo own a production company called Nebraska 66 where they debut Phil's lyrics using Mark's arrangements and voices from various singers. 
"He (Mark) resurrected the songs," Phil said. "All I did is write the music and the lyrics." 
The inspiration for the title of the production company comes from Nebraska Highway 66 which passes near the farm Phil and his wife Anna still own in Valparaiso. 
Phil had purchased the farm while the family was living in Maryland when he worked as a printer for the U.S. Government Publishing Office in Washington D.C. Phil worked there from 1969 until 1993 when he retired and moved to live on the Valparaiso farm. 
The couple lived there until 2018 when they had to move to Lincoln to The Legacy Retirement Community, an assisted living center, which is where they live presently. 
While Phil lived in Maryland and Valparaiso, he was often found leading songs in church. He's even performed in a bluegrass group and can play the mandolin and banjo. 
When Mark turned 15, his father converted him to guitar just like Phil had been when he was a teenager. 
"I guess I taught him guitar to a certain extent but he passed me a long time ago," Phil said. 
As Mark grew up, he'd play in church groups like his father as well as other bands throughout his college career. He and his father would also perform together. Along with Nebraska 66, Mark also has his own music recording studio called Cloverlick Records. 
Even though Mark resides in Virginia with his wife Elisa, the two make producing music work through daily phone calls. Recently, Nebraska 66 has published Phil's lyrics for a song called "Keep it to Yourself," which is a song about the current social unrest in America. Mark said that his father came up with the song while sitting in a doctor's office. 
Mark said he's amazed by his father's ability to continue producing music and hopes that he can still produce as well as his father at 86. Phil doesn't plan to stop anytime soon, either. 
"I still feel like the juices are flowing," Phil said. "I still feel like there's other songs inside me that need to get out and I hope that they can get out."
Be the first to know
Get local news delivered to your inbox!