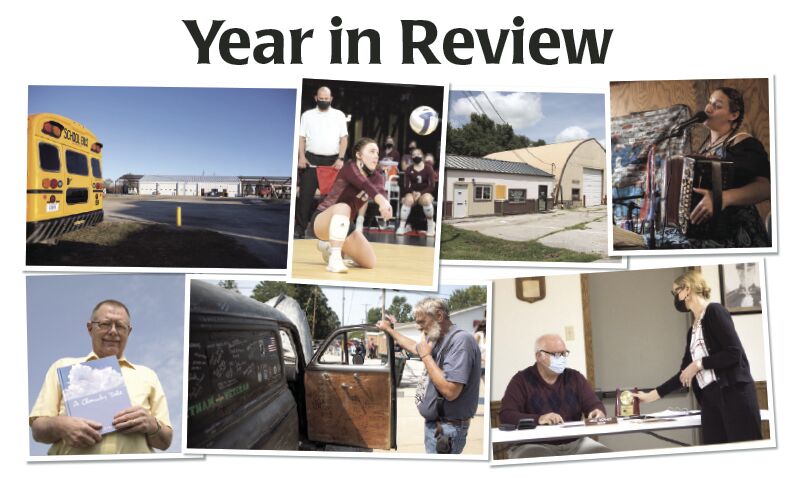 WAVERLY – The News continues a review of 2020 with the second half of the year.
The COVID-19 pandemic continued to color everyday life, with escalating positivity rates and deaths in Lancaster County cancelling activities and delaying the start of the high school winter sports season.
On a good note, area schools reopened their doors to students at the start of the school year in August, despite having been closed from March through the end of the previous school year.
The pandemic and the associated Directed Health Measures (DHM) crafted by the state to help stop the spread of COVID-19 forced the Waverly Chamber of Commerce board of directors to decide early in June to cancel the Waverlyfest parade and fireworks.
Sherman "Sherm" Dunkin never met a stranger. The Waverly man lost his battle with COPD at the age of 76 on April 15, when the world was in the early stages of the COVID-19 pandemic. Only five people were allowed to attend funeral services at that time. So his wife, Peggy, delayed funeral services until the restrictions were relaxed. A graveside service with full military honors was held July 10 at Rose Hill Cemetery in Waverly.
The Raymond Central FFA is working with the Lower Platte South Natural Resources District (NRD) on a three-year plan which will include incorporating natural shrubs, trees, test plots and expansion to the south, the main goal being to provide an outside learning classroom.
When the Emerald Ash Borer was discovered in Greenwood in 2016, the village's Parks and Recreation Committee decided to be proactive, taking down about 10 ash trees in the village park before the insect caused so much damage that they would become a safety hazard. The committee has been slowly replacing the trees as funds warrant. This summer, the village received a grant from Black Hills Energy to plant two trees at the park. They planted a maple tree at the east end of the park and an oak tree in front of the Greenwood Depot Museum in mid-July.
The Village of Eagle held an auction on July 18 to sell surplus items, including a Quonset hut that had formerly been used as the village maintenance building. But the building did not sell during the auction, according to Travis Moore, chairman of the village's Board of Trustees.
The Nebraska State Patrol is investigating a crash that occurred at the Interstate 80 westbound weigh station near Waverly on July 23, in which a minivan crashed into and entered the weigh station building itself. At approximately 6:35p.m., a Mazda MPV minivan crashed into the west side of the building, which is an office and work area for troopers in the Carrier Enforcement Division. The weigh station was closed at the time of the crash and there were no personnel inside. The sole occupant of the minivan was transported to Bryan Health Center West Campus in Lincoln with what are believed to be nonlife-threatening injuries.
The Waverly senior Legion baseball team saw their season come to an end with an 8-2 setback at the hands of Hickman in the COVID-19 State Tournament held in Ashland over the weekend of Aug. 1 and 2.
The family farm founded by Anton and Mary Rezac near Valparaiso had an estimated 40-foot-long plesiosaur excavated out of the farm's original 160 acres in November 1964 by the University of Nebraska State Museum with support from Lincoln Gem and Mineral Club. The plesiosaur has been on display at Morrill Hall on UNL's campus since it was excavated. On Aug. 1, the Rezac farm was able to add another achievement to its already long-necked list when the family received the Pioneer Farm Family award from the Aksarben Foundation during the Saunders County Truck and Tractor Pull.
In August, Gov. Pete Ricketts announced the appointment of Thomas Riley of Eagle as the director of the Nebraska Department of Natural Resources.
Former Waverly News employee Peggy Brown was honored for her work covering the Lancaster County Fair for 48 years by being inducted into the Lancaster County Agriculture Society Hall of Fame. The awards were announced on Aug. 11 when the ag society released a video about the 2020 fair that concluded with Brown's award.
With 220 cars lining the streets of Davey, the Davey Car Club hosted its second annual Davey Car Show on Aug. 22. All proceeds from the event went toward Heroes into Homes, a nonprofit that combats homelessness among Nebraska veterans.
Raymond Central Public Schools held an on-line kickoff party on Aug. 26 to introduce the district to the idea of integrating STEM (science, technology, engineering and math) education into all parts of the school day for all grade levels. Raymond Central was selected for a grant through Educational Service Unit (ESU) 2 to expand the district's STEM education. The EIR (Education, Innovation and Research) Empower grant awards $800,000 a year for five years to improve methods of teaching science, technology, engineering and math in order to increase STEM awareness at all grade levels.
A total of 21 new faculty members joined the District 145 staff when school began this year. They are Amy Beeder, early childhood education (Eagle); Caitlin Bell, seventh grade language arts, journalism/media sponsor; Garrett Borcher, eighth grade language arts and social studies; Amanda Coufal, high school special education transition program; Ginny Curtiss, WIS school counselor; Brian Daniel, high school special education; Jacklyn Engelhardt, sixth grade special education; KellyJo Everson, music and PE teacher for K-2 and fifth grade; Stephanie Fink, sophomore English teacher and yearbook/journalism advisor; Sydney Franklin, WIS special education; Kristen Friesen, high school drama teacher; Shannon Furstenau, high school assistant principal; Alek Gaard, high school math; Haze Holtorf, WIS fourth grade; Molly Johnson, speech language pathologist (Eagle Elementary and Waverly High School); Mindy Obbink, seventh grade science and math; Anne Pentico, middle school counselor; Bonni Riehle, middle school skilled and technical sciences; Jake Senff, fifth-eighth grade band and assistant director of high school marching band; Cori Sonnenfeld, sixth grade reading and language arts and Sarah Williams, seventh grade language arts.
Raymond Central welcomed six new staff members as the 2020-2021 school year began. They are Kathleen Cooper, fifth grade (Valparaiso); Taylor Craig, junior-senior high art; Amanda Ehlers, school nurse; Keaton Henry, high school science; Lori Morgan, elementary computer science, STEM and keyboarding (Ceresco and Valparaiso) and Amy Ziegler, fifth grade (Valparaiso).
In 13 minutes, the Waverly City Council was able to approve their 2020-2021 fiscal year budget and tax request during public hearings on Sept. 15. At $32,729,072, the budget has a 66% increase from last year's operating budget of $19,730,961. The budget also has a necessary cash reserve of $8,234,076 putting total funds for the city at $40,963,148.  The property tax request, $1,193,688, also increased by 3% from last year's $1,159,036. The tax levy is $0.340597. The valuation increase of 3% had a very slight effect on this year's levy – a $0.000032 difference. The reasons behind the stark increase in budget is largely because the city is budgeting $5.5 million toward the new aquatic center as well as other larger projects set to begin this year. 
When Kevin Finson's granddaughters started showing a fear of thunderstorms, the Waverly man decided to create a book about the progression of a thunderstorm and tell the story in a way that supplies the reader with a better, less intimidating view. The book "A Cloudy Tale" was published in May of this year through Dorrance Publishing.  
The Raymond Central Mustang football team improved to 3-0 on the season with a 50-7 victory over Schuyler on Homecoming Night at home on Sept. 18.
The Waverly City Council approved the purchase of land near the intersection of Amberly and Cannongate roads for $400,000. The property could possibly be the site of the new fire station, City Administrator Stephanie Fisher said.
Phil Brey writes songs inspired by his childhood in Raymond and 25 years on a farm in Valparaiso. The Lincoln man, now 86, owns a production company called Nebraska 66 with his son, Mark, where they debut Phil's lyrics using Mark's arrangements and voices from various singers.
District 145 received the Sower Award, part of the Governor's Wellness Awards sponsored by Gov. Pete Ricketts and the Nebraska Department of Health and Human Services (DHHS). The Sower Award recognizes workplaces that have established quality wellness programs.
U.S. Bank and the Nebraska School Activities Association (NSAA) announced the 2020-2021 Believers and Achievers. Area recipients include Macy Persinger, Kelsey Cordes and Evan Canoyer of Waverly High School.
The Raymond Central volleyball team took second while hosting an eight team tournament on Oct. 3 at Raymond Central High School. The Mustangs defeated Arlington 25-14, 25-19 in the opening game and made it two wins in a row on when they were able to beat the Seward Bluejays in straight sets 25-18, 25-18. The two wins advanced RC into the tournament's championship game against York. The Mustangs won the first set 25-18 but dropped the final two 11-25, 23-25.
Richard Carr, 65, was arrested on Oct. 8, three days after allegedly brandishing a weapon at Carr's Cars, his residence and business on Highway 34. The incident took place on Oct. 5 around 6:20 p.m., when the Cass County Sheriff's Office was called about a man making threats to family members. After several hours, the Nebraska State Patrol searched the residence but did not find Carr.
Part way through the regularly scheduled District 145 Board of Education meeting at Eagle Elementary on Oct. 5, Superintendent Cory Worrell was informed that the meeting was on lockdown due to a possible armed standoff on Highway 34. After the unprecedented interruption, the board heard a presentation on the proposed stadium updates for Waverly High School.
The Waverly softball team ended their season with a wild 19-18 loss to the Wahoo Warriors in an elimination contest on Oct. 5 during Class B-4 sub-district tournament play. The Vikings hit four home runs and pounded out a season-high 19 hits, but it was not enough as the Warriors scored two runs in the bottom of the seventh to pull out the wild seven inning win. The two losses in sub-district play ended the Viking season with a record of 11-17.
After delays due to COVID-19, Waverly was able to celebrate its sesquicentennial, or 150th anniversary, with a fireworks show at Lawson Park on Oct. 17, just nine days after the city's actual anniversary. On Oct. 8, 1870, Waverly became official, according to a history collected by Peggy Brown and Nancy Mocroft. The original plan was to celebrate the city's anniversary during the annual Fourth of July celebration, called Waverlyfest.
Waverly senior cross country competitor Conrad Schroeder finished three seconds ahead of Alexander Kennedy of Omaha Skutt Catholic to finish in 15th place on a frigid afternoon at the NSAA Cross Country Championships held at Kearney Country Club on Oct. 23. Schroeder crossed the finish line in 17:07, his best time of the season. Teammate Jarrett Ballinger posted a time of 17:54 for 52nd place. For the Waverly girls team, Millie Waldo finished in 41st place with a time of 21:17. Raymond Central freshman Sophia Schultz also competed at state, finishing with a time of 22:57 in 81st place.
Harry's Bar in Valparaiso hosted a polka party on Oct. 25, its first since the COVID-19 pandemic began in March. Angie Kriz and the Polkatoons performed to a small group of fans, much different than their previous appearance in mid-March when they played to a standing room only crowd.
Officials in Waverly, Wahoo and Ashland said they've been approached in recent months about hosting a new 1,600-bed state prison. "It would be a very hard push (here)," said Waverly Mayor Mike Werner, who met with state representatives. "This town is about residential growth; we have a school district that is growing. We don't believe it would fit well."
At the Waverly City Council meeting on Oct. 27, the council approved a bid from Quik Dump Refuse out of Ashland to remove Waverly's recyclables each month for $1,800 starting after Dec. 1. City Administrator Stephanie Fisher said the contract will only last for one year so the city can test the waters since it is the city's first time contracting a recycling agency aid.
On Oct. 28, Raymond Central began the bus barn expansion project on the northern side of the high school and preschool. The $168,000 expansion will make the bus barn an eight-bay barn so the school can protect its new vehicles from weather, Superintendent Dr. Derrick Joel said.
Danielle Schreiber, daughter of Chris and the late Dan Schreiber, and Mickayla Larsen, daughter of Vickie and Todd Larsen, received their American Degrees on Oct. 28. This virtual ceremony took place at the 93rd National FFA convention.
The Raymond Central High School FFA chapter announced that Isaac White's Small Animal Production and Care Proficiency project was awarded a gold medal and top 9 rating at the National FFA Convention.
The third ranked Waverly Viking volleyball team will return to Lincoln for the third straight year after the team was able to record a victory over Elkhorn North in the Class B-3 district final played at Waverly High School on Oct. 31.
The best season in almost two decades ended for the Raymond Central volleyball team ended on Oct. 27 in Lincoln. The Mustangs lost to Lincoln Lutheran in the sub-district final 25-23, 25-6, 23-25 and 25-13. It was the team's first winning season since 2002. They ended with a record of 19-10.
After an unofficial ballot count on election night, Bill Gerdes appears to have come out on top in the race for mayor of Waverly. According to the Lancaster County Election Office, within Waverly city limits there were 2,684 registered voters as of Monday. Gerdes had 1,259 votes in the unofficial ballot count of the total 1,810 votes for mayor. The voter turnout for the mayoral race was a little over 67% and Gerdes received about 70% of the votes for mayor.
Former Emergency Management Coordinator Aaron Hummel is projected to win the Waverly City Council Ward 1 race after the Nov. 3 election. Hummel won with 571 votes out of a total 961 cast in Ward 1. His opponent, Kyle Bassinger, received 384 votes.
After the unofficial ballot count in Lancaster County, Robin Kappler was projected to win re-election to the District 145 Board of Education for Ward 2. She received 165 votes and her opponent, Nora Lenz, received 86.
The third ranked Waverly Vikings saw their season come to an abrupt end when they were defeated by the Ashland-Greenwood Bluejays in four sets at the state tournament on Nov. 4. The Bluejays beat the Vikings 25-21, 25-21, 15-25 and 22-25, ending the Vikings season with a record of 22-7.
The Waverly football team lost to No. 4 Elkhorn 41-16 in the Class B State quarterfinals on Nov. 6.
Raymond artist Maurice Liedtke painted new backboards for the basketball hoops at Raymond's "School Park," after Cindy and Frank Robbins decided they needed to be replaced. The new boards were put up on Nov. 14.
Waverly resident Susan Asher spearheaded a drive to sweeten Rose Kuhl's 12th birthday on Nov. 18. Because of the COVID-19 pandemic, Kuhl could not have a party so her mother asked for birthday cards on Facebook. Asher raised $1,400, which was donated to purchase Rose's favorite baby doll and an iPad with accessories.
Four Raymond Central Mustangs were named to the C1-2 All-district football team. Senior Michael Potter capped a stellar football career with a great senior season for the 5-3 Mustangs, who were the last team left out of the Class C-1 playoffs. Potter led the Mustangs in tackles with 65 and also added a fumble recovery. Junior quarterback Conner Kreikemeier was also named to the first team after accounting for 1,290 yards and 13 touchdowns from his quarterback spot. Junior speedster Travis Nelson led RC in the passing game with 491 yards and five touchdowns. Sophomore Mason Kreikemeier was named to the first team after finishing second on the team with 56 tackles.
On Nov. 19, Waverly Parks and Recreation Director Noah Dea and Justin Evertson of the Nebraska Forest Service planted seven new trees near the south playground at Wayne Park to celebrate a postponed Arbor Day.
Waverly High School senior Madysen Patire was among 200 high school youth leaders representing 66 schools in the Omaha metro area who were recognized at this year's Youth Salute Awards Virtual Ceremony hosted by Nebraska Wesleyan University.
Jasmine Greve began working as the village clerk in Greenwood on Nov. 30. She replaces Cheris Cadwell, who took a position with the City of Waverly.
On Dec. 1, also known as Giving Tuesday, the Greater Waverly Area Foundation Fund raised $8,405 for the future Aquatic Center to be built in Wayne Park. Last year on Giving Tuesday, GWAFF was able to raise $22,815, which was what GWAFF was hoping to beat this year. While GWAFF did not meet their goal, President Abbey Pascoe said they are grateful for the estimated 30 donations they received in the 24-hour period.
Valparaiso hosted a holiday celebration called Christmas in the Valley on Dec. 5. The event featured four Christmas stations and a lighted display in the village's town square as well as a scavenger hunt and angel tree.
Waverly High School Principal Dr. Megan Myers proposed alterations to the high school grade scale ranking and science pathways during the District 145 Board of Education meeting on Dec. 7.
The Waverly City Council said goodbye to two long-time members, Mayor Mike Werner and Council Member Chad Neuhalfen, during its meeting on Dec. 8. During the council meeting, the council also welcomed newest councilmembers Aaron Hummel and Abbey Pascoe, reinstated current Council Member Dave Nielson and swore in Waverly's newest mayor, Bill Gerdes, to the council.
After 15 years, Tecumseh Poultry paid off the remainder of its Tax Increment Financing (TIF) program on Dec. 15. Tecumseh Poultry, owner of Smart Chicken, began its TIF payments as well as construction in 2005. According to Waverly City Administrator Stephanie Fisher, Tecumseh Poultry's loans were split into two – one being $744,672.21 with annual payments of $76,630 and the other being $1,404,122.91 with annual payments of $159,710.